Snowflake Skies – Video
Posted: January 27, 2021
Filed under: Alcohol Ink, grafix, neighbourhood border, Penny Black
| Tags: grafix, grafix craft plastic, Penny Black creative dies, Ranger Alcohol Ink
5 Comments
I teamed up with Grafix to create a couple of snowy projects on their Duralar plastic films. The card you see on the left and below was inked on white craft plastic, also know as DuraBright white. It is totally opaque and has a bit of weight to it. For the votive wrap I used Dura-Lar matte film which is lighter weight and has a frosted transparent appearance which was what I wanted so the light from a votive would shine through.
I used stream and denim alcohol inks and felt to apply the inks to the plastic films. To create the snowflake patterns I die-cut a Penny Black snowflake from felt and stuck it to the wooden back from a old stamp. You can see the whole process in the video below.
I cut the Penny Black neighborhood border from Dura-Bright white for both the votive and the card.
You can see in the video and the photo above how the colours in the votive surround look different with a light inside; I guess it would depend too whether your battery votive candle was a white one or more of a yellow glow.
I'm really enjoying working with the Dura-bright white for alcohol ink projects and will be trying more techniques on the Dura-Lar matte in the future. If you are looking for the bright white remember it also goes by the name white craft plastic. Crop A While might have some and Deserres does carry it.
I've been working on a few different alcohol ink techniques so there will be more cards to share and another video next week.
(Compensated affiliate links used when possible)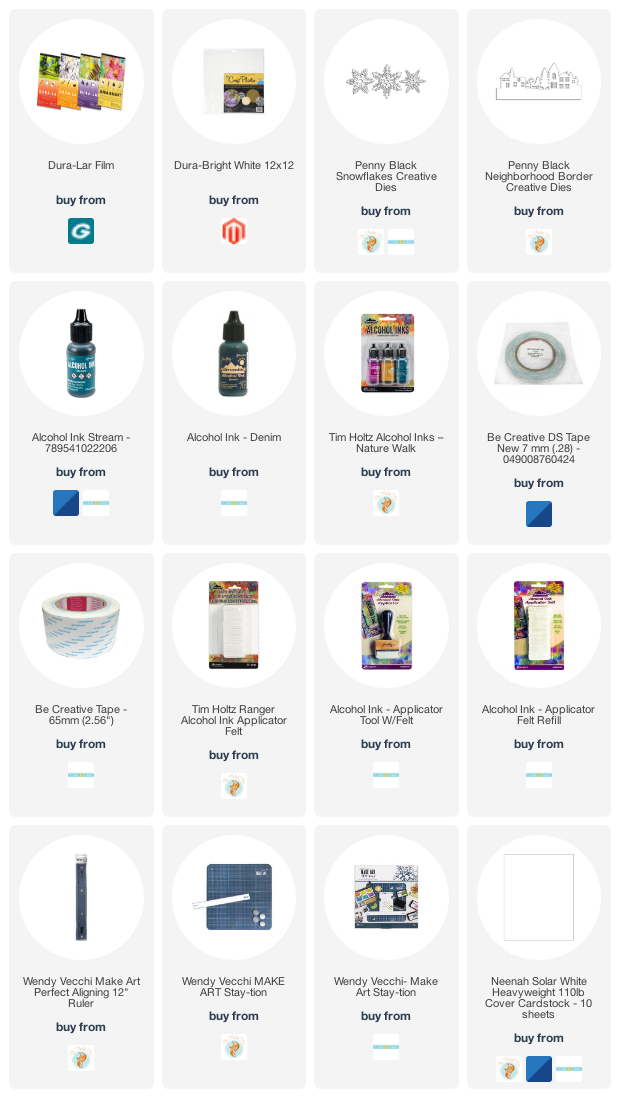 ---