Posted: November 29, 2021
Filed under: delicate pines, Dies, gift card pocket, joyful ornaments, jubilation, juniper, onramental branch, Penny Black, tall trees, Taylored Expressions, trees and hills
| Tags: Catherine Pooler inks, Penny Black creative dies, Penny Black stamps, Taylored Expressions, Tsukineko Versafine inks
7 Comments
Welcome to a long post with quite a few photos!
When I last counted up the names on my Christmas card list and the number of cards I have completed the two numbers were not close to matching. I decided a quick way to grow the stack of cards would be to stamp a big panel then slice it up to make several cards.
Turns out this idea was not all that quick. It took a while to make these cards because although they are from the same stamped panel, they are still all different. The photo above shows the original panel stamped with Penny Black's new 'delicate pines' set of 3 stamps and two Catherine Pooler inks. After the stamping I added ink splatter then gold paint splatter.
I kept the deckle edge on the 11″x14″ cold pressed watercolour panel and sliced up the panel lengthwise first. A,B & C are all 4¼" wide, D,E & F are all 4″ wide which left G,H & I all 2¾" wide. Below are all the finished cards. I used some pale gold, Bazzill avocado green and kraft cardstocks for the die cuts and framing. I used versafine clair rainforest ink to add sentiments and some linen twine here and there. All the cards are shown below with the size of the stamped panel portion included underneath (all the finished cards are 4¼"x 5½")
A. 4¼ x 4½
B. 4¼ x 5½
C. 4¼ x 4⅛
D. 4 x 5¼
E. 4 x 5¼
F. 4 x 3½
G. 2¾ x 4¼
H. 2¾ x 4¼
I. 2¾ x 5½
The finished cards above are in the places that correspond to the labelled photo up at the beginning of the post. I had them laid out on a cutting mat on the floor beside me as I put them all together so I didn't get them mixed up. I wanted you to see how I used each size in a different way.
I hope you find some inspiration from these cards. Remember that three of my online classes are on sale until the end of November. Use the code HTNOV to get a 25% discount on the Floral Faves class, Winter Wonder class and the Colour Clues class.
The stores I have affiliate links with are also having sales right now (isn't everyone?) I have put the links in the right hand side bar of the blog for easy access. Just click on the store name and start shopping!
(Compensated affiliate links used when possible)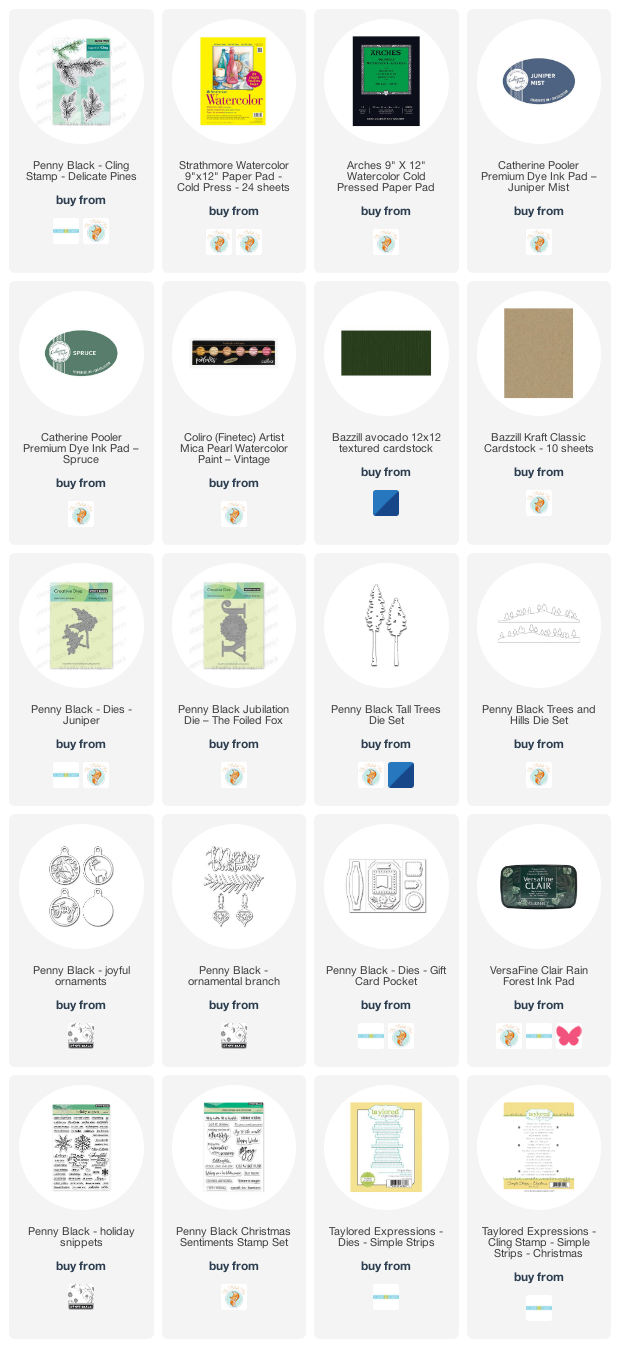 ---
Posted: April 30, 2021
Filed under: Colorado Craft Company, puppy's quilt, sennelier watercolours, simple strips, Taylored Expressions, weathered
| Tags: Colorado Craft Company, Fabriano Watercolour Paper, sennelier watercolours, Taylored Expressions
5 Comments
I created this sweet dog card for a friend to give her grand-daughter. You know it is unusual to see animals on my cards but this stamp had the perfect mix of watercolourable-quilt and not-too-difficult-to-paint dog. The colour scheme is all my own choice, no surprises there, but some of the technique was provided by the talented and prolific Sandy Allnock. When she created with this stamp she used the opportunity to teach how to paint a bold shadow. I decided not to add a bold shadow but just watching her paint the image was helpful. It made me realise there was absolutely no need to add more than one colour to each quilt square even though the fabric included patterns.
I stamped the image on hot pressed watercolour paper in versafine clair morning mist, a pigment ink which would not move when I added water and watercolour paint over the top. I used Sennelier watercolours for all the painting and to create a custom watercolour mat to frame the image also. I watched Sandy's video more than once to help me paint the dog taking care to leave some areas bright white while the sections closer to the quilt were shadowy and grey.
The sentiment is from the Taylored Expressions 'simple strips' set stamped in versafine deep lagoon and cut with the co-ordinating simple strips die. If you haven't seen the simple strips series from TE they are very clever; you get one large stamp with 18 different sentiments and one die that cuts them all into banner style strips. Very handy to have a bunch of strips on hand to add to cards. It isn't noticeable in the photos but the blue watercoloured mat has some texture as I embossed it with the weathered embossing folder, also from Taylored Expressions.
(Compensated affiliate links used when possible)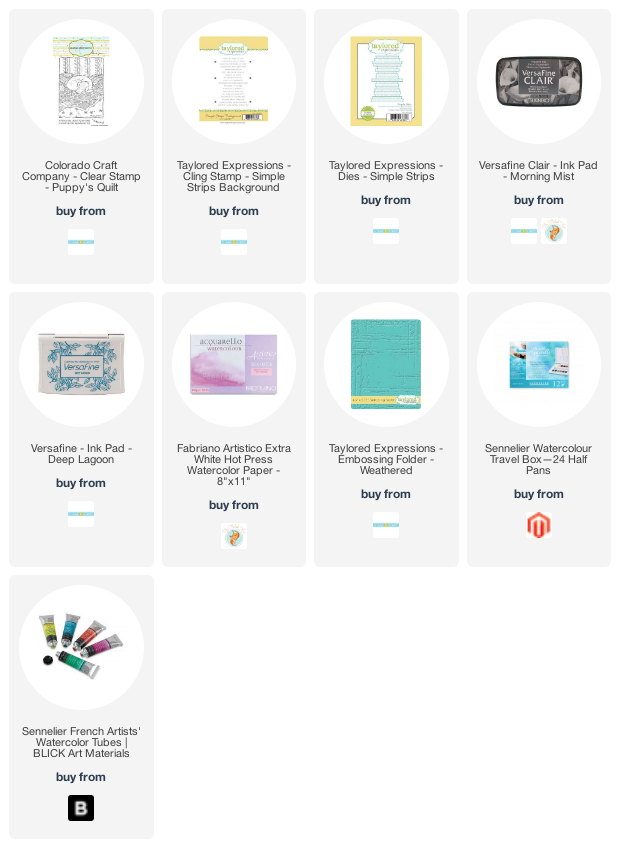 ---
Posted: April 12, 2021
Filed under: Alcohol Ink, gel press, Penny Black, Taylored Expressions
| Tags: gel press, gel printing, Penny Black creative dies, Penny Black stamps, pinata alcohol ink, Ranger Alcohol Ink, Taylored Expressions
5 Comments
I tried a technique this week that I've seen demonstrated by gel printing wizards but never tried myself. In some ways it's not that different from making abstract alcohol ink patterns on yupo or craft plastic but I found that I ended up with more of a distressed look which is rather nice.
I started with a not entirely clean gel plate and three or four alcohol inks, I'm not sure exactly which ones I used as I was very much in experimenting mode. Obviously there was a green and some blues in there and in real life you can see I also had a silver. I dropped dots of the different colours on the gel plate added rubbing alcohol and blew it all around with the air blower. It dried quite quickly so it took several additions of inks and rubbing alcohol before I was happy with the coverage. Once the AI had dried completely I brayered white acrylic paint over the painted area and took a print on some white cardstock. You can see the usual overlapping patterns of alcohol ink blobs but also some white patches and 'grazes' from the acrylic paint.
I trimmed the panel and added a three layer PB die cut sentiment along with an additional sentiment strip. I will definitely be trying this technique again.
(Compensated affiliate links used when possible)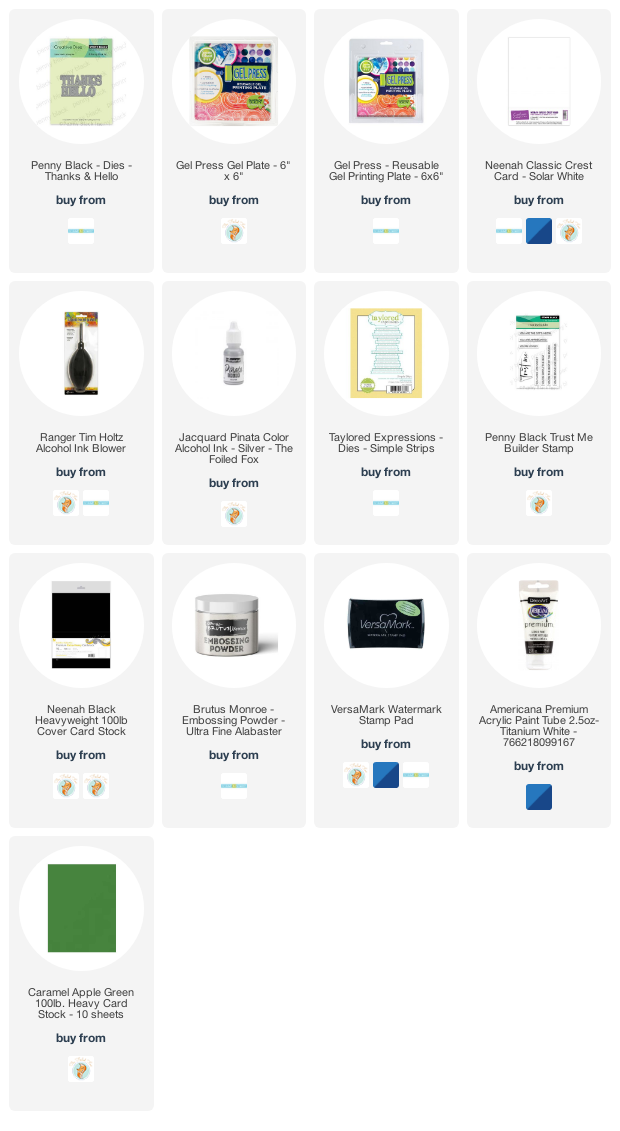 ---