Posted: April 27, 2022
Filed under: fresh bouquet, how sweet, Karin brushmarkers, Penny Black
| Tags: Avery Elle, Karin brushmarkers, Penny Black stamps
4 Comments
My Karin markers have been a bit neglected lately so I brought them out to work with the cute cup of flowers stamp from the PB 'fresh bouquet' set. I worked in a stamp positioner on hot pressed watercolour paper. First I inked the flower centres with the gold marker, next the blue petals with cyan, leaves with grass and berries with rosewood.
I used a paintbrush and water to pull ink from the stamping to fill the petals and leaves working loosely but taking care not to blend much from one ink to the next. Blue and yellow make green as you know and I didn't want the petals or centres turning green.
Adding a sentiment was a bit tricky. The cup of flowers stamp comes with a large and lovely sentiment but it would have covered too many flowers. I need birthday cards at present so I stamped the little 'happy birthday' from the PB 'how sweet' set in paradise versafine clair ink and then wondered where to place it. It is rare that I will place a sentiment right in the middle of a card but it just seemed to work this time.
I have some beautiful tea cups, some from my mother, my nanna and my grandma. I rarely use them because I like a large mug of tea. Perhaps I could occasionally put a few flowers in one, once I have more than two tiny flowers in my garden.
Supplies
(Compensated affiliate links used when possible)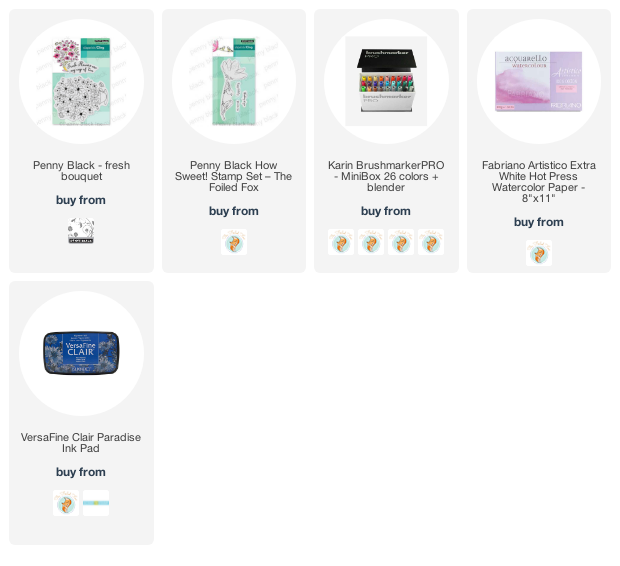 ---
Posted: March 21, 2022
Filed under: Brusho, how sweet, iris elegance, Penny Black
| Tags: Brusho, Fabriano Watercolour Paper, Penny Black stamps, Ranger Distress inks
8 Comments
The new 'iris elegance' stamp from Penny Black is a delight to work with. The design is large so there is plenty of space in the petals for pretty watercolour blends. I inked the stamp with distress inks then blended the stamped ink with water to fill the flowers using some co-ordinating colours of brusho for extra depth and variation. I have been flipping back and forth between hot and cold pressed watercolour paper lately; this one is hot pressed.
I have purple irises that come up in my garden each year but they don't have the yellow centres I've featured on these ones. Yellow tends to be a pigment that pushes other pigments away which worked well on the petals. I painted the purples and then while the paint was still wet added yellow paint which spread and pushed the purple without making too much brown.
I don't always add background but I did this time by painting water around the flowers then adding some Payne's grey paint and a little diluted purple. Once again I chose the sweet little birthday stamp from the new 'how sweet' stamp set. Speaking of backgrounds, thank you so much to everyone who left me a message saying nothing more was needed on the recent poppy card. I am so encouraged by you, my kind and generous readers!
The warm weather and rain of the last few days has melted quite a lot of snow and now I see some green tips emerging. I have also spied a cardinal and a blue jay on the feeder. Spring is definitely in the air.
Supplies
(Compensated affiliate links used when possible)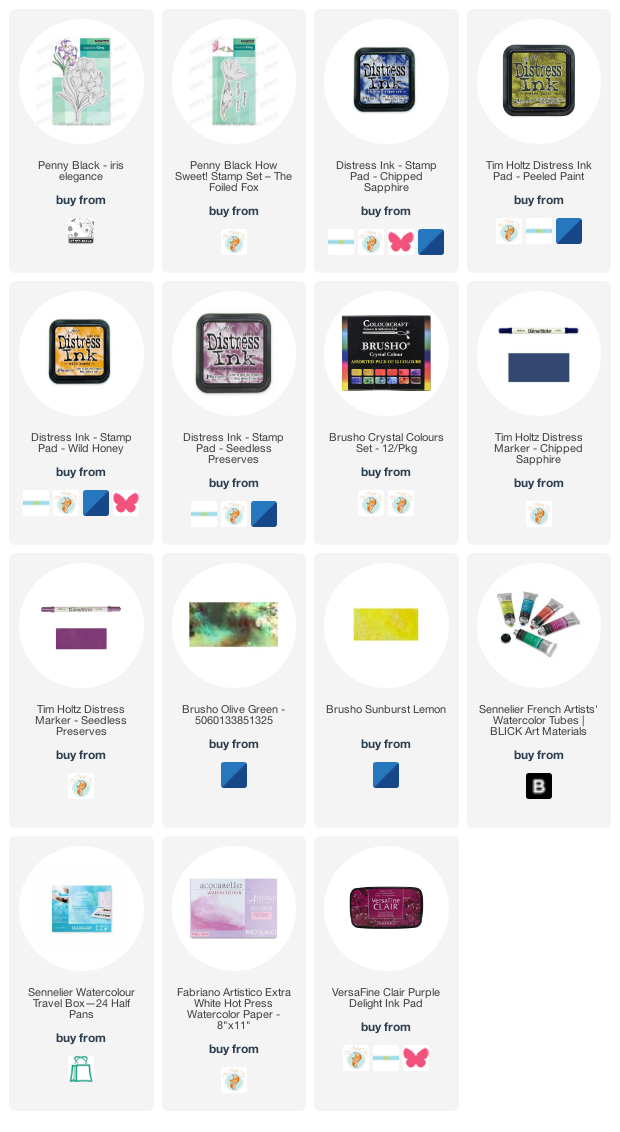 ---
Posted: March 18, 2022
Filed under: distinctive, how sweet, Penny Black
| Tags: Penny Black stamps, Ranger Distress inks
8 Comments
I consider lupins one of my garden successes. It may be a stretch for me to take credit because they were here when we moved in and they are not gone yet so I feel like my part in the success has been just not killing them all! They start blooming not too long after the bulbs and I have them in white, purple, pink, purple/white and dark purple. Last year I took care to chop off all the dead heads and I still had some blooming in August! Some of the plants became aphid hotels so please let me know if you have a fix for that which doesn't involve me picking them all off by hand!
The new lupin stamp from Penny Black is called 'distinctive' and it has two flower heads on one stem. I used shaded lilac, chipped sapphire and seedless preserves to ink the stamp so I could create lupins that are a close match to the ones that appear in my garden. The leaves and stems were inked with mowed lawn, forest moss and peeled paint distress inks. You can see in the close up that I have a mix of blended and unblended sections on the card. I used the misti, spritzed the stamp after inking and also did a bit of blending with a paintbrush after stamping. I think the mix of textures add to the appeal and adding some water helps the ink spread on the hot pressed watercolour paper.
The birthday sentiment is from the new PB set, 'how sweet'. There are three little sentiments in the set along with a floral stamp. Oh, and of course there is splatter, but you probably noticed that already!
Supplies
(Compensated affiliate links used when possible)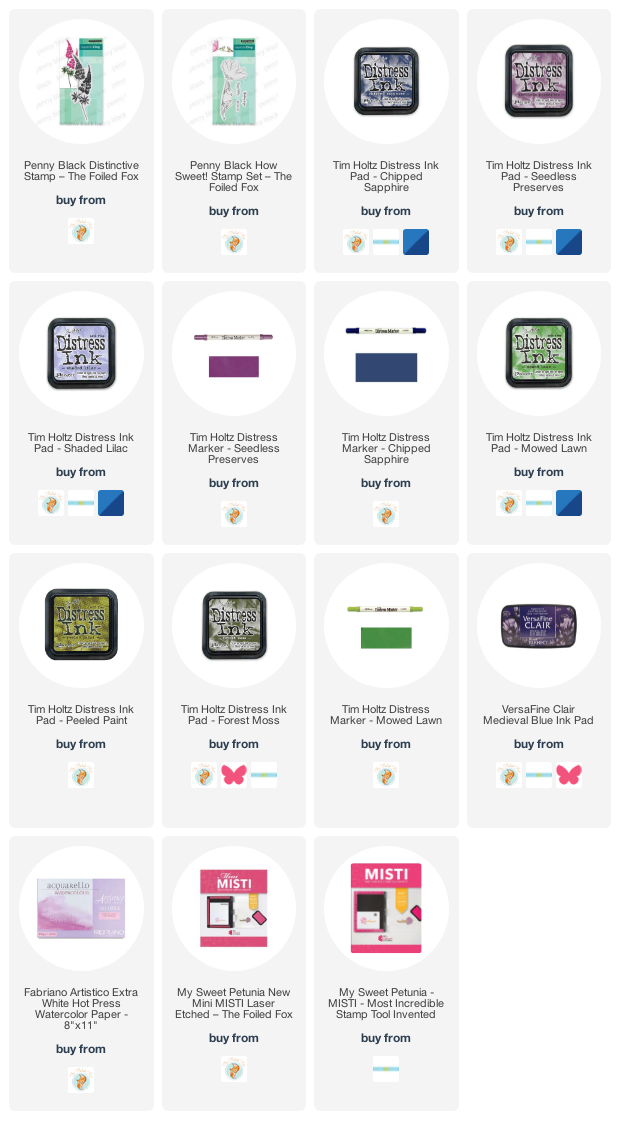 ---