Posted: July 6, 2022
Filed under: blooming, Dies, how sweet, Penny Black, Tagged
| Tags: Penny Black creative dies, Penny Black stamps, Ranger archival inks, Ranger Distress inks
11 Comments
I'm still having fun with PB 'blooming' stamp. Once again I used blue inks but this time the combo was chipped sapphire and blueprint sketch. When blended I got blues and purples but not the pinks that seedless preserves provided. If you read my last post you might remember I unintentionally ended up with brown centres. This time I made sure I inked with fossilized amber and wild honey to create yellow centres.
I worked in the stamp positioner to make this panel and did all the green and blue inking and stamping first. I left the centres un-inked so I could add them after the petals were stamped, blended and dry. I don't mind some blending but I didn't want the blue and yellow to get too close and blendy because that would mean green centres. Once the yellow centres dried I used a black gel pen to add stamen.
I wanted to gussy this one up a little but still keep the clean look so I used a small piece of organza ribbon across the base of the panel then stamped on a banner die cut and tied it on with twine.
Supplies
(Compensated affiliate links used when possible)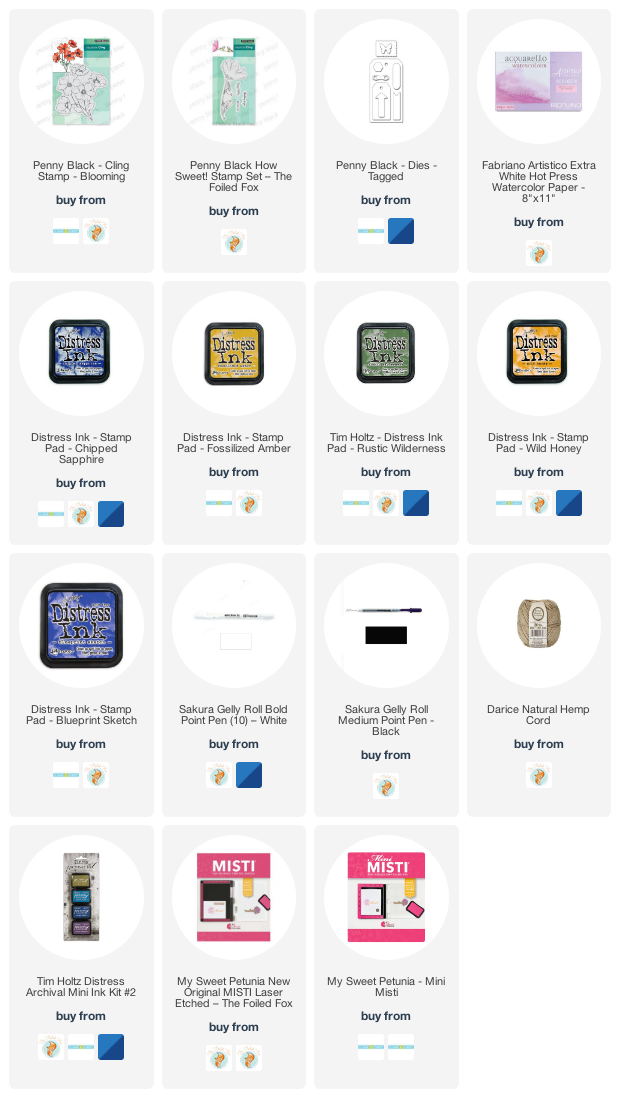 ---
Posted: July 4, 2022
Filed under: blooming, Penny Black, Uncategorized
| Tags: Penny Black stamps, Ranger archival inks, Ranger Distress inks
9 Comments
Here is another take on the PB stamp 'Blooming'. Last week I posted a card with a blended background, brown outline stamping and painted petals. For today's card I stamped with distress inks which I then blended into the petals.
My original plan was to have yellow centres not brown; I guess I got distracted. After inking the petals randomly with chipped sapphire and seedless preserves I added some ground espresso ink to the centres, spritzed the stamp and stamped on hot pressed watercolour paper. With the spritz of water the inks blend a little; with a paint brush I do the rest of the blending adding more ink if needed. That top flower got more brown than I would have liked but I was still happy with the overall blends.
Finishing touches include defining the centres with the bullet tip of the distress marker and adding white dots with a gel pen. The sentiment is from the PB set 'so thankful'. I have a few more in this little series of watercolours with PB's large outline floral stamps so I'll see you back here soon.
Supplies
(Compensated affiliate links used when possible)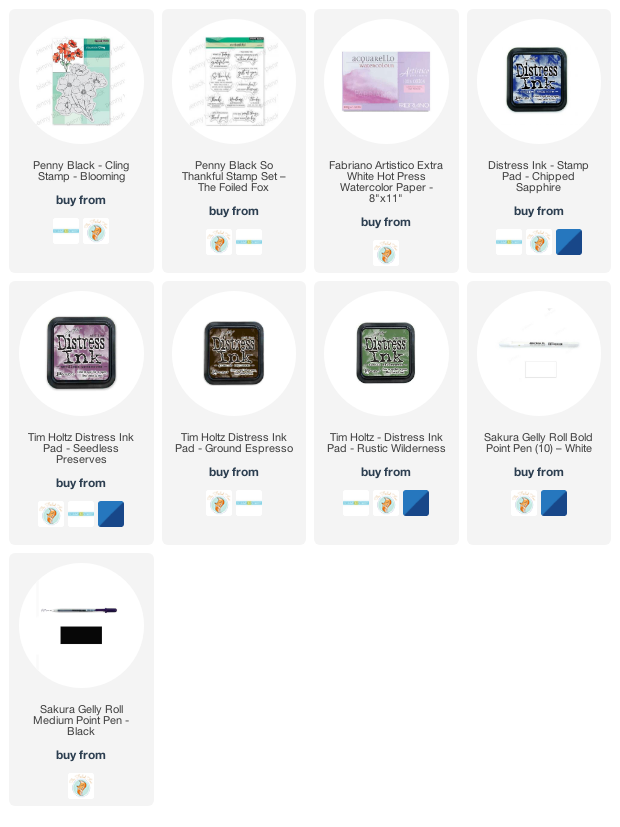 ---
Posted: June 29, 2022
Filed under: blooming, Penny Black
| Tags: Penny Black stamps, Ranger archival inks, Ranger Distress inks
7 Comments
As the title hints, the stamp is called 'blooming' and it's a big one. I mentioned in my previous post how much I enjoy working with the large floral outline stamps from Penny Black. I stamped 'blooming' twice side by side in a landscape orientation. The stamp is almost as wide as it is high but I haven't included all the stems on this card.
Before I stamped I smooshed distress inks on a glass mat, diluted them and swiped my watercolour panel through the ink to create a soft blurry background. Once the panel dried I stamped in archival ground espresso ink then painted the flowers with the same inks I had used in the background, abandoned coral and fossilized amber. To make the flowers bolder so they would stand out from the background I painted another layer of ink then added deeper colours to part of each petal. All the inks are listed and linked below.
I painted the centres in ground espresso distress ink then used brown and black markers to go over the flower centre details and add more veins to the petals. I added highlights with a white gel pen and once again decided against a sentiment for now.
The techniques used in today's and Monday's card are featured in my online class Floral Faves.
And in other news, filming has begun for my next online class. I am excited to share more about it soon!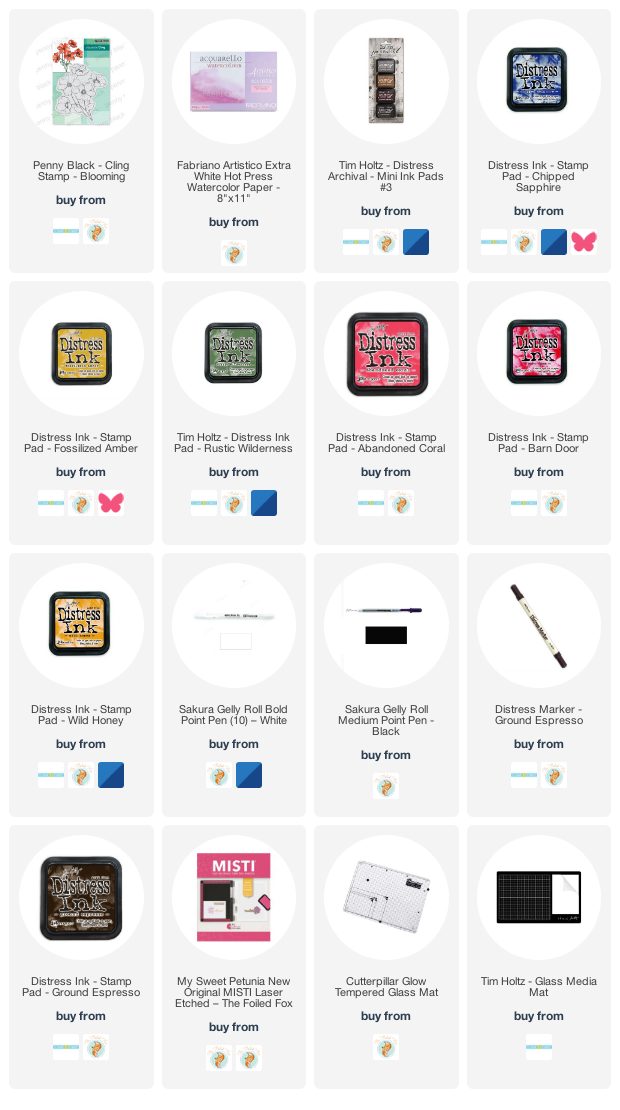 ---