Fresh Bouquet
Posted: April 27, 2022
Filed under: fresh bouquet, how sweet, Karin brushmarkers, Penny Black
| Tags: Avery Elle, Karin brushmarkers, Penny Black stamps
4 Comments
My Karin markers have been a bit neglected lately so I brought them out to work with the cute cup of flowers stamp from the PB 'fresh bouquet' set. I worked in a stamp positioner on hot pressed watercolour paper. First I inked the flower centres with the gold marker, next the blue petals with cyan, leaves with grass and berries with rosewood.
I used a paintbrush and water to pull ink from the stamping to fill the petals and leaves working loosely but taking care not to blend much from one ink to the next. Blue and yellow make green as you know and I didn't want the petals or centres turning green.
Adding a sentiment was a bit tricky. The cup of flowers stamp comes with a large and lovely sentiment but it would have covered too many flowers. I need birthday cards at present so I stamped the little 'happy birthday' from the PB 'how sweet' set in paradise versafine clair ink and then wondered where to place it. It is rare that I will place a sentiment right in the middle of a card but it just seemed to work this time.
I have some beautiful tea cups, some from my mother, my nanna and my grandma. I rarely use them because I like a large mug of tea. Perhaps I could occasionally put a few flowers in one, once I have more than two tiny flowers in my garden.
Supplies
(Compensated affiliate links used when possible)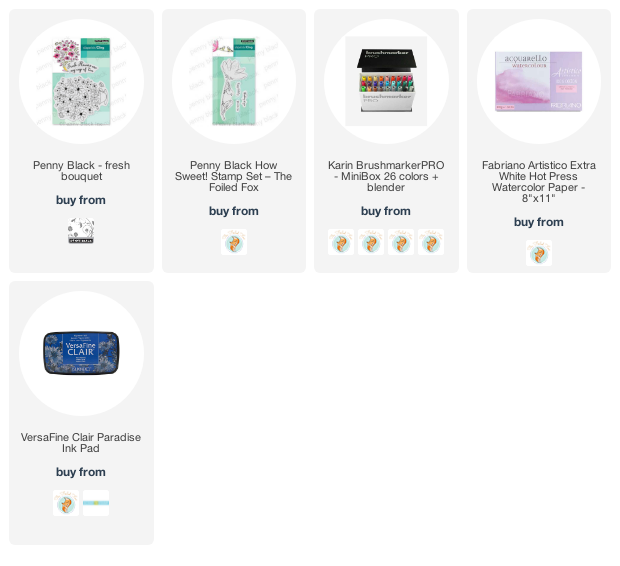 ---