Posted: July 21, 2021
Filed under: Dies, gel press, into the woods, Penny Black, tall trees
| Tags: gel press, gel printing, Penny Black creative dies
7 Comments
In my recent gel printing video I kept a piece of heavy weight paper off to the side for cleaning my brayer. I turned it around half way through the printing session so it ended up browns on one side and blue/grey/yellow on the other.
The colour and texture was too yummy to waste so I cut two rectangles which both spanned the centre or 'horizon' line of the large sheet. Because the panel above has a dark sky I punched a circle moon from another area and made it a night scene with the addition of black silhouette trees die-cut with the PB 'into the woods' die.
Not only is there plenty of visual texture in these panels the brayered paper is also very rough to touch. There is no trick to making these papers; I definitely don't keep the clean up sheets every time but I find if I work with the same colours for a while and flip the sheet around when it has plenty of paint on it the combination of colour and texture can be beautiful.
The second card is more of a late afternoon scene. The colour of the sun is similar to what we saw two days ago when the sky was hazy due to bushfires in northwestern Ontario.
The trees blend into the landscape somewhat as there is not a lot of contrast between the die cuts and the base. I used the PB 'tall trees' dies and cut them from the left over edges of the panel.
This is not the first time I've used scraps and scratch paper for cards and journal pages. This cityscape is made from gel printing masks and two of these cards are from a clean up sheet. Today I glued a large 'clean up' sheet into my art journal as a background for a future page. I don't know what to do with it yet but I liked it too much to toss it away.
(Compensated affiliate links used when possible)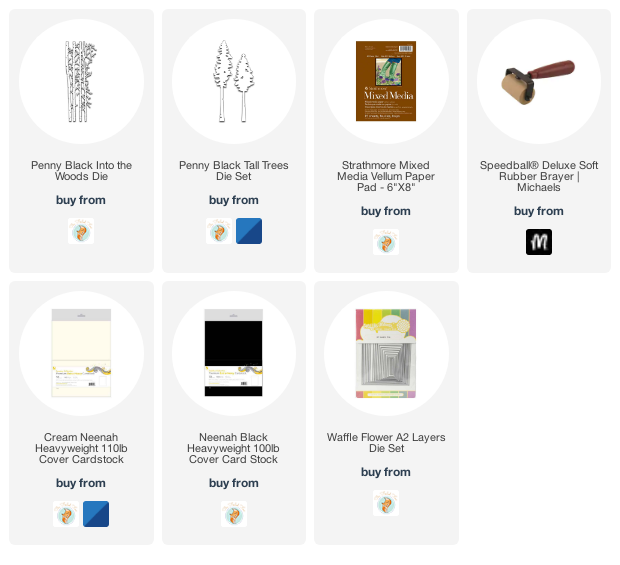 ---
Posted: October 8, 2017
Filed under: Alcohol Ink, baubles, inspired, tall trees, trees and hills
| Tags: Penny Black creative dies, Penny Black stamps, Ranger Alcohol Ink, Tsukineko Versafine inks
22 Comments
I am happy to finally have a video tutorial to share with you today. It's been a while I know. This one I created for Splitcoaststampers "Falliday Fest".
The card designs are very simple, the intricacy is in the patterns the alcohol ink makes.
I included several different methods of making alcohol ink patterns and also a few ideas for making the patterned panels into cards by die cutting circles to turn into baubles or snow globes. Method one involved blending alcohol inks on a non-stick craft sheet then swiping a piece of yupo paper through the ink to create a pattern. In method two I used a felt applicator with dots of alcohol ink on it to apply ink to the yupo paper. Method three was alcohol ink applied directly to the yupo paper. You can see all three methods in detail on my video tutorial below.

This post includes affiliate links to The Foiled Fox online store. At no extra cost to you I will receive a commission if you make a purchase after clicking a link to The Foiled Fox from this blog. The affiliate links are a new feature on my blog. I have been working with The Foiled Fox for quite a while now and I can recommend their store wholeheartedly. They have an extensive range of art and craft products and prompt and helpful service (also lovely packaging!)
Supplies:
Stamps: holiday snippets (Penny Black)
Dies: baubles, tall trees, nature's creatures, inspired, trees and hills (all Penny Black), circle dies 
Inks: stream, pool, stonewashed, shell pink, cloudy blue, denim, silver, snow cap, eggplant, lemonade alcohol inks (made by Ranger) majestic blue versafine ink & deep lagoon versafine ink
Paper: yupo paper, neenah solar white paper
Also: silver cord
---
Posted: January 11, 2017
Filed under:
tall trees
| Tags: Penny Black creative dies, Penny Black stamps
29 Comments
My subtle forest is an experiment in masking. I painted the panel a month back and it was sitting in the pile of possibilities. When I saw what the Casology challenge theme was this week I thought of this panel straight away. To paint this misty forest I use the PB 'tall trees' dies to cut masks from frisket film. Frisket film is a removable plastic film used for masking when painting and drawing. I positioned the two tree masks then painted a pale blue wash over the trees, let it dry then repositioned the masks. I repeated this process numerous times to create my forest. With each wash the panel became a darker shade of blue and the previously masked trees received some colour also. Having two different tree dies added a little bit of shape and height variety.
I'm sorry once again that I can't remember which paint I used. I don't think it matters too much; I would use any of my watercolour mediums and keep it fairly diluted so I could keep adding layers. I was careful to let it dry thoroughly between each addition of paint so there would be no blurry edges. I also pressed the frisket masks down very carefully so the paint wouldn't creep under the edges. I finished the card simply by adding a black sentiment and a natural coloured card base.
It's an interesting technique which I haven't finished playing with…
My blue forest works for the City Crafter challenge this week too.
Supplies
Stamps:  Happy Snippets (PB)
Dies: Tall Trees (PB)
Ink: Versafine onyx black ink (Tsukineko)
Paper: hot pressed watercolour paper
Paint: watercolour paint of some kind??
Also: grafix frisket film extra tac
---