Posted: January 17, 2023
Filed under: Alcohol Ink, around town, Dies, grafix, Penny Black, trees and hills
| Tags: grafix, grafix craft plastic, Penny Black creative dies, Ranger Alcohol Ink, Taylored Expressions
10 Comments
Yes, I have a few more alcohol ink skies to share. This time I have layered navy die-cuts over the alcohol ink panels and cut them into circles so they look like Christmas tree baubles. These ones were already cut and ready in my pile of possibility I just had to find suitable backgrounds and add cord and sentiments.
The skies were part of a big panel, alcohol ink on white craft plastic and there are some hints of gold here and there. Some is from gold alcohol ink but there are also threads of gold foil pressed onto the panel.
The backgrounds are embossed panels; sorry I don't know the name of the lovely branch one, it doesn't belong to me so I'm not sure who made it. The dies are Penny Black, 'trees & hills' and 'around town'.
I added some gold cord and Taylored Expression sentiments to finish them off.
(Compensated affiliate links from Foiled Fox & Scrap n Stamp)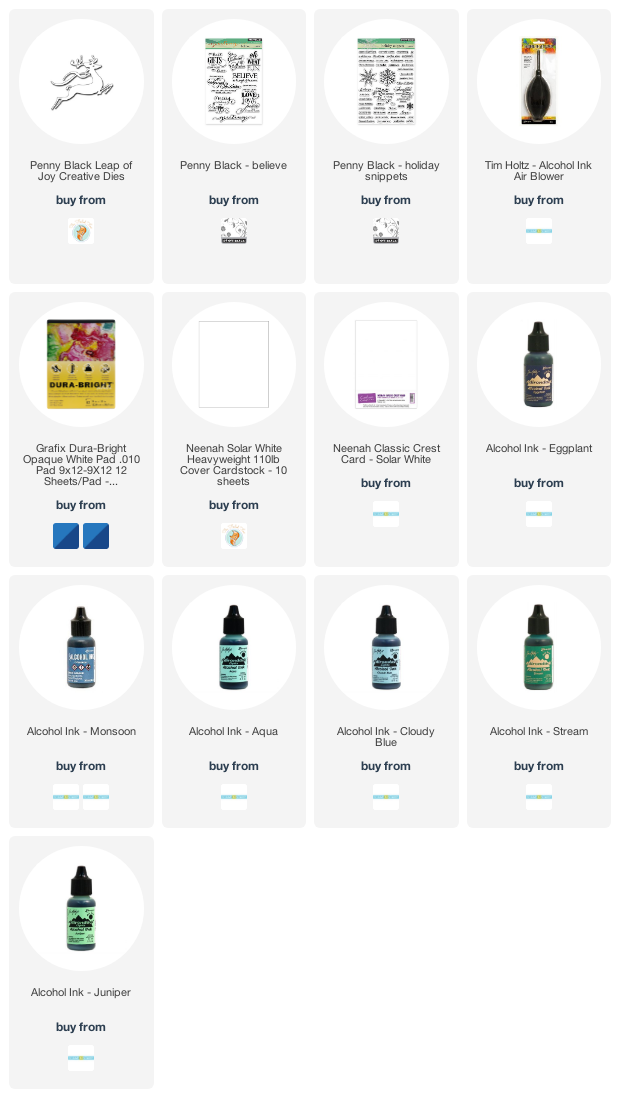 ---
Posted: November 29, 2021
Filed under: delicate pines, Dies, gift card pocket, joyful ornaments, jubilation, juniper, onramental branch, Penny Black, tall trees, Taylored Expressions, trees and hills
| Tags: Catherine Pooler inks, Penny Black creative dies, Penny Black stamps, Taylored Expressions, Tsukineko Versafine inks
7 Comments
Welcome to a long post with quite a few photos!
When I last counted up the names on my Christmas card list and the number of cards I have completed the two numbers were not close to matching. I decided a quick way to grow the stack of cards would be to stamp a big panel then slice it up to make several cards.
Turns out this idea was not all that quick. It took a while to make these cards because although they are from the same stamped panel, they are still all different. The photo above shows the original panel stamped with Penny Black's new 'delicate pines' set of 3 stamps and two Catherine Pooler inks. After the stamping I added ink splatter then gold paint splatter.
I kept the deckle edge on the 11″x14″ cold pressed watercolour panel and sliced up the panel lengthwise first. A,B & C are all 4¼" wide, D,E & F are all 4″ wide which left G,H & I all 2¾" wide. Below are all the finished cards. I used some pale gold, Bazzill avocado green and kraft cardstocks for the die cuts and framing. I used versafine clair rainforest ink to add sentiments and some linen twine here and there. All the cards are shown below with the size of the stamped panel portion included underneath (all the finished cards are 4¼"x 5½")
A. 4¼ x 4½
B. 4¼ x 5½
C. 4¼ x 4⅛
D. 4 x 5¼
E. 4 x 5¼
F. 4 x 3½
G. 2¾ x 4¼
H. 2¾ x 4¼
I. 2¾ x 5½
The finished cards above are in the places that correspond to the labelled photo up at the beginning of the post. I had them laid out on a cutting mat on the floor beside me as I put them all together so I didn't get them mixed up. I wanted you to see how I used each size in a different way.
I hope you find some inspiration from these cards. Remember that three of my online classes are on sale until the end of November. Use the code HTNOV to get a 25% discount on the Floral Faves class, Winter Wonder class and the Colour Clues class.
The stores I have affiliate links with are also having sales right now (isn't everyone?) I have put the links in the right hand side bar of the blog for easy access. Just click on the store name and start shopping!
(Compensated affiliate links used when possible)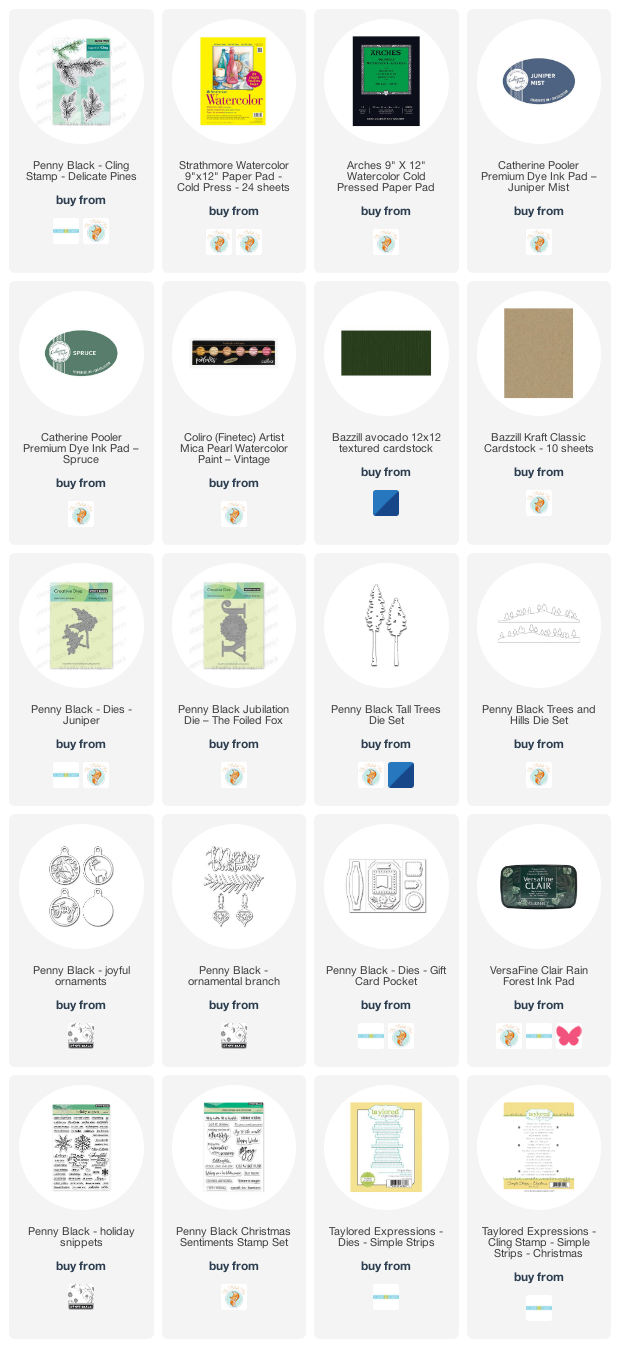 ---
Posted: October 8, 2017
Filed under: Alcohol Ink, baubles, inspired, tall trees, trees and hills
| Tags: Penny Black creative dies, Penny Black stamps, Ranger Alcohol Ink, Tsukineko Versafine inks
22 Comments
I am happy to finally have a video tutorial to share with you today. It's been a while I know. This one I created for Splitcoaststampers "Falliday Fest".
The card designs are very simple, the intricacy is in the patterns the alcohol ink makes.
I included several different methods of making alcohol ink patterns and also a few ideas for making the patterned panels into cards by die cutting circles to turn into baubles or snow globes. Method one involved blending alcohol inks on a non-stick craft sheet then swiping a piece of yupo paper through the ink to create a pattern. In method two I used a felt applicator with dots of alcohol ink on it to apply ink to the yupo paper. Method three was alcohol ink applied directly to the yupo paper. You can see all three methods in detail on my video tutorial below.

This post includes affiliate links to The Foiled Fox online store. At no extra cost to you I will receive a commission if you make a purchase after clicking a link to The Foiled Fox from this blog. The affiliate links are a new feature on my blog. I have been working with The Foiled Fox for quite a while now and I can recommend their store wholeheartedly. They have an extensive range of art and craft products and prompt and helpful service (also lovely packaging!)
Supplies:
Stamps: holiday snippets (Penny Black)
Dies: baubles, tall trees, nature's creatures, inspired, trees and hills (all Penny Black), circle dies 
Inks: stream, pool, stonewashed, shell pink, cloudy blue, denim, silver, snow cap, eggplant, lemonade alcohol inks (made by Ranger) majestic blue versafine ink & deep lagoon versafine ink
Paper: yupo paper, neenah solar white paper
Also: silver cord
---