Posted: November 11, 2022
Filed under: berry beauty, Music Background, Penny Black
| Tags: Fabriano Watercolour Paper, Penny Black stamps, Ranger Distress inks
10 Comments
A few weeks back I inked this stamp in autumn colours which reflected what I was seeing outside my window. I promised to do a more wintry version and here it is. Once again I worked on hot pressed watercolour paper with masking fluid splatters over it. I kept the panel in the stamp positioner so I could work on the red berries and green leaves separately avoiding too much bleeding of green into red and vice versa.
I used fired brick, barn door and aged mahogany to get variety in the berries. I inked, stamped then blended with a damp paintbrush. The leaves are a mix of forest moss and peeled paint. When I had finished stamping and painting the leaves and berries I noticed how much 'masking fluid' splatter was not covered in ink. If I don't paint or stamp over it there is less of the falling snow effect on the finished panel. Rather than paint around the berries I used blending brushes to add shabby shutters distress ink on the left and broken china on the right. I also stamped a bit of music background in peeled paint.
The sentiment is from the PB Christmas feeling set and the finished card is a little larger than my usual at 6.25″ x 4.5″. I did a count of completed Christmas cards the other day and found I am further ahead than I thought. How are you progressing. What is your goal? Just curious…I'm aiming for around 100 and the Australia bound ones need to get in the mail soonish!
(Compensated affiliate links from Foiled Fox, Scrap n Stamp and Ecstasy Crafts)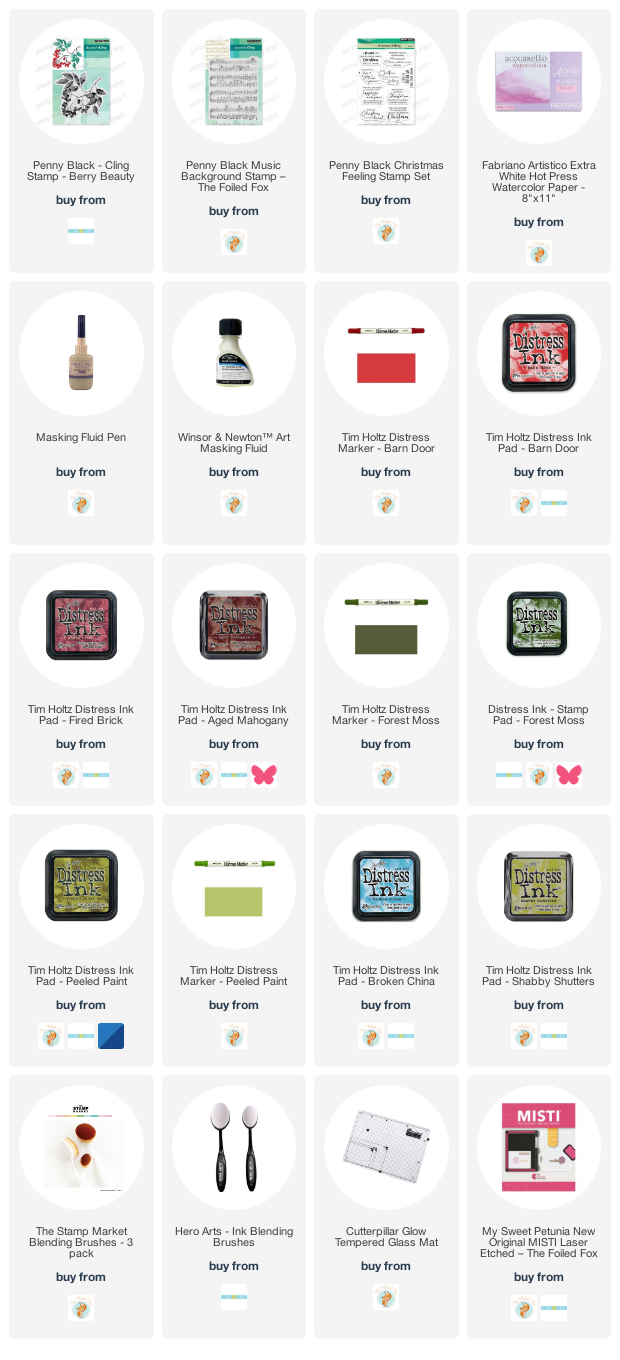 ---