Autumn Berry Beauty
Posted: October 24, 2022
Filed under: berry beauty, Penny Black
| Tags: Fabriano Watercolour Paper, Penny Black stamps, Ranger Distress inks
10 Comments
As I mentioned in my last post, the colours are beautiful around here at the moment. At certain times of day there seems to be warm golden light coming through a few of our windows. When I look closer it is sunlight hitting orange and yellow leaves and reflecting into the room. It's a little bit magical. Even though this new Penny Black 'berry beauty' stamp was probably designed with winter in mind I decided to put it to work on an autumn card first. I was hoping to create a little golden magic.
If you look closely you can see some white spots; I worked on a panel splattered with masking fluid. I kept the stamp in a postioner and inked the leaves and berries with fossilized amber distress ink, the stems and parts of each leaf with a pine needles distress marker and sections of the berries with spiced marmalade ink. I did the leaves first, spritzing the stamp lightly before stamping and blending the yellow and green with a paintbrush after stamping. I worked on the berries in the same way picking up extra orange ink to darken some berries to create depth and shadow.
To create the golden glowy background I blended some fossilized amber ink into the spaces with a blending brush then painted over it with water to blend it further. Once the background was dry I splattered some spiced marmalade ink and removed the masking fluid to reveal the white dots and splots. The sentiment from PB 'always thankful' set is stamped in rustic wilderness archival ink.
(Compensated affiliate links from Foiled Fox, Scrap n Stamp and Ecstasy Crafts)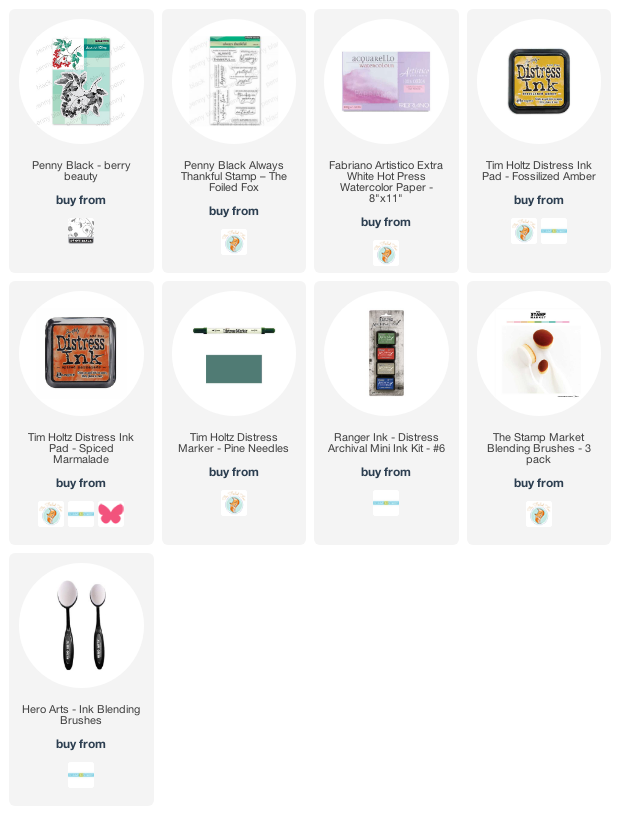 ---