Maple Leaves
Posted: October 20, 2022
Filed under: Darkroom Door, maple leaves
| Tags: Darkroom Door stamps, Fabriano Watercolour Paper, Ranger Distress inks
6 Comments
The colours around here are beautiful this year. Everywhere I go I see the gorgeous leaves that glow when the sun hits them and contrast with the wet tree trunks when it rains. This year's colours seem to be some of the best I've seen but I think we say that every year.
This stunning stamp is from Darkroom Door and it is called 'maple leaves'. I have two large maples in my yard so there are plenty of leaves to pick up but it is worth it for the weeks of splendor.
To create this card I put the stamp in a positioner to allow multiple pressings on the hot pressed watercolour paper. I randomly applied four different distress inks, gave the stamp a spritz of water then stamped. After one impression I could see where the stamp had no ink so I corrected and, bit by bit, made sure the whole leafy background was stamped.
I blended the inks with a paintbrush and water but didn't blend every scrap of leaf. I used a light hand so as to make colour blend into colour but still leave the texture detail showing through here and there. Thanksgiving has come and gone here in Canada but there are autumn birthdays coming up so I used a stamp from the DD happy birthday set, stamped in vintage photo archival ink.
Hope the colours are beautiful out your window.
(Compensated affiliate links from Foiled Fox, Scrap n Stamp and Ecstasy Crafts)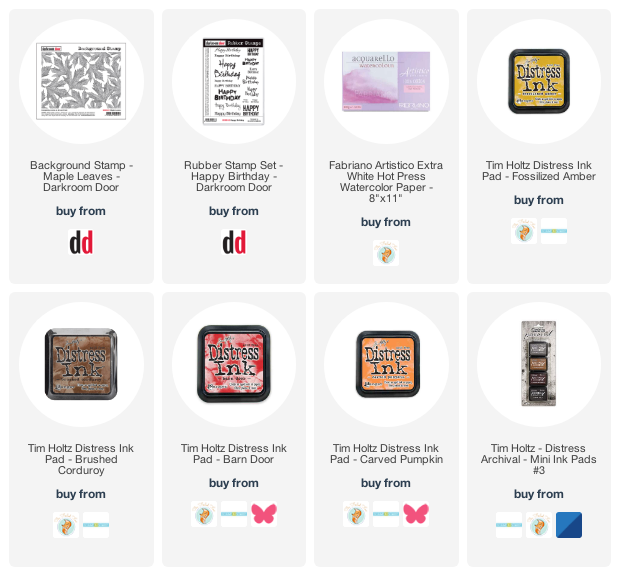 ---