Posted: August 30, 2016
Filed under: Nature's Silhouettes, Stamped Landscapes, Woodland Beauty
| Tags: Fabriano Watercolour Paper, Penny Black stamps, Ranger Distress stains, Tsukineko Memento inks
10 Comments
As this tree is one of my favourite stamps from the new Christmas release I decided to create a day scene and a night scene as part of my 'Top Three' feature on the Penny Black blog this week. For the night scene I painted the sky before stamping the tree, on this panel I did the opposite.
I began as I often do by splattering some masking fluid on a piece of hot pressed watercolour paper.  I did some partial stamping with the tree stamp so I could make the base of each tree look like it was stuck in a snow bank. To do partial stamping or 'faux masking' I ink the stamp then remove some of the ink with a wet wipe, in this case I removed the base of the tree so no trunk showed and the bottom edge was a little different each time I stamped it. I chose memento northern pine ink again because the colour separates when I spritz a little water over it (which I did each time before stamping).
I let the trees dry then painted the sky in three blue stains blending and removing colour to make it look like there were clouds. I used a small round watercolour brush and painted right up to and sometimes over the edge of the branches so there would be some blending of colour as well as some white spaces which end up looking a bit like snow.
Once all the sky was dry I stamped a single tree in the foreground and made it darker by re-stamping in the same colour. I painted a snow bank either side of the foreground tree with stain then added some shadows at the base of the trees using diluted northern pine ink as my paint. To finish I removed the masking fluid, added a sentiment in brown then popped it up on a cream card base.
If you didn't catch my night time scene with this stamp, you can find it here along with a video tutorial.
Supplies
Stamps: Woodland beauty, Nature's Silhouettes (PB)
Ink: memento northern pine (Tsukineko) tumbled glass, broken china, salty ocean distress stain(Ranger)
Paper: hot pressed Fabriano watercolour paper
Also: Daler Rowney masking fluid
---
Posted: August 29, 2016
Filed under: Prancers, Stamped Landscapes, Tutorial, Watercolour, Woodland Beauty
| Tags: Dr Ph Martin Hydrus watercolor paints, Fabriano Watercolour Paper, Penny Black stamps, Tsukineko Versafine inks, Tutorial, video
18 Comments
This week I am sharing my top three tree stamps from Penny Black's new 'Magic of the Season' release. You know I love tree stamps so you wont be surprised that they were the first image I looked for when the new release arrived. The pretty spruce silhouette stamp immediately caught my eye and I knew it would be in my top three tree stamps. I have four stamped landscape cards to share this week and this little tree stamp features twice, today in a night time snowscape and tomorrow in a day time scene.
You will probably recognise another favourite tree stamp of mine in the background of this scene, it's the little tree from the 'Prancers' set. I created a video to show you how I made this scene which features some watercolour effects along side some pigment ink stamping. I chose to pair pigment inks, which are waterproof, with watercolour painting so I could have pretty blends in the sky and snow but sharp tree images in the foreground and background.

Supplies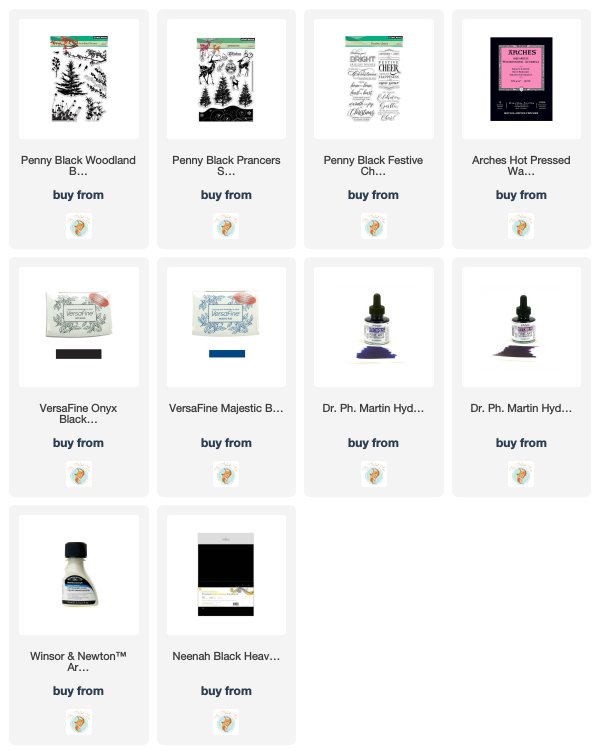 https://linkdeli.com/widget.js?1552642647875
---
Posted: August 18, 2016
Filed under: CAS, Nature's Silhouettes, Stamped Landscapes, Woodland Beauty
| Tags: Dr Ph Martin Hydrus watercolor paints, Penny Black stamps, Tsukineko Versafine inks
13 Comments
I have two more cards made from my experiments with new stamps on watercolour strips. Both today's strips and yesterday's were splattered with masking fluid before I started. For the deer card I also added a circle of masking tape before painting the sky in blue, purple, pink and yellow watercolour paint. I painted the horizon edge in blue and tilted the strip up so the paint flowed toward the moon, one colour blending into another
Once the sky dried I removed the masking fluid and tape then stamped the branches from 'woodland beauty' and the deer from ' nature's silhouettes' in black before painting some shadows in front of the deer's legs.
I used a similar process for the single tree scene, painting the sky first while leaving  some unpainted paper at the bottom to be the snowbanks. Once the sky dried I removed the masking fluid and positioned a post-it mask below the horizon and stamped the single tree from the 'woodland beauty' set over the mask. Once I removed the mask I painted shadows on the snow in the foreground and behind the tree.
The four little panels in today's and yesterday's posts are a taste of the new stamps and the types of scenes I expect to be creating over the next few months. I really enjoyed working small; have you tried it?
Supplies:
Stamps: Nature's Silhouettes, Woodland Beauty,  Joy Filled (PB)
Paints:  Dr Ph Martin Hydrus watercolour paints
Inks:  Versafine Onyx black ink (Tsukineko) 
Cardstock: Fabriano 100% cotton hot pressed watercolour paper, Neenah epic black cardstock
Also: masking fluid, masking tape
---