Posted: January 17, 2017
Filed under: a rose, Peerless watercolours, with affection
| Tags: Peerless Transparent Watercolors, Penny Black stamps, Ranger Distress inks
4 Comments
This cute little couple is a new stamp from Penny Black called 'the rose'. I stamped it in vintage photo distress ink then watercoloured it with peerless watercolour paints. I like the muted look of the vintage photo ink combined with the paint from the peerless palette.
I kept the design pretty simple by adding only ground under their feet but no extra background images or colour. Instead I made my own patterned panel by stamping the 'be mine' sentiment along with a tiny heart repeatedly in vintage photo ink. The tiny heart is cut from a row of five included in the 'from the heart' set. It was ideal for filling in little gaps around the words.
Pop over to my youtube channel to see how I set up my peerless palette.
Supplies:
Die:  A Rose, With Affection, From the Heart
Paints: Peerless watercolors
Cardstock:  hot pressed watercolour paper, neenah natural white, red cardstock
Ink: vintage photo distress ink
---
Posted: October 10, 2016
Filed under: Grateful, Peerless watercolours
| Tags: Peerless Transparent Watercolors, Penny Black stamps, WOW embossing powders
15 Comments
I have something new to share today, new to me that is. The Peerless paints have been around since 1885! Shauna from The Foiled Fox sent me the Peerless watercolour paints and they are beautiful. As the trees outside are turning stunning colours it seemed the perfect theme for my first peerless project. To read all the details about this card pop over to The Foiled Fox blog and read my guest post. Scroll down below to see how I set up a palette for my peerless paints.
Peerless watercolours are embedded in dry sheets. You touch the dry paint with a wet brush to pick up colour. To see how I set up my paints so I could access all the colours on one fold out palette, watch the video below.
Supplies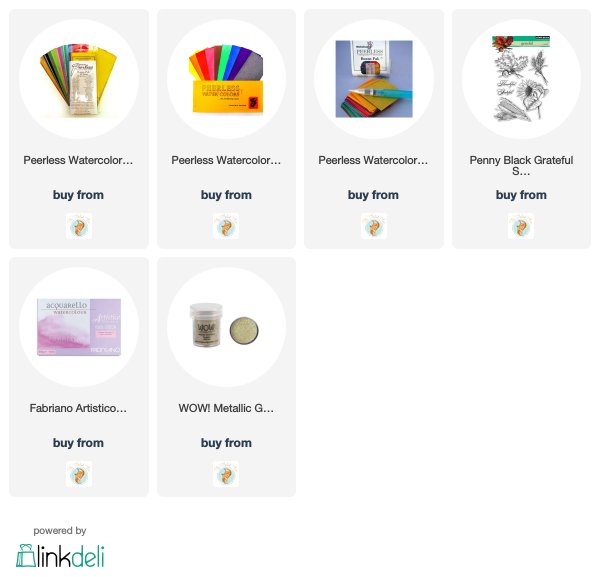 ---