Posted: January 30, 2020
Filed under: Anything but basic friendship, My Favorite Things, Roses all over
| Tags: My Favorite Things, Penny Black creative dies, Ranger Distress inks
5 Comments
This lovely background stamp from MFT is brilliant for trapping colour. My first choice would be to colour it with paint powder like brusho or colourburst but a quicker and less messy technique is to rub distress ink cubes across the embossed panel randomly. I embossed 'roses all over' on hot pressed watercolour paper with silver embossing powder then randomly rubbed fossilized amber and candied apple distress inks over the panel. Because of the embossing the ink didn't saturate the whole panel but it did leave some colour in all the sections.
Next I liberally spritzed the panel so the inks would dilute, blend and fill the petals. This technique is one a friend of mine affectionately calls 'drowning'. The ink mixed pretty well by itself but I did use a paintbrush here and there to make sure the whole panel was coloured. I dried it, trimmed it and added a band of vellum so my sentiment strip and die-cut would not have to fight with the busy background.
I stamped part of a MFT 'anything but basic' sentiment on an Avery Elle simple sentiment strip. I use those sentiment strips all the time; I have a stash cut and ready on my desk for every third card! I cut the PB 'wonderful' twice from red cardstock (with 'stick it double sided adhesive' on the back) and stacked them on the vellum.
I enjoyed reading your comments about the black watercolour paper and I'm happy some of you are inspired to pull out your own to do a little experimenting. You'll definitely be seeing it again here.
Supplies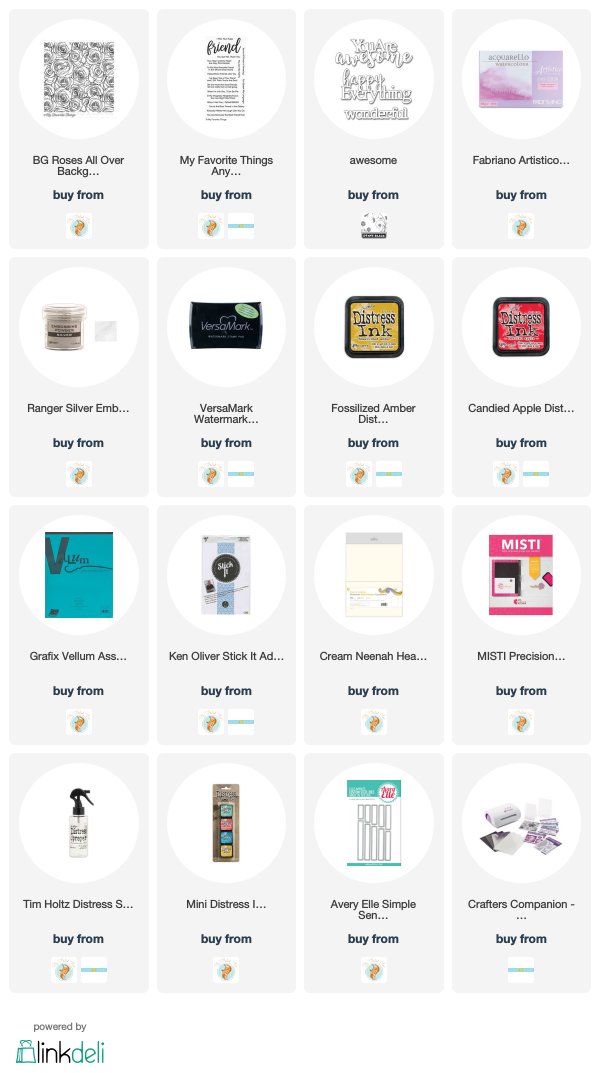 ---
Posted: April 18, 2018
Filed under: Brusho, Roses all over
| Tags: Brusho, My Favorite Things, Penny Black creative dies, Penny Black stamps
8 Comments
The first card I made using this lovely rose stamp from My Favorite Things featured bister powder; this one was done with a couple of brusho colours. I used the same technique for both and have been asked several times about the amount of powder and the amount of water. I hope to do a video soon showing my method with paint powders.
I used two colours on this panel, a red and a yellow. You can see there are some specs of blue also, I think they were on the surrounding scrap paper and just transferred to my panel. I embossed the roses all over stamp with clear powder on hot pressed watercolour paper then sprinkled red brusho in the centre and yellow brusho on the edge of the panel. I spritzed with water then tilted the panel to activate the powder. Where there was too much water or colour I used either a paper towel or a 'thirsty brush' to sop it up. (A thirsty brush is a paintbrush dipped in water then squeezed or dabbed dry so that it can absorb water or paint from the painting.)
I cut three layers of the rusty red cardstock with the 'bloom magical' die and stacked them. The sentiment from the PB 'friendship flowers' set works perfectly with the die so I stamped in black and slipped it under the stacked die cut.
Have a wonderful day.
Supplies
Stamps: roses all over (MFT) friendship flowers 30-223 (PB)


Dies: bloom magical 51-420(PB)


Paper: hot pressed watercolour paper, neenah natural white, red cardstock


Ink: versamark, versafine onyx black


Paint: brusho
---
Posted: January 30, 2018
Filed under: Bister, My Favorite Things, Roses all over, Shades
| Tags: Bister, My Favorite Things, Penny Black creative dies
15 Comments
I pulled out my bister powders the other day; they were kind of pushed to the back of the watercolour shelf. They turned out to be a perfect match for this 'roses all over' stamp from My Favorite Things. Bister (and brusho and colorburst) does wonderful things when sprinkled over embossing because the powder gets trapped inside the 'walls' of embossing and keeps colours and shades separate. If you are not familiar with bister, you can read about it here. The colours are earthier than brusho and colorburst which is nice for a change.
Believe it or not this panel is painted with just red bister; all that lovely variety is from one colour. I embossed the watercolour panel with platinum embossing powder then sprinkled the red bister over it and spritzed with water. I watched to see if sections were filling with colour before spritzing or sprinkling a second time. Once there was enough powder I used a paint brush in  just a few places to blend or spread the colour. I did not have to do much with the brush because MAGIC.
I found a cardstock that co-ordinated to mat the panel and create a banner for the sentiment. The banner die is from the PB 'shades' set and the sentiment embossed in platinum is from the PB 'banner sentiments' set.
Thanks for dropping by.
Supplies
Stamps: roses all over (MFT), banner sentiments(PB)


Die: shades (PB)


Ink: versamark


Paint: bister powder red
Cardstock: hot pressed watercolour, neenah natural white, red cardstock


Also: platinum embossing powder
---