Wonderful
Posted: January 30, 2020
Filed under: Anything but basic friendship, My Favorite Things, Roses all over
| Tags: My Favorite Things, Penny Black creative dies, Ranger Distress inks
5 Comments
This lovely background stamp from MFT is brilliant for trapping colour. My first choice would be to colour it with paint powder like brusho or colourburst but a quicker and less messy technique is to rub distress ink cubes across the embossed panel randomly. I embossed 'roses all over' on hot pressed watercolour paper with silver embossing powder then randomly rubbed fossilized amber and candied apple distress inks over the panel. Because of the embossing the ink didn't saturate the whole panel but it did leave some colour in all the sections.
Next I liberally spritzed the panel so the inks would dilute, blend and fill the petals. This technique is one a friend of mine affectionately calls 'drowning'. The ink mixed pretty well by itself but I did use a paintbrush here and there to make sure the whole panel was coloured. I dried it, trimmed it and added a band of vellum so my sentiment strip and die-cut would not have to fight with the busy background.
I stamped part of a MFT 'anything but basic' sentiment on an Avery Elle simple sentiment strip. I use those sentiment strips all the time; I have a stash cut and ready on my desk for every third card! I cut the PB 'wonderful' twice from red cardstock (with 'stick it double sided adhesive' on the back) and stacked them on the vellum.
I enjoyed reading your comments about the black watercolour paper and I'm happy some of you are inspired to pull out your own to do a little experimenting. You'll definitely be seeing it again here.
Supplies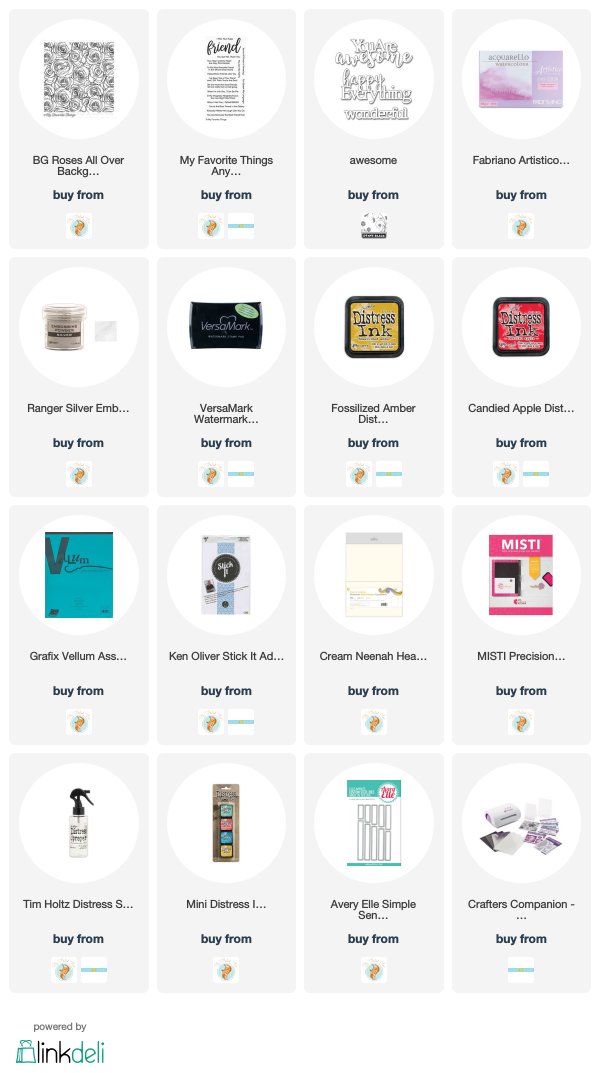 ---