Winsome wreath
Posted: January 31, 2020
Filed under: Penny Black, winsome wreath
| Tags: Penny Black stamps, Ranger Distress inks, Ranger Distress stains
12 Comments
You might not recognise this stamp straight away but it is the 'winsome wreath' I used on a black card earlier in the week. It looks a bit different on the more traditional white watercolour paper. It also looks different because I have only used half of the stamp. I stamped the wreath on the edge of a hot pressed watercolour paper panel and once I'd finished painting it I added a few leaves under the orange rose as that space seemed a little empty.
I did the initial stamping in distress antique linen ink which is great for no-line colouring. While the panel was still in the stamp positioner I stamped the centre of the big rose in spiced marmalade ink. I did this because I find it hard to paint all those tiny petals separately and even find it hard to see them all when they are stamped in antique linen. As I was planning to paint the rose in spiced marmalade anyway it was helpful to have the centre of the rose outlined in that ink to begin with.
I dropped some spiced marmalade, seedless preserves and mowed lawn distress stain on my glass mat to use as a palette. I painted one petal at a time except for some of those tiny ones in the centre. As I painted a petal I would blend to the edges then drop in a bit more colour with my brush usually on the sections of the petals that might be shadowed by the petal adjacent. It isnt' an exact science when I do it but I end up with some variation which adds to the realism. I also added a tiny bit of seedless preserves to some of the petals which gave them a slightly aged looked. The leaves are a mix of mowed lawn and spiced marmalade so without intending to I did another of my 'limited palette' cards, just three colours in the end.
I splattered some gold paint from the gansai tambi starry set over the panel and added a sentiment in gold embossing powder to match. Rather than add a coloured mat I created a subtle 'shadow mat' by popping up the panel on a piece of foam. Thanks for dropping by today; let me know if you can see the mistake I made with the rose but decided to just ignore because I definitely did not want to start again!
Supplies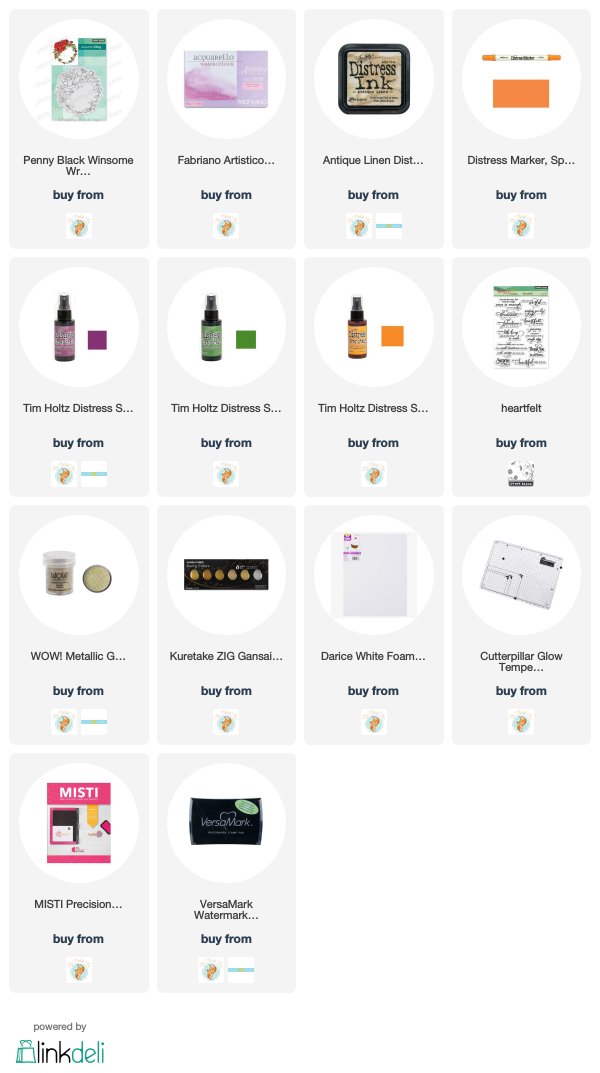 ---