Posted: May 11, 2020
Filed under:
Hand painted
| Tags: Fabriano Watercolour Paper, sennelier watercolours
31 Comments
It is a constant resolve of mine to do more painting. I love painting with stamped images but I want to improve my painting without stamps too.  I spent some free time recently painting this little wreath for a friend's birthday. I worked on Fabriano cold pressed watercolour paper (100% cotton 140lb) and used Sennelier watercolour paints. As usual I kept my palette of colours limited concentrating on the same red, blue, purple, grey and mustard paints to get different hues and tones. I began by tracing a circle with a light brown watercolour pencil knowing that I would cover most of it up and it would dilute and disappear as I painted over it.
I started by painting the large flowers then moved on to the smaller ones and leaves. I kept adding little leaves or buds thinking the circle was unbalanced but eventually had to tell myself to stop. The decision about whether to stamp, hand letter or die cut some words is still unresolved. What to do you think?
---
Posted: August 29, 2019
Filed under: Ink to Paper, My Favorite Things, poppy background
| Tags: Faber-Castell Polychromos Colour Pencil, Ink to Paper, My Favorite Things, Ranger Distress inks, sennelier watercolours
10 Comments
I did not plan to post this stamp two days in a row but it was there on the desk within reach and you have to admit it is perfect for no line watercolour because the outlines are so clear. So, instead of working on my to do list I painted on this card.
I stamped on hot pressed watercolour paper with antique linen distress ink for a pale but easily seen outline image. I decided to use my sennelier watercolours because they are lovely to work with. I used a red, a yellow, and a green. To make brown I mixed the red and green, then to make the black I added more red and green. The green I used for the stems and buds was not straight from the pan I mixed in a little red first to make it more olive toned. Once again I was happy with the results from sticking to a limited palette. You can definitely try the same approach with whatever watercolours you have on hand. If your green is a little bright, as mine was, add in a bit of red.
I painted the petals one at a time with diluted red and while each was wet I added more red where I wanted depth or shadow. I paid attention this time to whether I was painting buds or pods. I painted the buds with green blended into red and painted the pods in browns. I added a little of the mixed green to my yellow before painting the poppy centres and used my red+green=almost-black to paint the little black dots around the poppy centres.
After all the painting was done I added a bit more shading and veins on petals with polychromos coloured pencils.
I decided to use another of the lovely little sentiments from my new Ink to Paper 'tagged' sentiments set. To achieve a matching olive green on the sentiment I stamped with versafine clair shady lane ink but I stamped on a scrap first so I could get a pale 'second generation' print.
I hope you see how versatile this stamp is; it worked beautifully with the loose distress stain watercolour and the more precise no-line watercolour. I have an idea for a third look too.
Supplies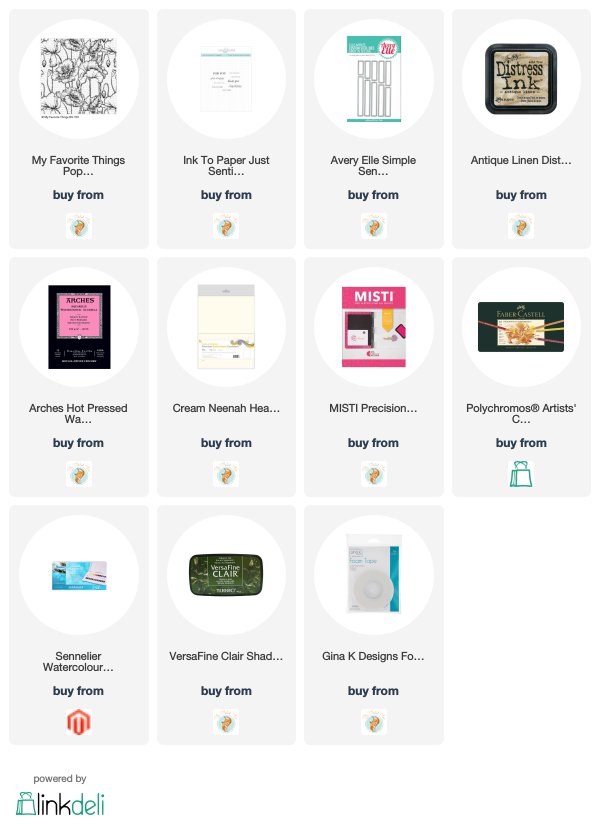 ---
Posted: May 10, 2019
Filed under: bunches for you, flower fantasy, peaceful time, Penny Black, Watercolour
| Tags: canal paper, Penny Black stamps, sennelier watercolours
10 Comments
I came across some interesting paper at Art Noise when I was in Kingston on the weekend. It is called canal paper and is made by Paperterie St. Armand in Montreal. The pad of paper I bought has six different colours, all made from cotton rag; the fibres are left from clothing company offcuts. There is no bleaching or dyeing, the colour of the papers is from the colour of the cotton fabrics.
The paper is not the only new thing I tried out on these cards. I also have some delicious new Sennelier watercolours. I was interested to see how they looked on the coloured paper and also how the paper held up to a watercolour wash.
These cards are one layer making use of the natural deckled edge on one edge of the paper pad. I scored the paper then taped it to my glass mat, lining up the frog tape with the grid on my mat to create a masked panel in the centre of the card front. I used three colours of paint on each card and matching envelopes. I was impressed that no paint seeped under the edge of the tape so I had crisp edges to my watercolour panels.
I stamped the new line art stamps from Penny Black with Ranger archival inks and was very happy with the crisp prints on the paper, I thought there might be a bit of bleed as the paper has quite a soft surface but the stamping was crisp and there was no bleed through with the watercolour washes. For the two cards above I simply stamped the image over the watercoloured section. On the card below I did the same then added some extra painting to the flowers using the same paint colours. The colour of the paper makes the paint colours more muted than they would be on white or cream but I liked the more rustic simple style on these cards. You could definitely use this technique with the traditional white watercolour paper and achieve much brighter results.
My cards measure 5″x 4¼" so I decided to make custom envelopes from the same paper. I used the We R Memory Keepers 1-2-3 punch board to make an envelope to fit and before I taped it together I masked a section of the front so I could watercolour in the same colours used for the cards.
Supplies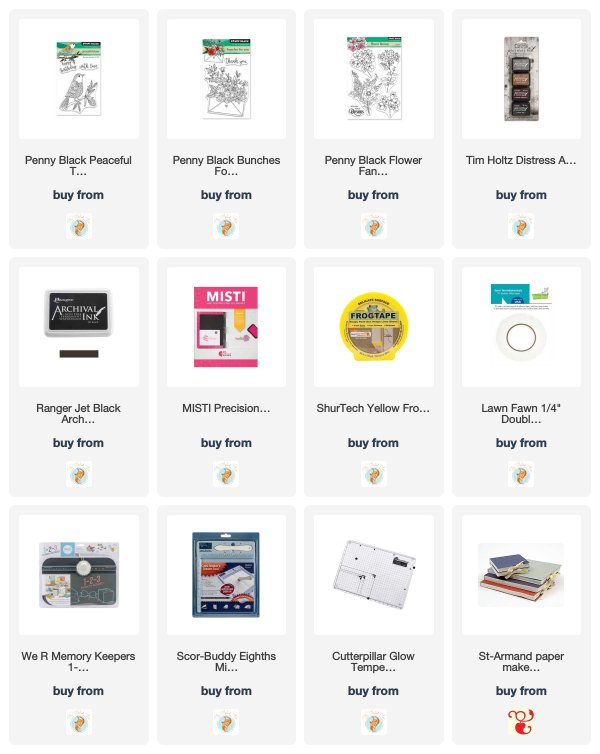 ---