Posted: November 5, 2020
Filed under: grafix, Nature's Friend, sennelier watercolours, winter woodland
| Tags: grafix, Penny Black stamps, sennelier watercolours
5 Comments
I teamed up with Grafix to create some videos this year. My first project was very definitely a summer scene, but this one, as you can see is not! We have had a few snowfalls already but currently are enjoying a reprieve and a few really nice mild days. Grafix makes a wide range of art plastics and films; I used their extra tack frisket film to mask the snowbanks and moon on this card and splattered Grafix liquid frisket to create the falling snow.
I worked on hot pressed watercolour paper and painted the sky and shadows with Sennelier watercolours. The trees and deer are stamped with the ever useful versafine clair nocturne ink. The video below shows my whole process.
If you are keen to create cards featuring the beauty of a northern winter I am working very hard on a new project that might interest you. Can't wait to share more soon.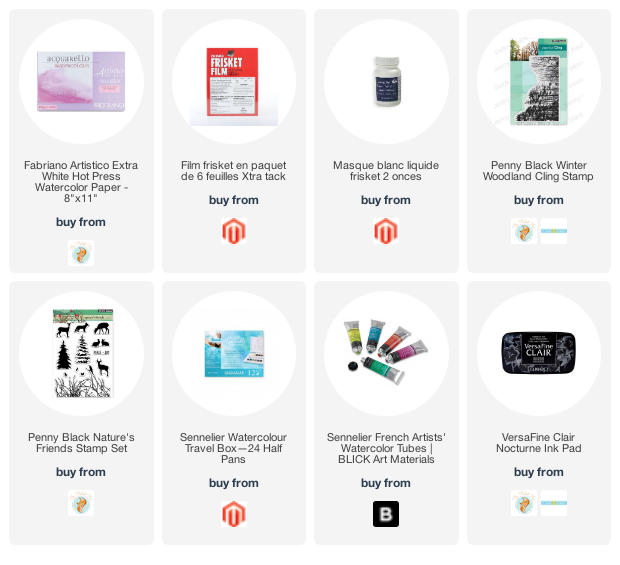 ---
Posted: December 31, 2019
Filed under: Before the Snow, Penny Black, winter woodland
| Tags: CAS, Koh-I-Noor, Penny Black stamps, Tsukineko Memento inks, Tsukineko Versafine inks
6 Comments
That's right I have a Christmas card for you. I totally subscribe to the twelve days of Christmas deal; I am in no hurry to take down decorations or make resolutions. When I look at this card though, I realize it could definitely work for the new year. We woke up to a very merry & bright scene as the world is once again covered in white! Both these stamps are favourites of mine as they will be useful year round and of course, they feature trees!
No watercolour paints or techniques were used in this card, I know, it's a bit of a departure but I love the crisp images I was able to get stamping on bristol cardstock. I stamped the winter woodland stamp with memento London fog ink on bristol then switched to versafine clair rainforest ink to stamp the 'before the snow' tree  and the sentiment in the foreground. I matted with a co-ordinating green cardstock then a white cardbase.
I made a couple of these cards but might make a few more in preparation for next Christmas or even change the foreground image to make them suitable for year round. It's a quick but effective design inspired by the beautiful work of Julia of Derkleineklecks blog.
Happy New Year! Thank you for spending time here on the blog with me this year; I look forward to sharing more projects in 2020. How about the neatness of that 2020; I like it!
Supplies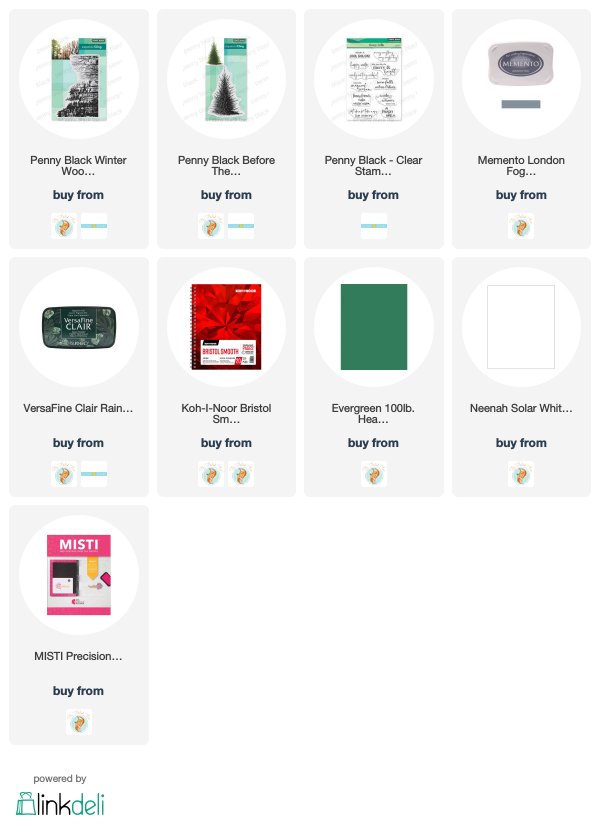 ---
Posted: December 9, 2019
Filed under: Papertrey Inks, Penny Black, Spread Cheer, winter woodland
| Tags: Koh-I-Noor, Papertrey ink, Penny Black stamps, Tsukineko Versafine inks
9 Comments
You know I love tree stamps so when this beauty from Penny Black appeared I had all sorts of plans for it. My first inking was to create these peaceful scenes to share here and on the Foiled Fox blog. The background stamp is called 'winter woodland' and the foreground stamp is from an older set 'spread cheer'.
Both these cards were made on smooth bright white bristol cardstock which shows off the detail of the tree stamp beautifully. I made an improvement the second time I made this card so I will share my 'better method' with you here. I suggest stamping and embossing the child and sled first, that way any inking and blending done after will be resisted because of the embossing. When I tried just stamping in black after blending the sky there was a difference in the blackness of the child image because of the blended ink underneath.
After stamping the foreground image I positioned a torn post-it note mask over lower portion of the panel and stamped the winter woodland stamp in hickory smoke versafine ink.  I love the different trees in this image; it is so like the scenes around here. I punched a small circle from masking paper and positioned it over the trees to make a moon. I used Papertrey ink and blending brushes to do the sky and a trick I learned from Jennifer McGuire. Doing blending on a glass mat makes sense because the ink you waste by starting off the panel is on the glass mat and can be picked up by the brush and transferred to the panel. I started by blending a strip of scarlet jewel ink along the horizon of one panel and an even smaller section of harvest gold ink on the other panel. I kept the blending light around the moon in blueberry sky ink and darker around the edges.
After I removed the moon mask and then horizon mask I repositioned the torn edge lower down to add some more snow banks with a pale layer of ink still in the blending brush. I finished the cards with a sentiment from PB 'merry up' in hickory smoke ink. Make sure you click over to the Foiled Fox blog for more tips about this card plus a blog full of inspiration from other designers.
Supplies


---