Posted: January 8, 2020
Filed under: Brusho, Penny Black, Sweet Perfume
| Tags: Brusho, Penny Black stamps, WOW embossing powders
10 Comments
I've talked about limited palettes on the blog before; today's card is a good example of why I like to work with a limited palette of colours. I used only three brusho colours to paint this card, ost blue, sandstone, lemon brusho. The panel began with the PB sweet perfume stamp embossed in gold on hot pressed watercolour paper.
I sprinkled each of the three brusho colours into wells of a palette leaving empty wells between the colours where I could mix new colours. I used mainly sandstone for the large flower, lemon for the smaller flowers and added depth by adding more sandstone for tan shadows or orange shadows. I was able to create a few different greens by mixing  blue with sandstone and blue with lemon. As sandstone is a brownish orange it was perfect for darkening the centres of the flowers. I love the texture in the centre of the large flower which I achieved by sprinkling some brusho directly on the panel then blending it with water.
To mat the panel I chose a dark blue cardstock that co-ordinated with the dark bluey green paint. To finish the card I added an MFT sentiment also embossed in gold.
I have another couple of cards made with the same limited palette, so check back soon.
Supplies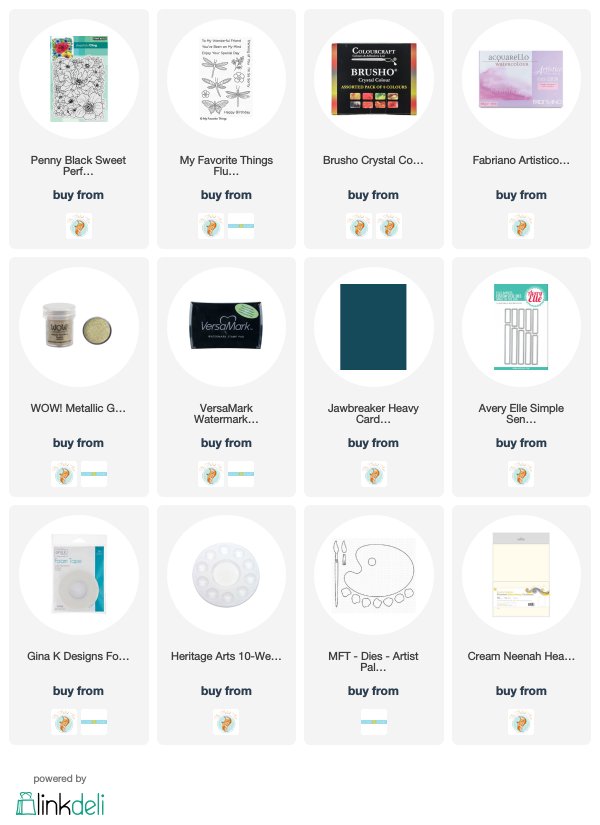 ---