Posted: May 3, 2023
Filed under: beaded mandala, Deco Frame, Dies, gel press, Penny Black
| Tags: gel press, gel printing, Penny Black creative dies, The Crafter's Workshop
3 Comments
Gel printing continues to entice and delight me. This brown and burgandy print was done with a mandala mask from The Crafter's Workshop; it's called 'beaded mandala'.
This print is a good example of the bonuses you pick up when you don't start with a perfectly clean gel plate. If you look closely you can see some tiny remnants of text from an image transfer as well as the more obvious grey leftovers. I chose burgandy for the stacked PB diecut 'thank you' because there are some patches that look more burgandy than brown.
This technique with stencils is one of my favourites and is included in my upcoming online class Gel Print Journey. I am excited to be talking about it again despite the months that have passed since I began. I am back on it and excited to release it soon!
(Compensated affiliate links from Foiled Fox & Scrap n Stamp)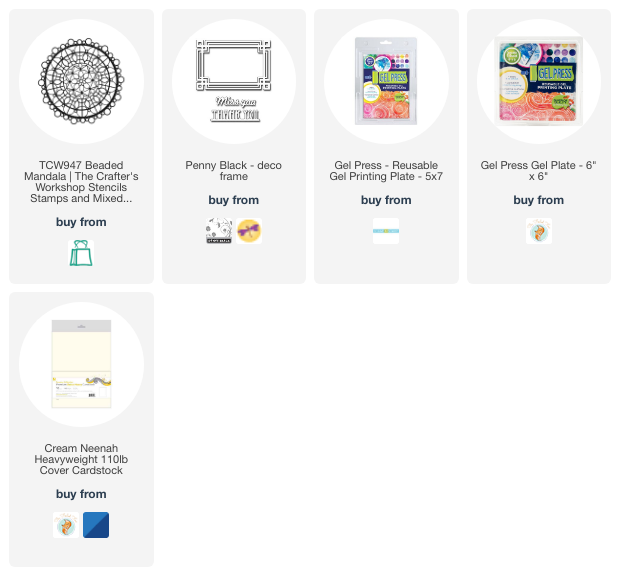 ---
Posted: February 11, 2015
Filed under: Deco Frame, No Card Left Behind, Sprigs, Watercolour
| Tags: Penny Black creative dies, Penny Black stamps, Tsukineko Memento inks
8 Comments
I had a card idea in my head yesterday and I did several trials and variations with the stamps from the transparent set 'Sprigs' but my original idea did not end up working. I set the experiments aside and designed a totally different card. Today when I looked at yesterday's experiment I came up with the card you see above. The problem with the panel before I die cut dragonflies and a sentiment out was that is did not really have a focal point. The colours were pretty and some of the watercolour effects were pretty (others were messy) but it all looked too similar. By cutting the dragonflies to reveal the blue cardstock behind, the focus is taken away from the watercolour panel and transferred to the bold images and letters. I could have just as easily popped dragonflies on top but I like the cut-away look. The features I liked in the original panel are no longer trying to be the stars, they work better as back up. Next time you cast aside a stamped panel because it's not working the way you thought consider whether it just needs to be in the background and let another element take centre stage.
To create the panel I inked up three of the 'sprigs' stamps with a mix of blues and greens. I inked each stamp with one colour using a large stamp pad then added another colour with a marker. I spritzed each stamp, stamped them on watercolour paper then, when I had stamped all the images, spritzed the paper.
I can't always turn my experiments into finished cards, often the watercolour panels just get turned over so I can use the other side. Sometimes I wonder if the recipients of my cards ever see the backs of some of my panels, hopefully the adhesive holds and the rejected side stays hidden!
Supplies:
Stamps: Sprigs (PB)
Creative Dies: Deco Frame, Flutters (PB)
Inks: Nautical Blue, Teal Zeal, Cottage Ivy, Bamboo Leaves Memento ink (Imagine Craft/Tsukineko)
Cardstock: Fabriano hot pressed watercolour paper, Blue cardstock
---