Posted: May 22, 2020
Filed under: Alluring, Penny Black
| Tags: Fabriano Watercolour Paper, Penny Black stamps, Ranger Distress inks
10 Comments
This watercoloured panel stamped with the PB 'alluring' stamp has been sitting around for a long time. I've been trying to come up with a slightly different way to turn it into a card. I create a great many cards with one large stamped and painted panel and little else so I wanted to mix things up a little with this one. I finally decided to slice up the panel then pop it up on foam backing.
I stamped the original panel on cold pressed watercolour paper and used one of my favourite watercolour techniques. Instead of stamping in a pale water soluble ink then painting with ink or watercolour paint I ink the different parts of the scene with different inkpads or markers, spritz the ink with water then stamp. With some extra ink handy on my glass mat I use a paint brush to blend the stamped ink into the petals, leaves and other shapes adding extra ink where needed.
When slicing it up I took care to divide it unevenly while making sure some elements carried across to adjacent sections. That way the eye moves across the panel and doesn't come to halt in the middle. I've listed the inks I used below, all distress inks in either ink cube or marker form. Oh and by the way have you seen the new distress colour? 'Speckled Egg' looks like it might be a blue green or even better a grey blue; I wonder how it compares with tumbled glass and broken china. Regardless, it's part of the blue family so yes, I will be getting it in a few different forms. How about you?
Supplies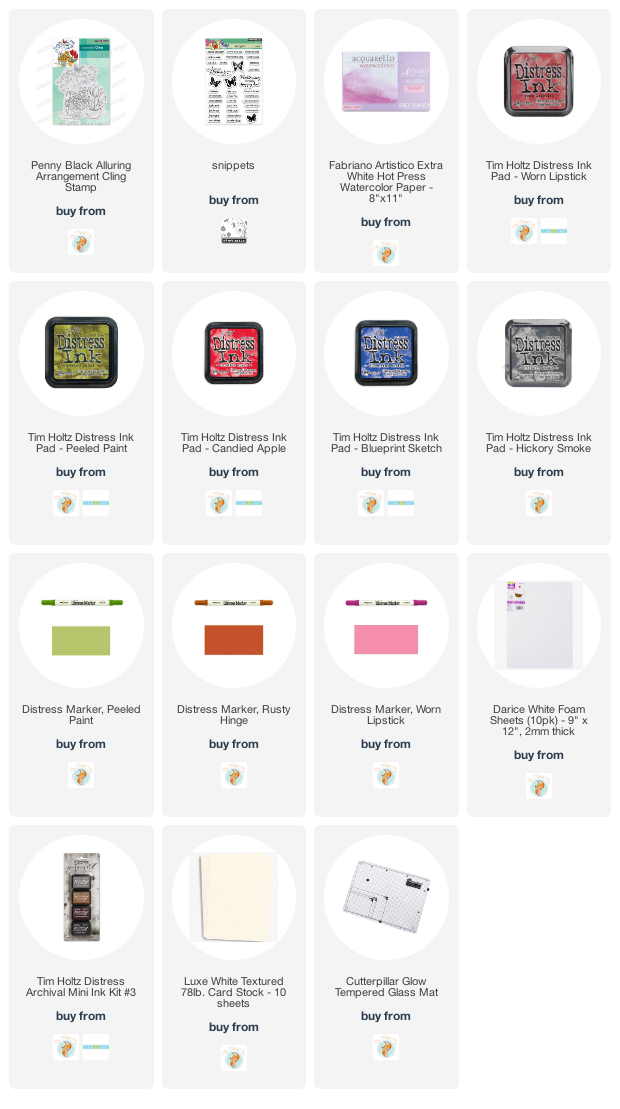 ---
Posted: May 1, 2020
Filed under: Alluring, Coloured pencil, Tutorial
| Tags: Faber-Castell Polychromos Colour Pencil, Penny Black creative dies, Penny Black stamps, Tutorial, video
11 Comments
I've been doing some coloured pencil work, nothing too fancy but definitely satisfying to see it come together. I filmed as I coloured so you can see how I approached each flower as well as the glass vases.  I don't often complete a whole card with coloured pencils, I'm more likely to bring them in at the end to add details and shading but this time they are took the starring role. I like the look of pencil on kraft paper too, I find it a bit less intimidating than bright white paper.
It took me a long time to finish the colouring so I'm sure you won't be surprised to hear I didn't include every last second of footage. I sped it up and chopped it up so it wouldn't be too long but I made sure to include my process for each element. I even did one part more than once!?! but I'll tell you about that during the video. Towards the end of the video I referred to colouring wizard Kathy Racoosin, if you haven't checked out her blog and wonderfully instructive youtube channel, make sure you do.
As you can see I stamped a print on a matching envelope and on the inside of the card too. It is always best to do this while the stamp and inks are still on the table, buy you already knew that didn't you?
When I showed this one to my daughter she absolutely made my day by saying it reminded her of story books she would read and reread as a child because she enjoyed the illustrations so much!
Supplies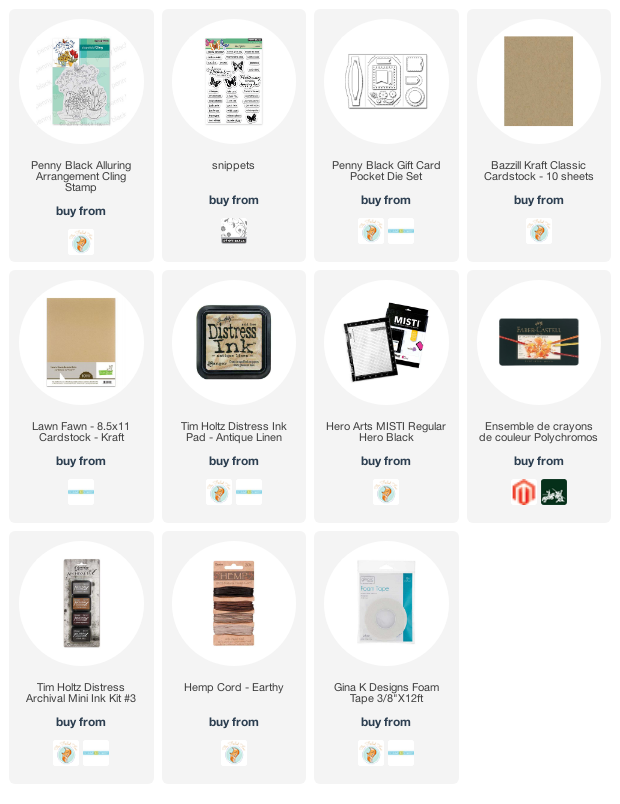 ---