Alluring Cut Up
Posted: May 22, 2020
Filed under: Alluring, Penny Black
| Tags: Fabriano Watercolour Paper, Penny Black stamps, Ranger Distress inks
10 Comments
This watercoloured panel stamped with the PB 'alluring' stamp has been sitting around for a long time. I've been trying to come up with a slightly different way to turn it into a card. I create a great many cards with one large stamped and painted panel and little else so I wanted to mix things up a little with this one. I finally decided to slice up the panel then pop it up on foam backing.
I stamped the original panel on cold pressed watercolour paper and used one of my favourite watercolour techniques. Instead of stamping in a pale water soluble ink then painting with ink or watercolour paint I ink the different parts of the scene with different inkpads or markers, spritz the ink with water then stamp. With some extra ink handy on my glass mat I use a paint brush to blend the stamped ink into the petals, leaves and other shapes adding extra ink where needed.
When slicing it up I took care to divide it unevenly while making sure some elements carried across to adjacent sections. That way the eye moves across the panel and doesn't come to halt in the middle. I've listed the inks I used below, all distress inks in either ink cube or marker form. Oh and by the way have you seen the new distress colour? 'Speckled Egg' looks like it might be a blue green or even better a grey blue; I wonder how it compares with tumbled glass and broken china. Regardless, it's part of the blue family so yes, I will be getting it in a few different forms. How about you?
Supplies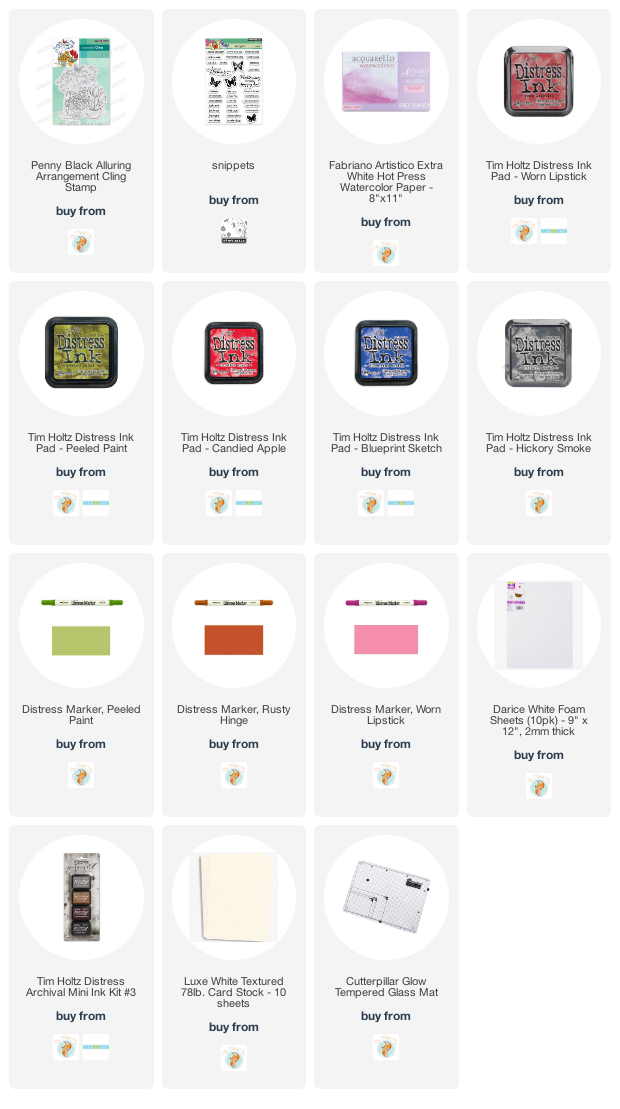 ---