Posted: February 9, 2022
Filed under: Penny Black, picturesque, snowy village
| Tags: Penny Black stamps, Ranger Distress inks
18 Comments
It is a little while since I stamped and watercoloured a card. It's been all alcohol-inky and art-journally around here lately. Yesterday I stamped, painted and blended three cards with PB stamps which was a nice way to spend the day.
I had two pieces of inspiration for this scene. One is a youtube channel I have been enjoying for a year or so about life in Longyearbyen, the world's most northern town situated on Svalbard, an island between Norway and the north pole. The other inspiration was a watercolour painting I saw on instagram by Evgenia Gorbacheva. My scene is different from both inspiration pieces as I featured the PB stamps, 'picturesque' and 'snowy village'.
My panel of cold pressed watercolour paper already had masking fluid splattered over it so that is why there are random white 'snowflakes'. I worked out roughly where the mountains would go then stamped the village below in soft sky ink. The first impression included the church spire but I left it un-inked for the second print so the building would look different. After stamping I sketched the snowbanks and coast line in pencil then painted over the church spire with liquid frisket (masking fluid).
I stamped the mountain stamp in chipped sapphire (also known as absolute favourite blue ink) taking care to leave a bit of the stamp un-inked so there would be an open white area of snow. I blended some of the stamped ink, adding black here and there but kept some untouched to look crisp.
I painted all the buildings with distress inks smooshed on my glass mat (iced spruce, hickory smoke, rustic wilderness and candied apple). While they dried I painted the water and the snowbanks around the village. After that all dried I painted the sky with chipped sapphire then returned to the buildings to add grey shadows on and around the snow covered rooftops. I added the windows and doors with a grey marker and extra definition to the shore line with a black marker.
Not sure if I will send this one anywhere; I've grown a little attached to it!
Supplies
(Compensated affiliate links used when possible)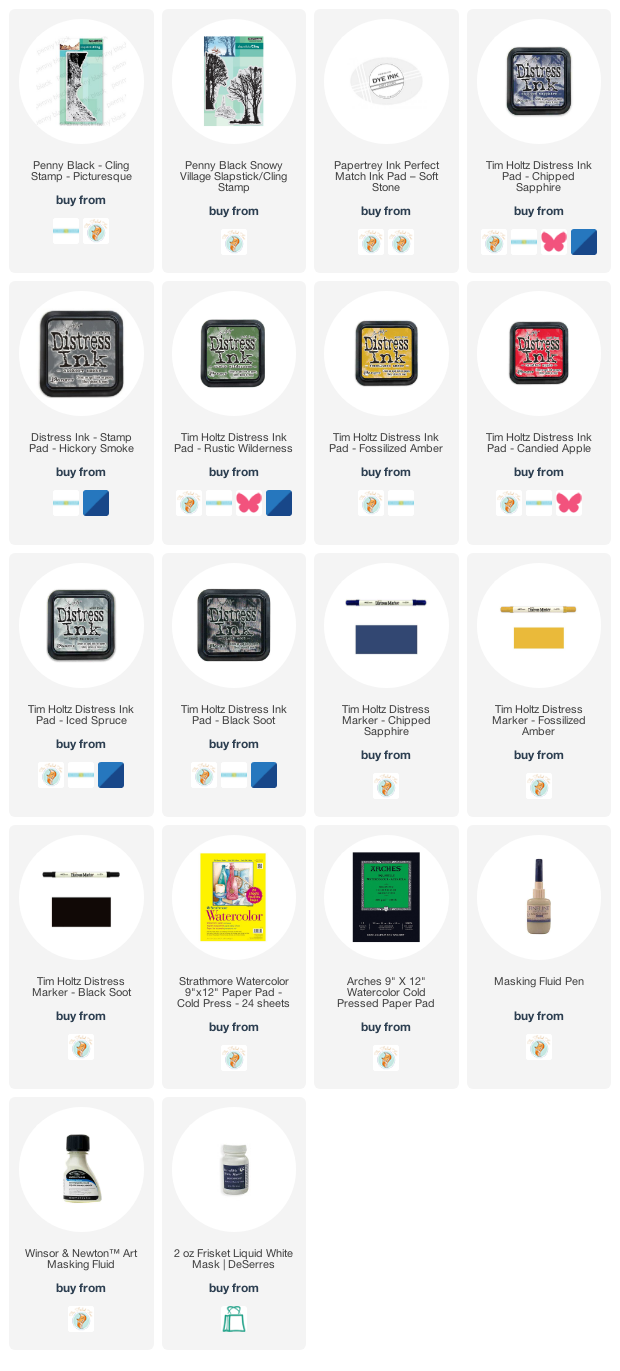 ---