Mountain Farm
Posted: August 20, 2021
Filed under: farmland, Penny Black, picturesque, Stamped Landscapes, Uncategorized
| Tags: Penny Black stamps, Ranger Distress inks
3 Comments
More mountains, this time the 'picturesque' stamp is paired with the 'farmland' stamp, once again in a blue and brown colour scheme. I began by making a smooshed ink background with faded jeans and fossilized amber inks.
Once the background was dry I inked the mountains in vintage photo, faded jeans and ground espresso inks taking care not to ink to the bottom of the stamp but instead leaving the lower edge unevenly inked. I did some blending with a paintbrush after stamping to make the mountains less defined.
I inked the farmland stamp in faded jeans along the top then fossilized amber, forest moss and vintage photo in the fields. Again I did a little blending with a paintbrush. Once finished I ran the panel through my die cutting machine with the 'subtle' embossing folder from SU to give it a canvas look; you can see the texture in the close up photo.
I hope you have enjoyed all the scenery on the blog lately. What are you hoping to see next? I won't promise to deliver straight away but I'd love to know what interests you.
(Compensated affiliate links used when possible)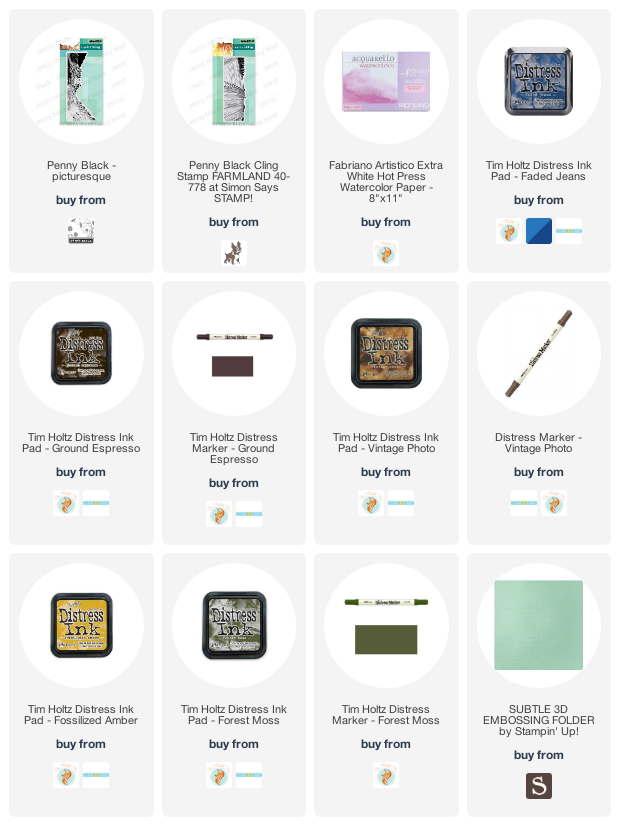 ---