Autumn in the mountains
Posted: October 7, 2021
Filed under: arbors, Penny Black, picturesque, Stamped Landscapes
| Tags: Penny Black stamps, Ranger Distress inks
5 Comments
Outdoors is pretty 'speccy' right now. We don't have too much of the deep red yet but I have seen it here and there. I have got into the habit of going for a walk or run soon after breakfast so I've seen the increase in autumn colours over the last few weeks. Yesterday there was fog when I set out so everything was a bit more muted but by the time I headed home the sun was burning off the fog and the golden tones were shining.
The first step in creating this scene was to stamp the top half of the mountain stamp (PB picturesque) in faded jeans and speckled egg distress inks on hot pressed watercolour paper. I painted below the mountains with water softening the colours at the bottom so there was no distinct line where the mountains ended. I then painted over the top of the mountains with water and dropped some spiced marmalade, forest moss and ground espresso ink into the wet area to add colour.
I dried the panel before starting on the trees using the PB arbors stamp. I stamped with ground espresso, fossilized amber, spiced marmalade and crackling campfire, not all at once, a couple of colours at a time to build up the coverage. I spritzed the stamp before stamping but didn't spritz the paper.
When I was satisfied with the trees I painted ground underneath them and dried the panel again before blending speckled egg ink in the sky and below the branches. To finish I splattered both water and fossilized amber ink to break up the expanses of blue.
(Compensated affiliate links used when possible)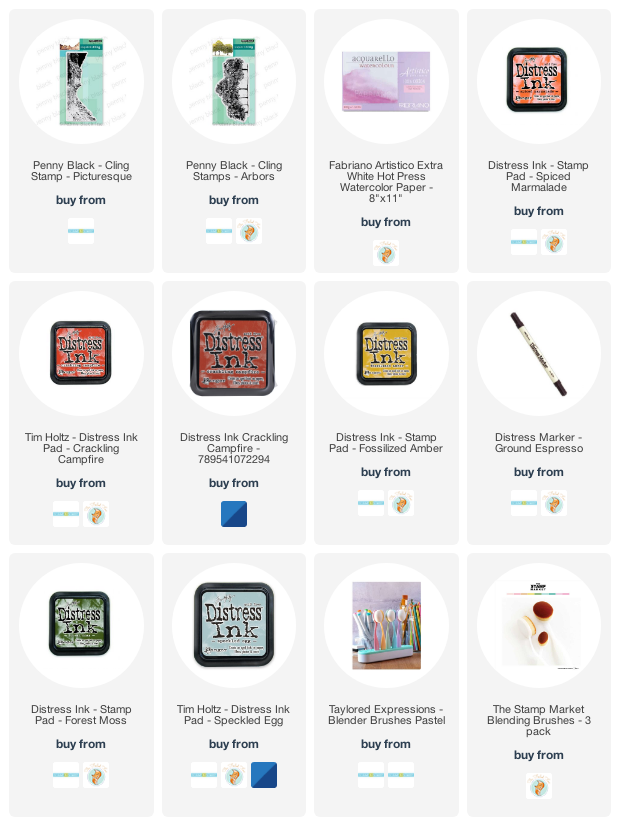 ---