Posted: February 23, 2023
Filed under: crystalline, Dies, Echidna Studios, grafix, Penny Black, snowflake digital stamp set
| Tags: Echidna Studios, Fabriano Watercolour Paper, grafix, Penny Black creative dies
9 Comments
Apparently we are getting 10-20cm of snow tonight. So these cards are appropriate for late February! I teamed up with Grafix to complete these projects. I love using liquid frisket to create a scattering or a storm of snowflakes or stars across a watercolour background.
I splattered the liquid frisket on hot pressed watercolour, let the droplets dry then used dye inks to colour the panels. You can see the process in the video below.
I cut intricate snowflakes from lightweight white linen cardstock to add to the watercolour panels. All but the die-cut snowflakes on the final card are designs from Echidna Studios. I used snowflakes from the Snowflake Digital Stamp set. I have used them as stamps on previous cards but this time I cut them on a cricut.
Because the snowflakes are quite intricate gluing them on with artist tac was very straightforward. I also use artist tac when I am attaching individual letters to create a word or sentiment.
I used a few of the cards as thankyous and left a few blank.
I used smooshed distress inks to create the watercolour backgrounds but you could use watercolour paints or powders to make soft blended backgrounds.
(Compensated affiliate links from Foiled Fox, Scrap n Stamp)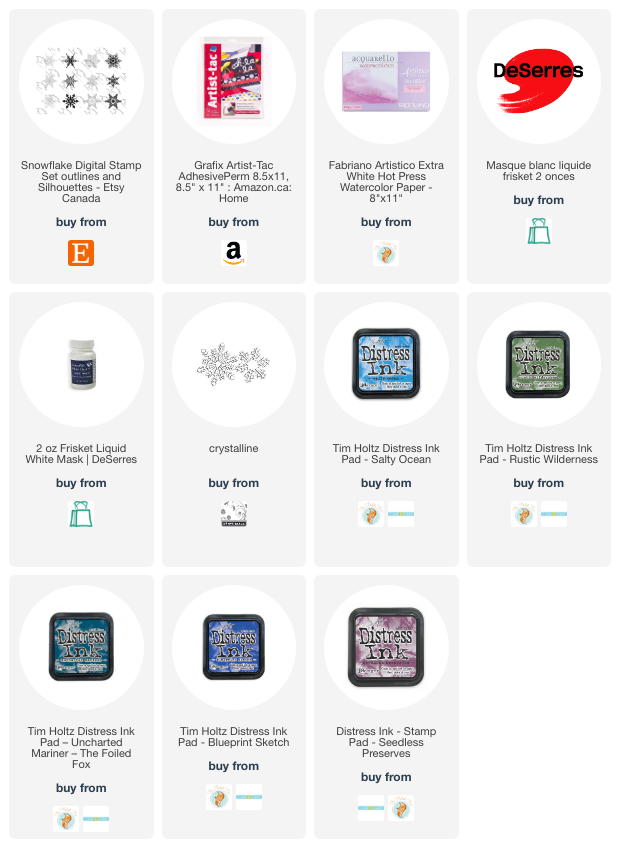 ---
Posted: November 20, 2019
Filed under: crystalline, snowflake tag
| Tags: Penny Black creative dies
12 Comments
At the risk of boring you silly I will mention once again that I have a booth in an art market in four days! One of the items I wanted to make for the market was garlands. I thought the new 'snowflake tag' dies from Penny Black would be lovely with some sparkly beads and they are but it took me a lot longer than anticipated to put it all together. I almost left it at one but decided a pair might be nice; the second one was much quicker as I had thought it all through.
I used white cord with a silver thread through it, clear facet cut beads, a mix of shimmer silver and white cardstock and a spiderwebby silver fabric (from France).
I ended up with six snowflakes on each garland with clear beads grouped on the twine in between the snowflakes. Each snowflake is actually double sided so the twine is glued in between the two and for some I glued a contrasting snowflakes on each side.
The spiderwebby fabric is apparently interfacing for dress making but its silver colour makes it perfect for adding a little shimmer and shine to paper craft projects.
Despite being photographed in a tree the snowflake garland is a delicate thing and should not be used outdoors!
---