Posted: February 7, 2023
Filed under: Alcohol Ink, blossom stencil, Darkroom Door, grafix, Stencils
| Tags: craft roulette, Darkroom Door stamps, Darkroom Door stencils, grafix, grafix craft plastic, Ranger Alcohol Ink
4 Comments
Yes, I have more alcohol in projects! Like gel printing, alcohol inks are quite addictive. When you work with them on plastic film (such as grafix craft plastic or yupo) you can keep changing the design with the addition of more ink or isopropyl alcohol. You can also remove ink with isopropyl. Depending on the amount of staining from whichever colours you choose you can even get the plastic white again to start fresh. I think that is why there is always on more thing I want to try when experimenting with alcohol inks.
Last year I posted a video where I used a stencil to create a pattern on craft plastic with alcohol inks. I used a more open stencil that the one featured today but the process is similar. The Darkroom Door stencil 'blossom' has a lot of plastic surrounding the blossom cut out. When laid on the wet alcohol ink there is contact with most of the craft plastic panel and only a small area where the alcohol ink is drying in the air. This means you need way more patience as you let the ink dry under the stencil.
Not all my experiments with stencils work but I love the way this one ended up with distinct flowers and soft background. I finished the card with a sentiment from the DD 'all occasions' stamp set embossed in white on olive cardstock.
In other news I will be on Craft Roulette on Friday February 10 which is three days away! Craft Roulette is a live improv card making challenge on YouTube. I have no idea what kind of card I will be making, I only find out what the parameters are while I am on the show. Hope you can drop in a join the chat on Friday 7:10 pm EST
(Compensated affiliate links from Foiled Fox, Ecstasy Crafts & Scrap n Stamp)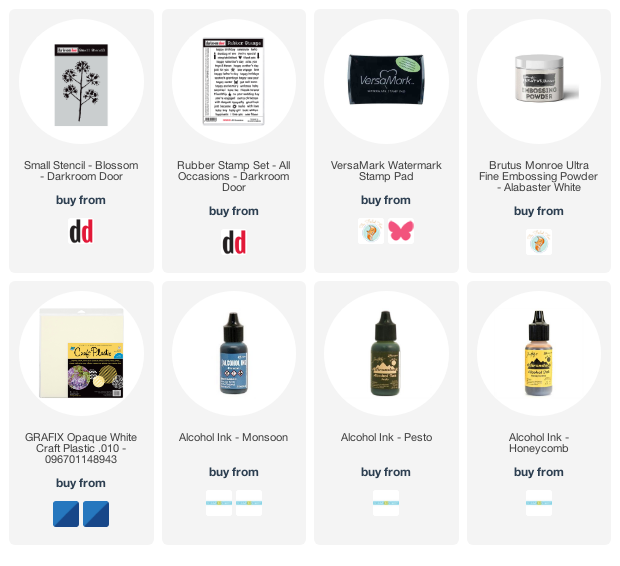 ---