Vintage Style Bookshelf + Video
Posted: July 26, 2021
Filed under: bookshelf, classic motorcycles, Coliro paints, Darkroom Door, Finetec paints, Tutorial
| Tags: Darkroom Door stamps, Finetec artist mica watercolour paint, Ranger Distress inks, Staedtler watercolour brush pens, video
13 Comments
This isn't my first time stamping books with Darkroom Door stamps. This time I filmed the process so you could see how I made them look all old and vintagey!
The fun thing about the Darkroom Door 'bookshelf' stamp is its length (just under 12″) so I decided to wrap it around my cards for maximum effect. I worked on two cards at the same time giving them slightly different paint jobs and background finishing touches. Watch the video to see my process.
Because I inked the bookshelf stamp randomly the colours moved where they willed and left me with a mix of blues and browns. This second card has some extra scratches from the DD stamp of the same name.
The insides of the cards have random paint splotches here and there so I added paper inserts for a clean place to write a note. Now that I have made a wraparound card with this border stamp I might have to try it with the other DD one I own, 'butterfly garden'.
Thank you so much for your interest and discussion about the gel printing I shared last week. I really enjoyed the gel printing session which resulted in my last two videos and turning a few of the prints into cards and a journal page was very satisfying. Several of you mentioned wanting to get your gel plate out to try the techniques; I hope you do. I also hope you try this brown and blue vintage style on some of your own stamped projects. If you do be sure to let me know.
(Compensated affiliate links used when possible)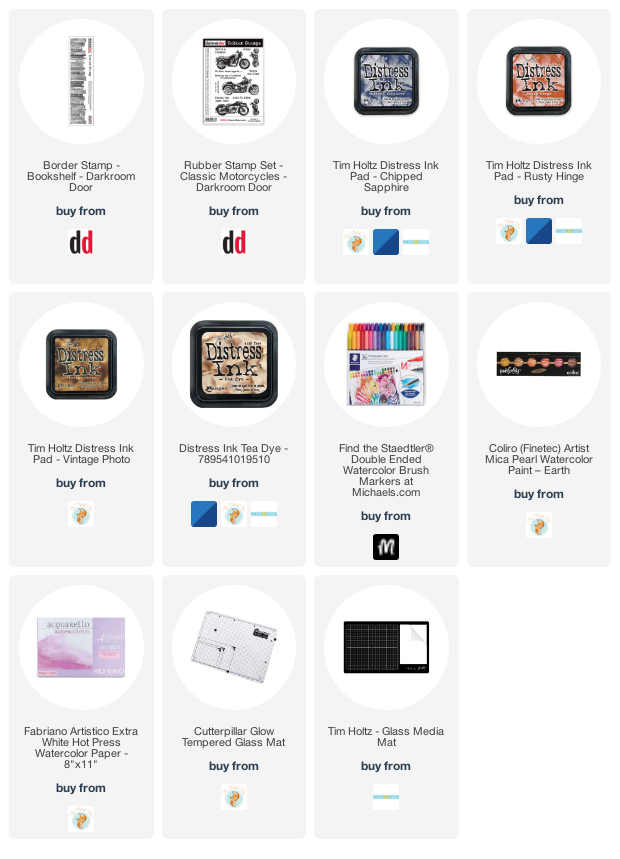 ---