Alcohol ink gel print
Posted: April 12, 2021
Filed under: Alcohol Ink, gel press, Penny Black, Taylored Expressions
| Tags: gel press, gel printing, Penny Black creative dies, Penny Black stamps, pinata alcohol ink, Ranger Alcohol Ink, Taylored Expressions
5 Comments
I tried a technique this week that I've seen demonstrated by gel printing wizards but never tried myself. In some ways it's not that different from making abstract alcohol ink patterns on yupo or craft plastic but I found that I ended up with more of a distressed look which is rather nice.
I started with a not entirely clean gel plate and three or four alcohol inks, I'm not sure exactly which ones I used as I was very much in experimenting mode. Obviously there was a green and some blues in there and in real life you can see I also had a silver. I dropped dots of the different colours on the gel plate added rubbing alcohol and blew it all around with the air blower. It dried quite quickly so it took several additions of inks and rubbing alcohol before I was happy with the coverage. Once the AI had dried completely I brayered white acrylic paint over the painted area and took a print on some white cardstock. You can see the usual overlapping patterns of alcohol ink blobs but also some white patches and 'grazes' from the acrylic paint.
I trimmed the panel and added a three layer PB die cut sentiment along with an additional sentiment strip. I will definitely be trying this technique again.
(Compensated affiliate links used when possible)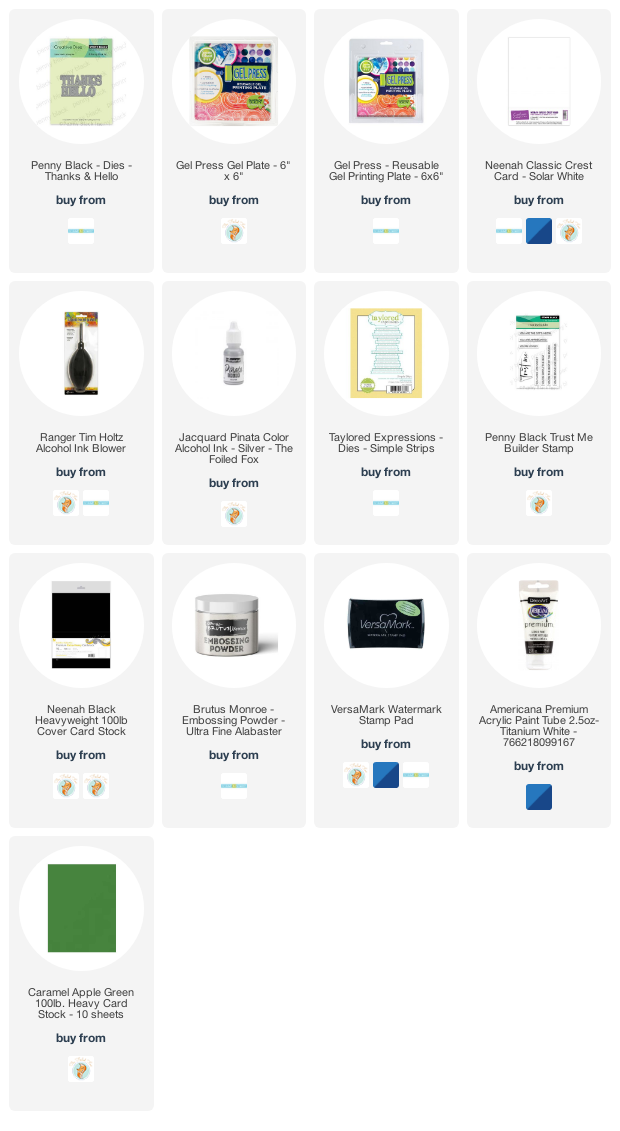 ---