Arbors in green
Posted: March 18, 2021
Filed under: arbors, Penny Black
| Tags: distress markers, Fabriano Watercolour Paper, Penny Black stamps, Ranger Distress inks, Ranger Distress stains, Tsukineko Versafine inks
9 Comments
I can't believe I am only just getting this beautiful tree stamp inked, especially considering my mantra, 'you can never have too many tree stamps!' This new stamp from Penny Black is called Arbors and I'm sure I will put it to use often. For its first inking I decided on keeping things traditional and green. We are just beginning to see grass appear here and there as the snow melts but no leaves yet.
Before I started stamping I put some speckled egg and rustic wilderness stain on my glass mat and diluted it with a few spritzes of water. I swiped a piece of cold pressed watercolour paper through the stains, dried it and then repeated the process to fill my background with blue and green.
With the stamp and panel in a stamp positioner I inked the foliage of the trees with dabs of crushed olive, mowed lawn and rustic wilderness distress inks. I spritzed the stamp lightly before stamping to get the inks mingling with each other. It took several applications to build up the coverage. After applying quite a bit of green I inked the trunks and branches with a ground espresso distress marker leaving the base below the trunks uninked so I could paint some hills in and around the trunks. To do this I spread brown ink from the trunks left and right then added diluted rustic wilderness stain and painted hill shapes across the panel. I checked to see what I was short on in my stash and added a thank you from the banner sentiments set in acorn ink.
I can't wait to ink this one up in autumn tones, but I guess a few trees in blossom might be timely first.
(Compensated affiliate links used when possible)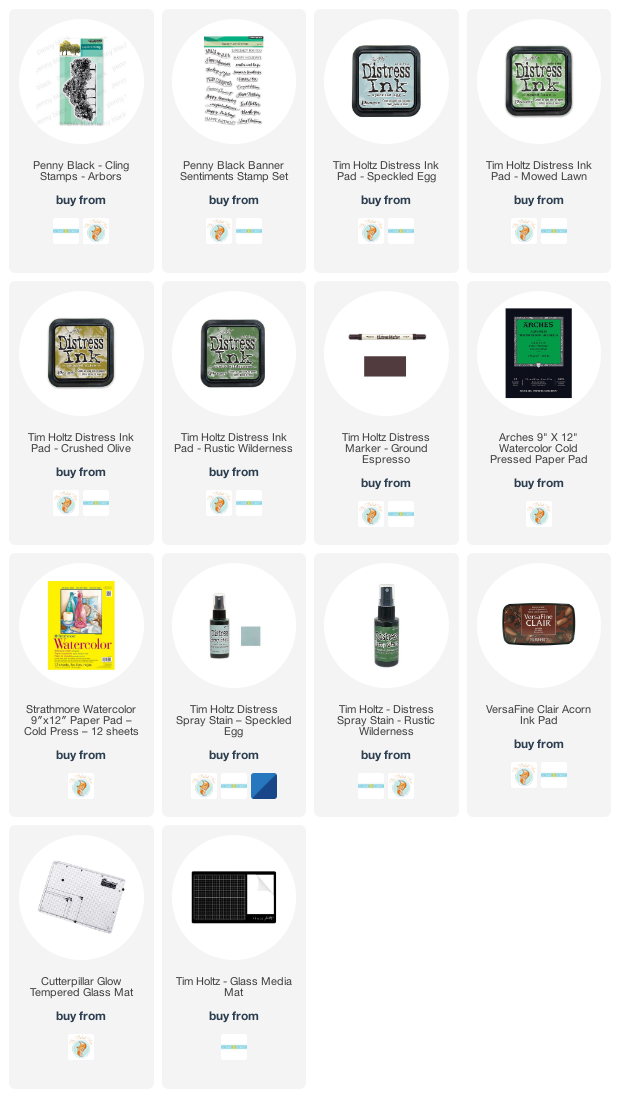 ---