Posted: December 11, 2020
Filed under: birches, Karin brushmarkers, Penny Black, warm reception
| Tags: Karin brushmarkers, Penny Black stamps
6 Comments
I'm excited to tell you about today's card. I teamed up with the Foiled Fox to do some experimenting with Karin brushmarkers and I'm so glad I did. The Foiled Fox sent me the pack of 26 and I plan to try them out on my favourite watercolour techniques. Make sure you visit the Foiled Fox blog today to read more about my thoughts and process.
I worked on Fabriano hot pressed watercolour paper in a stamp postioner to complete this inviting little scene. I thought I would stamp in a pale ink and colour with the markers but I decided instead to ink with the markers directly on the stamps. It worked brilliantly. The Karin brushmarkers are water-based, ink filled markers with a nylon brush-like tip. Water-based means they blend with water. They are made and inkfilled in such a way that you can see the ink in the barrel and right to the last drop the colours will have full intensity. Nylon brush tips tend to be stronger than felt tips so I was willing to try inking the stamps directly keeping in mind that I did not want to damage the tips. The inks are highly pigmented and flow generously from the tip so I did not need apply much pressure as I inked the stamps gently with the sides of the nylon tips.
After inking the PB birches in black and grey I blended them a little then covered them with masking tape before stamping the PB warm reception stamp bit by bit. I did the trees first, then the house, inking and blending to build up the whole scene. I explain the colours and technique in more detail over on the Foiled Fox blog. As I'd left it until the end to paint a sky I chose to clear emboss the warm reception stamp so it would resist ink when I added it all around the house and trees.
To finish it off I matted in a brownish red and added a little sentiment to look like it was tacked to the trees. Definitely stay tuned for more projects featuring the Karin markers.
Karin markers used: red 209, sepia 074, neutral grey 3 131, black 030, lush green, 228, arctic blue 264
(Compensated affiliate links used when possible)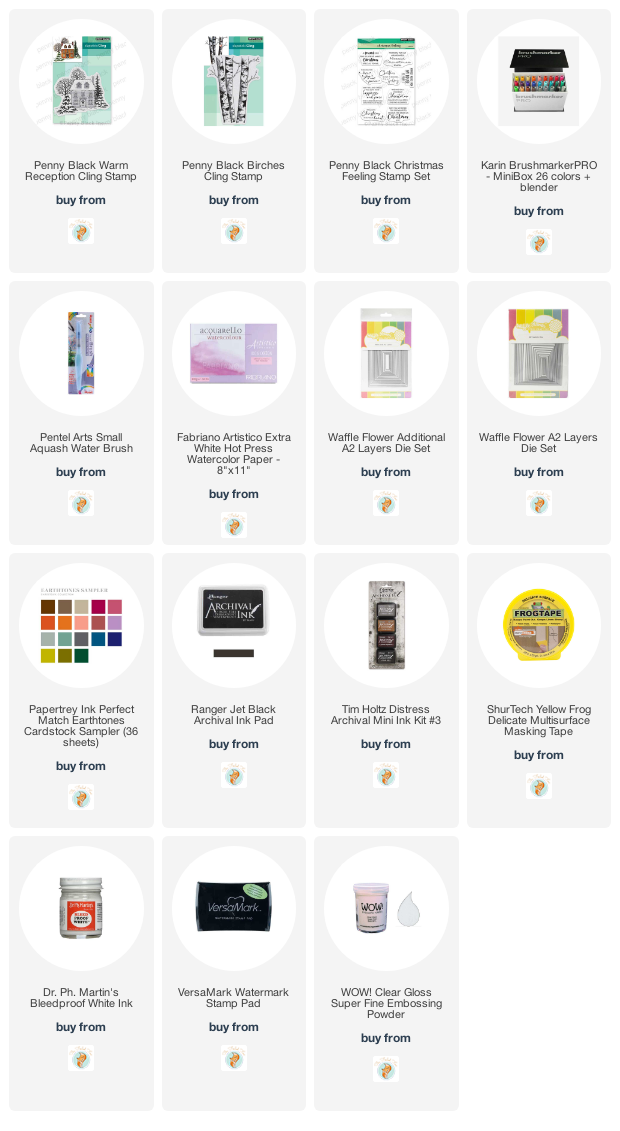 ---
Posted: October 25, 2019
Filed under: cozy nights, Frosty's flakes, warm reception
| Tags: Penny Black stamps, Ranger Distress inks, WOW embossing powders
30 Comments
Here in Canada Thanksgiving is behind us but in the US it is about a month away; Christmas is exactly two months away! With that in mind Shauna, from the Foiled Fox, and I have teamed up to host a 'Holiday Traditions' giveaway.
Like me you probably have some Thanksgiving or Christmas traditions, perhaps they were handed down to you or maybe something new you have recently come up with. Either way, we want to hear about them. For the next two weeks you can comment on a holiday tradition post on my blog or the Foiled Fox blog and be entered into a giveaway.
If you haven't guessed already the first tradition I want to share with you is my gingerbread making tradition. We have been making gingerbread for years. It was not my mother's Christmas baking tradition, she made yoyos (melting moments), Christmas cake and forcer biscuits (pressed butter cookies). I started making gingerbread when I lived in Australia and the recipe I use is from an Australian chef, Jill Dupleix. Now that we have three people in the family eating gluten free I make gf batches too, usually with a packet mix. I used to mix a gf gingerbread dough but the packet one saves me so much time which I can spend decorating instead. Decorating is the best part, well maybe equal best with eating!
We make stars, hearts, trees, snowflakes, bells, gingerbread men, women and children but we also have a  a set of Aussie animal cutters and, would you believe, a 'gingerdead man' which cuts out the person shape and then stamps a skeleton impression on the cookie! We have also made gingerbread houses and other structures over the years. If you click over to my other blog you can see gingerbread houses, a church and a tank from years gone by.
Making gingerbread cards was a bit quicker than the edible version. I used Neenah desert storm kraft cardstock and stamped on it in versamark then embossed with bright white opaque embossing powder. To create the snowy hill I cut a post-it note mask and sponged white delicata ink in a hill shape. The delicata was too delicate, not bold enough for a snow hill so I embossed with more white embossing powder.
After completing all the stamping and embossing I blended tea dye distress ink around the edges of the panels to give everything a nice baked not burnt look. Believe me I have burnt plenty of batches over the years!
The last step was a sprinkling of icing sugar aka splatter of white gesso to complete the snowy look. All the stamps are from Penny Black and are linked below along with the other supplies.
Now it's your turn. I would love to hear about some of your holiday traditions. What do you do for Thanksgiving or Christmas? It doesn't have to be something you make; it could be a place you visit, a story you read, songs you sing, food you eat. Let me know in the comments and you'll be entered in the giveaway. Make sure you visit the Foiled Fox blog also as there will be holiday tradition posts on both of our blogs during the next two weeks.
Supplies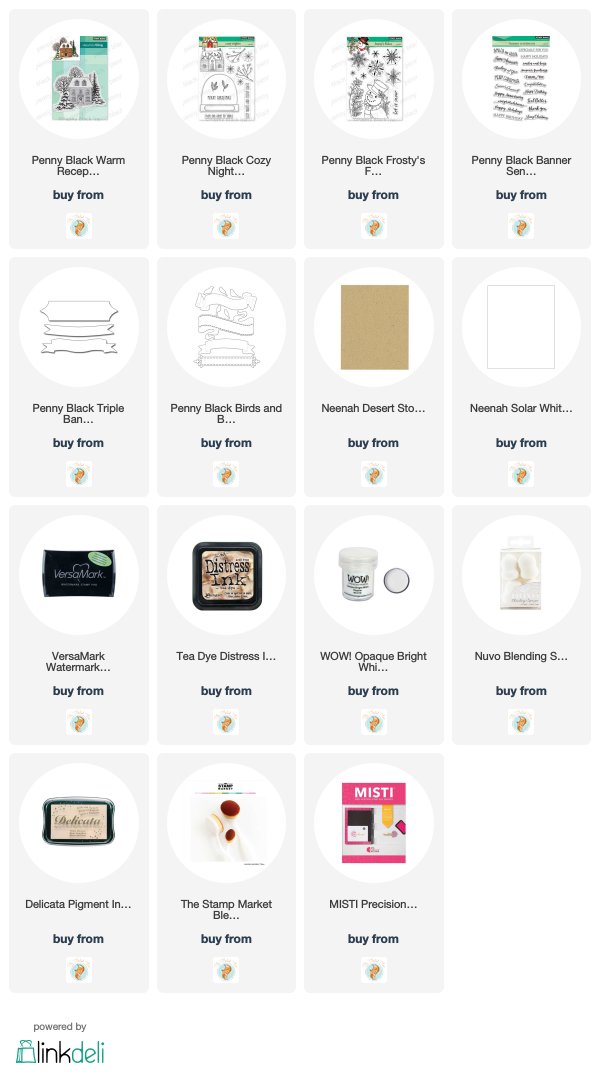 ---