Posted: October 28, 2019
Filed under:
Frosty's flakes
| Tags: Faber-Castell Polychromos Colour Pencil, Penny Black stamps, WOW embossing powders
7 Comments
Before we talk about Frosty, I just want to say how much I am enjoying reading about your holiday traditions; thank you for commenting on my gingerbread post to tell me about them. Make sure you visit the Foiled Fox blog this week to read about some more holiday traditions and I will be sharing another tradition on Friday.
Now back to Frosty from the PB 'Frosty's Flakes set. I have not created a snowman card in a long, long time but after creating gingerbread on kraft cardstock and poinsettia cards on kraft cardstock (in a recent class) I thought why not try a snowman. I stamped in black this time which looks just as striking on kraft as white does. All the white elements are added with a white gel pen or white pencil.
I coloured the leaves in a green pencil, I used polychromos pencils but I imagine any dark green pencil will do. I did the berries, hat ribbon and scarf in red, nose in orange and hat in black. I was halfway through colouring the hat when I realised I needed a highlight strip to show the curve of the hat. I was able to leave a gap on one section but it looked odd where it didn't continue across the whole hat. Sand eraser to the rescue! If you don't have a sand eraser for sanding off little errors you should get one. It worked brilliantly on the coloured pencil but I have also used in on stray bits of ink or paint.
I finished all the pencil colouring without colouring the snowman at all. I decided to try some cross hatching with the white gel pen and I think it does the trick. White coloured pencil would probably work also. I protected Frosty with a post-it and splattered white gesso over the rest of the panel. I stamped a sentiment from the PB 'thrill of hope' set and die cut it with a tag die. The stitching around the card panel and tag is hand done with the white gel pen. I added a white pencil drop shadow on the sentiment, popped it up on dimensional tape with some twill tape to co-ordinate.
Making a snow man with the first snow might be a tradition for some but we have learned since coming to Canada that there are many types of snow and not all types are suitable for snowmen! In Australia if we had snow staying on the ground we would make a snowman however small and odd looking! I remember a time when I was a child my family drove up Mt Wellington in Hobart and there was snow at the top; we built a snow man on the bonnet (hood) of our car. It melted or fell off by the time we got back down the mountain.
Supplies

---
Posted: October 25, 2019
Filed under: cozy nights, Frosty's flakes, warm reception
| Tags: Penny Black stamps, Ranger Distress inks, WOW embossing powders
30 Comments
Here in Canada Thanksgiving is behind us but in the US it is about a month away; Christmas is exactly two months away! With that in mind Shauna, from the Foiled Fox, and I have teamed up to host a 'Holiday Traditions' giveaway.
Like me you probably have some Thanksgiving or Christmas traditions, perhaps they were handed down to you or maybe something new you have recently come up with. Either way, we want to hear about them. For the next two weeks you can comment on a holiday tradition post on my blog or the Foiled Fox blog and be entered into a giveaway.
If you haven't guessed already the first tradition I want to share with you is my gingerbread making tradition. We have been making gingerbread for years. It was not my mother's Christmas baking tradition, she made yoyos (melting moments), Christmas cake and forcer biscuits (pressed butter cookies). I started making gingerbread when I lived in Australia and the recipe I use is from an Australian chef, Jill Dupleix. Now that we have three people in the family eating gluten free I make gf batches too, usually with a packet mix. I used to mix a gf gingerbread dough but the packet one saves me so much time which I can spend decorating instead. Decorating is the best part, well maybe equal best with eating!
We make stars, hearts, trees, snowflakes, bells, gingerbread men, women and children but we also have a  a set of Aussie animal cutters and, would you believe, a 'gingerdead man' which cuts out the person shape and then stamps a skeleton impression on the cookie! We have also made gingerbread houses and other structures over the years. If you click over to my other blog you can see gingerbread houses, a church and a tank from years gone by.
Making gingerbread cards was a bit quicker than the edible version. I used Neenah desert storm kraft cardstock and stamped on it in versamark then embossed with bright white opaque embossing powder. To create the snowy hill I cut a post-it note mask and sponged white delicata ink in a hill shape. The delicata was too delicate, not bold enough for a snow hill so I embossed with more white embossing powder.
After completing all the stamping and embossing I blended tea dye distress ink around the edges of the panels to give everything a nice baked not burnt look. Believe me I have burnt plenty of batches over the years!
The last step was a sprinkling of icing sugar aka splatter of white gesso to complete the snowy look. All the stamps are from Penny Black and are linked below along with the other supplies.
Now it's your turn. I would love to hear about some of your holiday traditions. What do you do for Thanksgiving or Christmas? It doesn't have to be something you make; it could be a place you visit, a story you read, songs you sing, food you eat. Let me know in the comments and you'll be entered in the giveaway. Make sure you visit the Foiled Fox blog also as there will be holiday tradition posts on both of our blogs during the next two weeks.
Supplies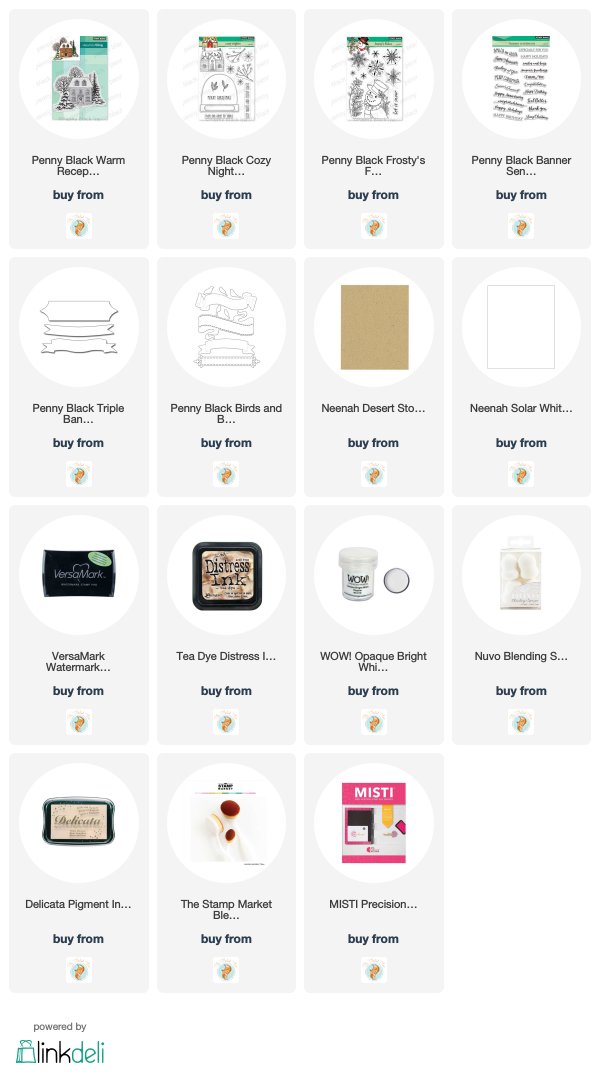 ---