From our house to yours
Posted: December 11, 2020
Filed under: birches, Karin brushmarkers, Penny Black, warm reception
| Tags: Karin brushmarkers, Penny Black stamps
6 Comments
I'm excited to tell you about today's card. I teamed up with the Foiled Fox to do some experimenting with Karin brushmarkers and I'm so glad I did. The Foiled Fox sent me the pack of 26 and I plan to try them out on my favourite watercolour techniques. Make sure you visit the Foiled Fox blog today to read more about my thoughts and process.
I worked on Fabriano hot pressed watercolour paper in a stamp postioner to complete this inviting little scene. I thought I would stamp in a pale ink and colour with the markers but I decided instead to ink with the markers directly on the stamps. It worked brilliantly. The Karin brushmarkers are water-based, ink filled markers with a nylon brush-like tip. Water-based means they blend with water. They are made and inkfilled in such a way that you can see the ink in the barrel and right to the last drop the colours will have full intensity. Nylon brush tips tend to be stronger than felt tips so I was willing to try inking the stamps directly keeping in mind that I did not want to damage the tips. The inks are highly pigmented and flow generously from the tip so I did not need apply much pressure as I inked the stamps gently with the sides of the nylon tips.
After inking the PB birches in black and grey I blended them a little then covered them with masking tape before stamping the PB warm reception stamp bit by bit. I did the trees first, then the house, inking and blending to build up the whole scene. I explain the colours and technique in more detail over on the Foiled Fox blog. As I'd left it until the end to paint a sky I chose to clear emboss the warm reception stamp so it would resist ink when I added it all around the house and trees.
To finish it off I matted in a brownish red and added a little sentiment to look like it was tacked to the trees. Definitely stay tuned for more projects featuring the Karin markers.
Karin markers used: red 209, sepia 074, neutral grey 3 131, black 030, lush green, 228, arctic blue 264
(Compensated affiliate links used when possible)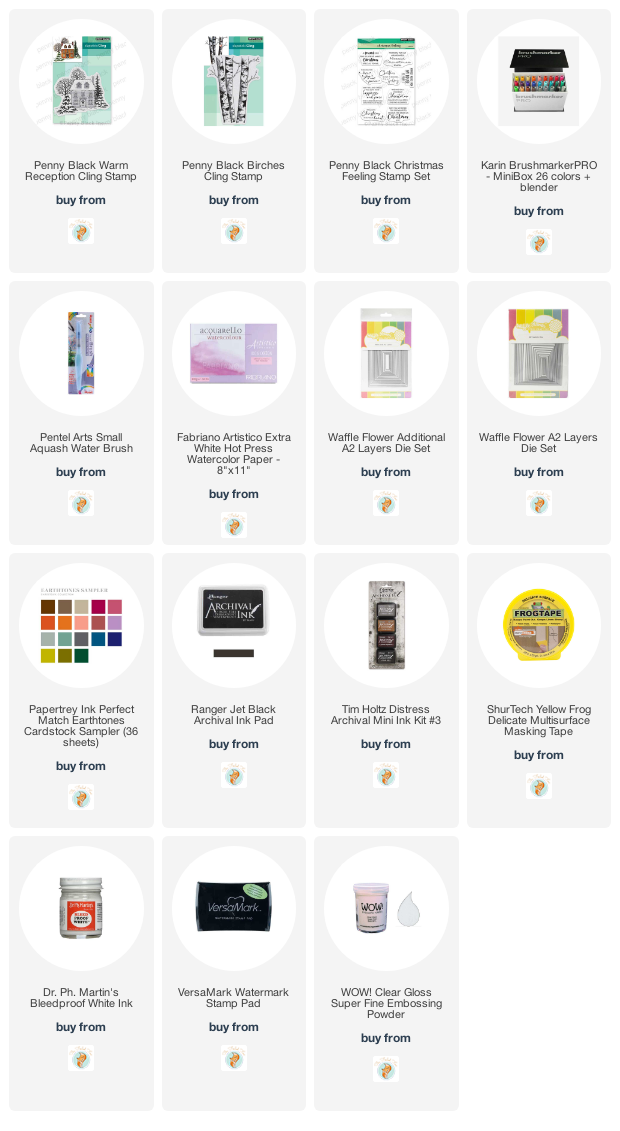 ---