Posted: May 28, 2019
Filed under: Penny Black, summer glow
| Tags: Penny Black stamps, Ranger Distress inks
12 Comments
I've been doing quite a bit of no-line watercolour lately and this is one of my faves. I only wish that I had picked a different colour scheme; I've worked with this stamp before and used purple those times also. I have a rich burgandy giant iris in my garden (at least, I hope it is still in my garden) why didn't I pick that colour scheme? I guess I will just have to do another one won't I?
I used antique linen distress ink for my initial stamping and as you can see it has almost disappeared entirely. This technique is the focus of my next class here in Ottawa.
After stamping 'summer glow' on hot pressed watercolour paper I worked on one petal at a time and from the outside in with blueprint sketch and wilted violet around the edges and wild honey and spiced marmalade in the centres. I used peeled paint distress ink for the leaves. I used my glass mat as a palette for no-line watercolour and it works brilliantly; I pressed each inkpad face down on the glass and added a little water with a paintbrush. My mat is clear glass so I pop a piece of white paper underneath so I can see the inks' true colours.  I popped up the panel with adhesive backed foam on an embossed panel the size of my card base.
My irises have emerged despite the fact that the sun seems to only shine one or two days a week!
Supplies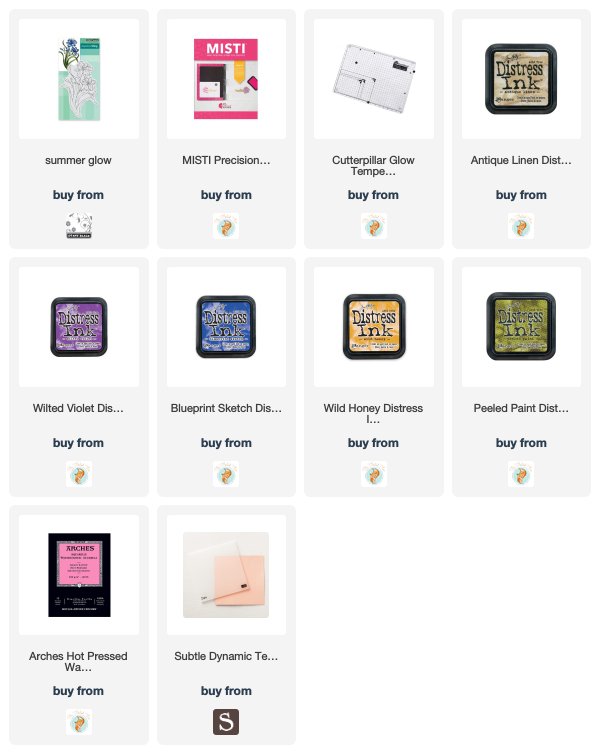 ---
Posted: June 6, 2018
Filed under: Nuvo shimmer powder, summer glow
| Tags: Nuvo shimmer powder, Penny Black stamps
13 Comments
I was lucky enough to be in my local scrapbooking store, Crop A While, recently when they were unpacking the Nuvo shimmer powders. I jumped at the chance to give them a little test drive, after all they are watercolour powders! I used the summer glow iris from Penny Black and three colours of shimmer powder. I made one sample at the store then played around with the same image and three powders at home.
I embossed 'summer glow' in clear powder on two hot pressed watercolour paper panels and one cold pressed panel. My experiments moved from careful 'stay inside the lines' painting to free flowing colours all over the panel. The most controlled one I completed by dropping a little violet brocade, blue blitz and solar flare powders on my craft mat so I could pick some up with a damp brush. As with most powders the colour is intense; I was able to pick up a tiny bit, paint it into a petal then blend with water to get the depth I was after. I used violet brocade for the petals and ended up with some pink and blue sections as well as deep purple. To colour the stems and leaves I mixed the blue and yellow, adding more blue where I wanted shading.
I used the cold pressed paper for a looser style and sprinkled some powder directly on the panel. It is tricky to sprinkle tiny amounts at a time but I tried to drop some violet brocade into the flowers and buds. I held my hand over the stems while I spritzed the flowers. The paint activated straight away, some inside and some outside the petals. I used a paintbrush to fill any petals that were too pale but tried not to alter the 'random magic' too much. Next I sprinkled the blue blitz and solar flare powders over the stems and leaves and spritzed with water. Again I moved the paint a bit with a paint brush to fill the areas enclosed by embossing.
On the final panel I sprinkled the powders in the same areas and spritzed water liberally over the top so the colours filled the background as well as the embossed iris.
I know the messiness of this one won't be to everyone's taste but I think it turned out a little fun and funky.
I popped up the panels with foam on cream card bases.
What you don't see in the photos is the pretty shimmer in the paint when it dries. ( Since my first experiments I have bought a couple more colours so the fun will continue)
Supplies
Stamp: summer glow 40-610 (PB)


Ink: versamark


Paper: cold pressed watercolour paper, hot pressed watercolour paper, Neenah natural white


Paint: Nuvo shimmer powders blue blitz, violet brocade, solar flare
Also: clear embossing powder

---
Posted: May 3, 2018
Filed under:
summer glow
| Tags: Kuretake Zig clean color real brush markers, Penny Black creative dies, Penny Black stamps
8 Comments
Yes, I've got more flowers to share today from the new Penny Black release, 'Nature's Art'. This one is a large rubber cling outline stamp. I decided to try a combination I've heard about numerous times but never attempted: zig clean color real brush pens on bristol paper. I work on watercolour paper a lot of the time as you know but I've heard that blending the zig pens is easier on bristol. Well, it is. I embossed the image with clear powder on bristol paper then used five different colours to fill in the flowers and leaves. I started with purple pen at one end of each petal and tea rose at the other end (in this case the end closest to the centre of the flower). I blended the two colours together with a damp brush then added orange dots down the centre of the petals. I added a small amount of brown to the centre of the flower also.
I coloured the leaves in green then added brown here and there before blending with a damp brush.
As a finishing touch I  die cut the 'scrolls half edger' decorative piece out of purple cardstock which had double sided adhesive on the back. I matted the panel in the same purple then snipped pieces of the die-cut to lay over the base of the panel.
I'm looking forward to seeing irises pop up in my snow-free garden before too long; there is no snow on it now!
Supplies
Stamps: summer glow 40-610 (PB)


Die: scrolls half edger 51-446


Ink: versamark


Markers: zig clean colour real brush pens (tea rose, brown, green, violet, orange)


Paper: bristol, neenah solar white, purple


Also: clear embossing powder,  double sided adhesive sheet
---