No-line summer glow
Posted: May 28, 2019
Filed under: Penny Black, summer glow
| Tags: Penny Black stamps, Ranger Distress inks
12 Comments
I've been doing quite a bit of no-line watercolour lately and this is one of my faves. I only wish that I had picked a different colour scheme; I've worked with this stamp before and used purple those times also. I have a rich burgandy giant iris in my garden (at least, I hope it is still in my garden) why didn't I pick that colour scheme? I guess I will just have to do another one won't I?
I used antique linen distress ink for my initial stamping and as you can see it has almost disappeared entirely. This technique is the focus of my next class here in Ottawa.
After stamping 'summer glow' on hot pressed watercolour paper I worked on one petal at a time and from the outside in with blueprint sketch and wilted violet around the edges and wild honey and spiced marmalade in the centres. I used peeled paint distress ink for the leaves. I used my glass mat as a palette for no-line watercolour and it works brilliantly; I pressed each inkpad face down on the glass and added a little water with a paintbrush. My mat is clear glass so I pop a piece of white paper underneath so I can see the inks' true colours.  I popped up the panel with adhesive backed foam on an embossed panel the size of my card base.
My irises have emerged despite the fact that the sun seems to only shine one or two days a week!
Supplies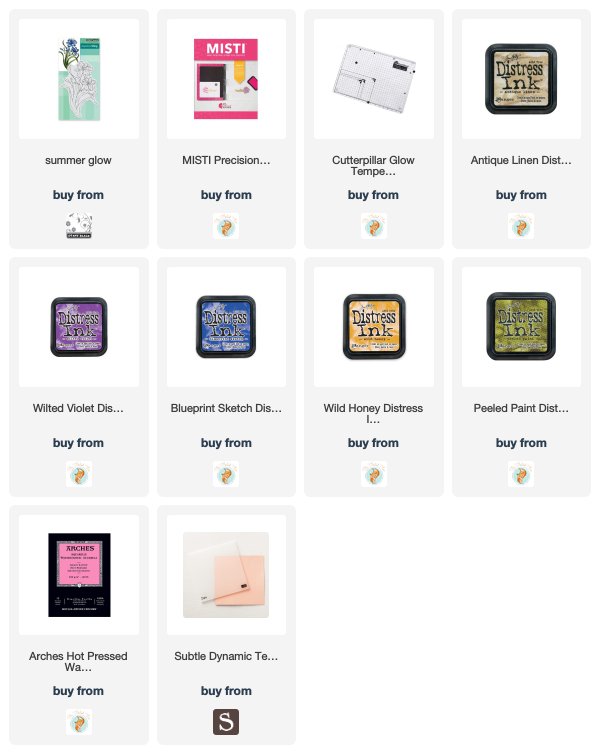 ---