Three colour leaf canopy – challenge reminder
Posted: May 24, 2019
Filed under: Altenew, Leaf Canopy
| Tags: Altenew, Ranger Distress inks
6 Comments
I have been bombarding you with three colour projects lately partly because I have a challenge running with the Foiled Fox but also because I love the simplicity of working with only three colours. Today I'm sharing here and on the Foiled Fox blog. I picked an analogous colour scheme which means the colours are all side by side on the colour wheel. The result is harmonious rather than bold and contrasting. I used stamps from the Altenew set 'leaf canopy' for both cards. Before I started stamping I pressed three distress ink pads face down on my glass mat and spritzed water over the inks until they started to run together. I swiped my panel of hot pressed watercolour paper through the colours, chipped sapphire, stormy sky and shabby shutters creating a soft blended background. I dried the panel completely before putting it in my stamp positioner. I inked the solid leaf stamps with the same three colours, spritzed them so the colours bled into each other on the stamp then closed the MISTI lid onto my panel and kept it down for 5-10 seconds. When I lifted it I had soft blurry leaf images. Any areas with excess ink pooling on them were easily fixed with the corner of a paper towel to sop them up. Again I dried the panel with a heat tool before stamping the outline leaves in chipped sapphire ink. I used my favourite sentiment from the same set and embossed it in white on navy cardstock. I used the Avery Elle simple sentiment dies again to cut it out – I can't stop using them, I guess you have realised that by now!
For my second card I switched one ink colour, instead of stormy sky I used shaded lilac so there are more purple tones in this one. I made the background the same way and did the stamping the same way but then took a bit of time adding water droplets strategically not in a splattery way. I wanted them to look random so I took care to place each one with a drop on the end of a paintbrush! I let them sit then absorbed the water with a paper towel leaving a pale circular watermark on the panel.
I kept this panel soft and dreamy and added a small sentiment in cobalt archival ink.
I hope this simple technique inspires you to play with three colours of ink and come up with a colourful panel of your own for the 'Color Trio Challenge' on the Foiled Fox blog. There are some lovely cards linked there already, check them out then add your own.
Supplies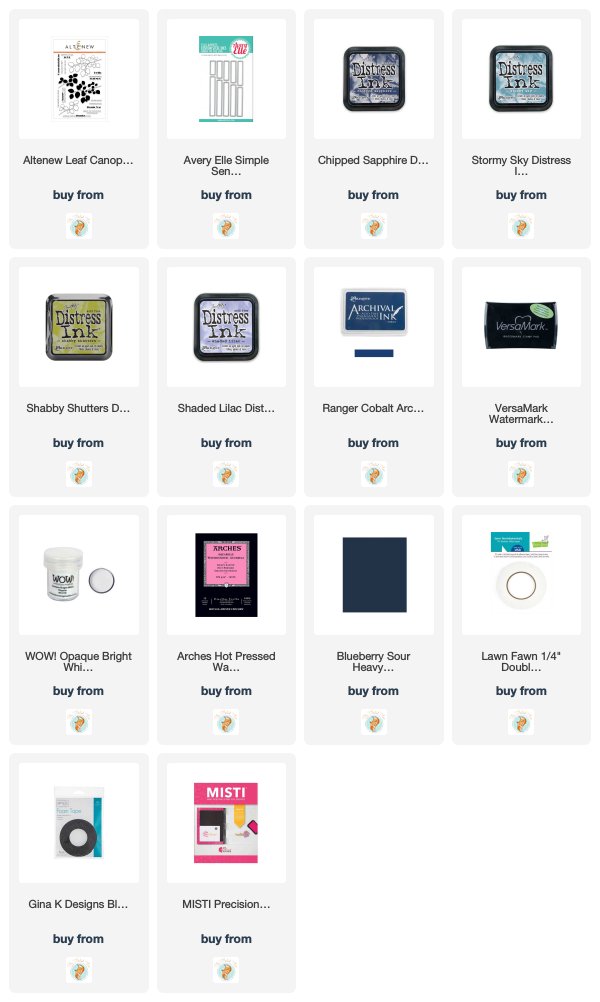 ---