Posted: March 23, 2022
Filed under: farm fresh, letter background, Penny Black
| Tags: Penny Black stamps
4 Comments
I'm having 'fun with the Foiled Fox' today so I am chatting about this card over on their blog too! I posted a card the other day featuring two sweet jugs of lavender. The jugs were two separate stamps from the new PB 'farm fresh' set; this is the third and largest stamp from the set. I'm not sure what kind of flowers they are but that never really stops me from inking the stamp with whatever colours I choose.
I worked in the stamp positioner on cold press watercolour paper for a little texture. Starting with the jug I inked it with chipped sapphire and bundled sage distress inks. After stamping I inked the flowers with wild honey and rusty hinge inks, spritzed the stamp with water then stamped a slightly blurred and blended impression. The leaves and stems are stamped in rustic wilderness ink which is such a lovely green; it is giving forest moss some competition as my favourite green distress ink. To add a little definition to the flower centres I drew some black dots.
I stamped the jug of flowers on a post-it note and cut it out so I could mask the whole image while working on the background. I also masked across the panel so I could blend wild honey ink to represent a table or shelf and chipped sapphire ink with the 'letter background' stamp to represent the wall. To finish off I added a tiny bow to the jug. Make sure you visit the Foiled Fox blog and online store to see all the beauty and goodies they are sharing over there.
In other news I am teaching the second episode of Art Journal Adventure on Saturday March 26, Friday April 1 and Saturday April 2. There are a few spaces left if you'd like to join me at Crop A While, here in Ottawa. Each 'episode' is a stand alone workshop so there is no problem jumping into episode 2! Last month our journal page was a wintry scene; this time we are using watercolour techniques to go all green and leafy! For more information or to register visit the Crop A While website.
Supplies
(Compensated affiliate links used when possible)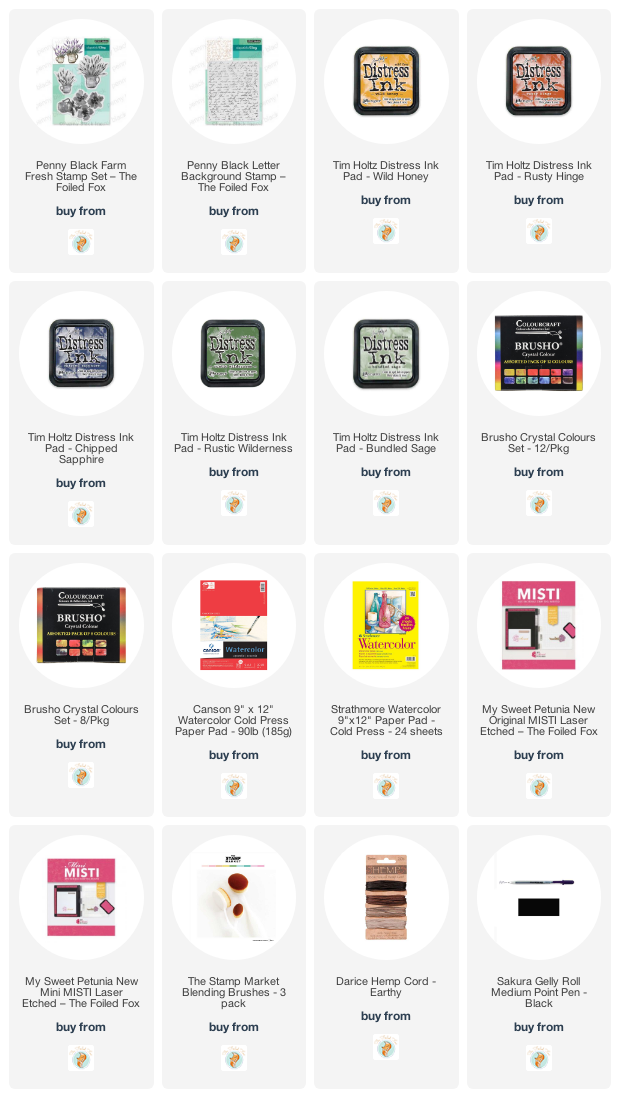 ---
Posted: March 15, 2022
Filed under: Background Stamps, Brick wall, Brusho, farm fresh, Penny Black
| Tags: Brusho, Fabriano Watercolour Paper, Penny Black stamps, Ranger Distress inks
7 Comments
I am hoping I can fill a couple of jugs with lavender this summer. A couple of years back a friend split her lavender and gave me two plants which were coming along well last year and I hope will be even stronger and more full this year. When I have flowers in the garden I am always torn when deciding whether to cut them and bring some inside or just enjoy them outside where they will probably last longer.
To create this little scene I used two stamps from the new Penny Black 'farm fresh' set and the 'brick wall' background stamp. I worked in a stamp positioner to create this panel. I stamped the jugs first with wild honey and tea dye distress inks. After blending the ink with water I added shadow with walnut stain ink. I used both bundled sage and rustic wilderness for the stems and a mix of milled lavender (of course) and dusty concord for the flowers.
Because I had done the jugs first I stamped and cut little masks from post-it notes to make it easier to stamp a brick wall behind them. I used tea dye to stamp the brick wall then started blending the tea dye ink to fill the bricks. I sprinkled a very small amount of sandstone brusho over the wall and started blending it in random bricks. This resulted in the warm orange bricks you see. I also added walnut stain ink to a few bricks for a darker look.
I blended antique linen and walnut ink in the foreground and painted pale shadows below the jugs. The card is finished with a sentiment from the new PB 'love big' stamp set.
Just in case you wondered at me thinking about cutting flowers from my garden, I'm just dreaming; it is definitely still covered in snow!
Supplies
(Compensated affiliate links used when possible)

---