Posted: September 21, 2020
Filed under: gel press, leaf pattern, Penny Black, pretty picket, pumpkin & leaves, sign, trio of trees
| Tags: gel press, gel printing, Penny Black creative dies, Penny Black stamps
4 Comments
Despite what the title suggests this post isn't about gel printing, it's about using more dies on one card than I've ever done before. I tend to use dies sparingly, not because I don't like them, but because they are usually called in to highlight or frame some watercolouring. This time the dies are the feature and I used some leftover pieces of gel printed paper for the pumpkins.
On the first card I built up a background for the gel print pumpkins with a row of die cut trees and then a die cut picket fence. Each pumpkin is two layer as the original cardstock used for printing was light weight. I tried to find prints in pumpkin colours and found a couple of blue/greens, some goldy browns and a pale orange; I didn't have a strong orange in the pile. The fact that one of the prints had stars on it was definitely a bonus.
On the second card I stacked two leaf pattern die cut panels to create a textured background then layered the pumpkins on top of that. All the background die cutting and card bases are either luxe textured white cardstock or a cheap cold pressed watercolour paper that I thought was luxe textured white until I placed them side by side and had to rearrange things a bit.
All the dies are listed and linked below and I made two messages with the same 'golden delight' sentiment stamp. I know I have other sentiments for thanksgiving but I can't go past this one. For the cute little sign by the pumpkin patch I stamped one word, masked, then next word, masked and then the last one and wonder of wonders, it worked first go!
The layering and adhering of dies was a labour of love because I am just not great at the whole fiddly nature of gluing die cuts. When I imagined the card in my head it was way more intricate than either of these but it's important to know your own limits and sometimes quit while you're ahead!
Supplies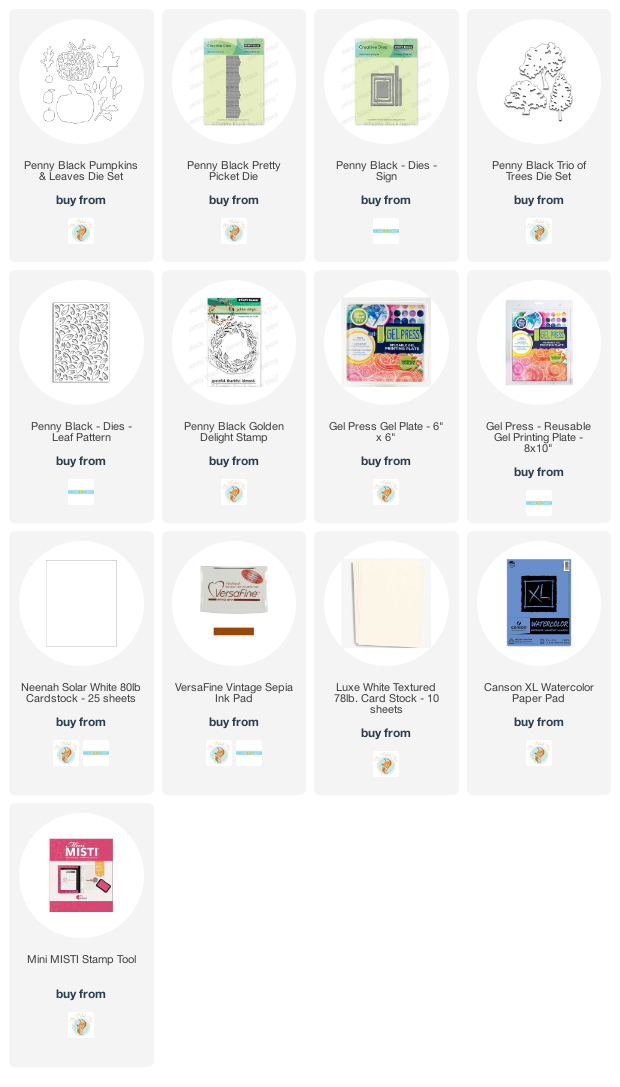 ---