Posted: November 30, 2020
Filed under: Darkroom Door, seashell filmstrip, seashells
| Tags: Darkroom Door stamps, Ranger Distress inks
9 Comments
Let's take a break from the snowy scenes I've been serving up lately and instead spend some time at the beach. If only I could! I've always been a shell collector, even last year when I was walking along Soldiers Beach on the NSW Central Coast with my dad I collected shells for the fun of it. I didn't end up bringing them home but it was fun to look along the sand and in the rockpools. This card features shells from the Darkroom Door Seashells set and a background stamped with the new DD filmstrip stamp seashells.
I stamped the large shells first making a mask for each one out of a post it note so I could before stamping a second or third shell and mask all three when I stamped the repeated filmstrip background. The large shells I stamped first in archival ink then over the top in distress ink which I blended to fill and add shading to the shells. The background I stamped in tea dye distress ink using the MISTI to keep the stamp in place and move the watercolour paper panel. After stamping the background I blended over the top with a paintbrush and water and dabbed away liquid to halt the blurring so I could still see the shell images.
Once I'd trimmed the panel to size I blended vintage photo ink around the edges with a blending brush and painted shadows under the large shells with dark browns and black. As usual the supplies are all listed below.
Have a great day even if you can't collect seashells and definitely if you can!
(Compensated affiliate links used when possible)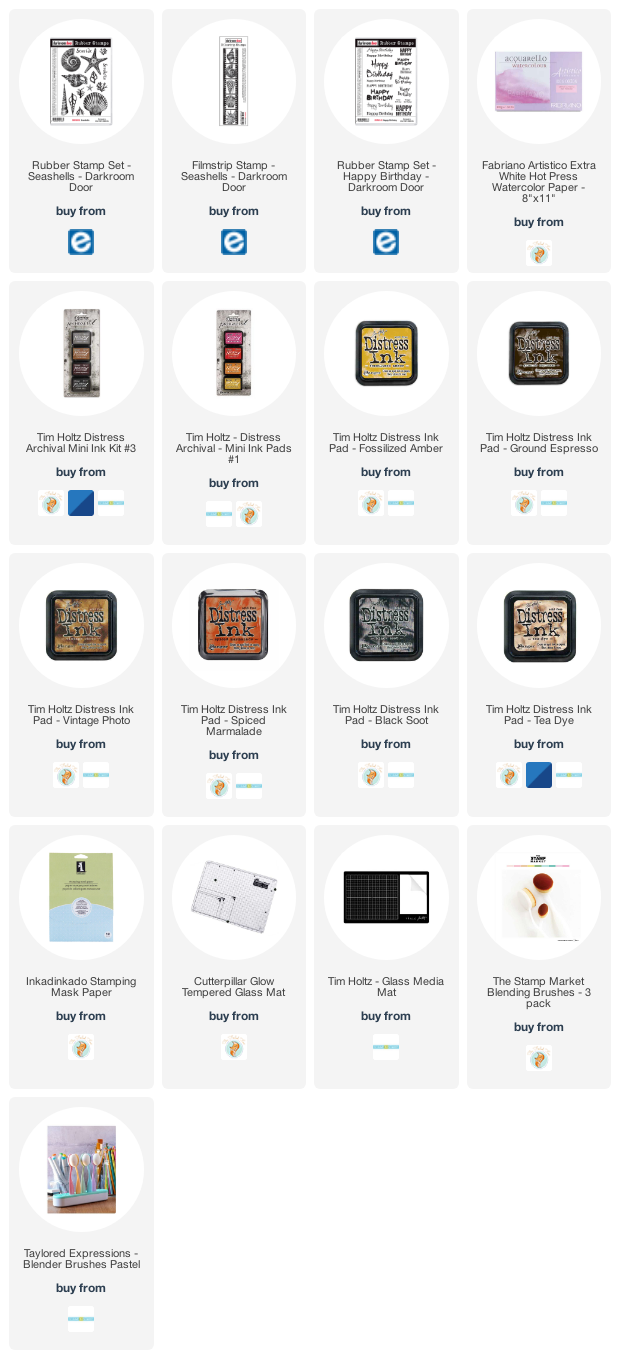 ---
Posted: October 30, 2020
Filed under: Darkroom Door, seashell filmstrip
| Tags: Darkroom Door stamps, Fabriano Watercolour Paper, Ranger Distress inks
4 Comments
Before you wonder why a seashell card has popped up right after a snow covered bell card remember that not everyone is heading into winter right now. I can wistfully look at these seashells and wish I was entering an Australian summer and that wistfulness would not just be about the weather! Speaking of Australia, this stamp is from Darkroom Door and is one of their new filmstrip stamps.
I used a stamp positioner to stamp the filmstrip edge to edge moving my panel up or down each time to feature a different portion of the stamp. I used five different inks to ink the stamp fairly randomly then spritzed it before stamping so the inks were already moving. I continued blending the colours with a paintbrush on the watercolour paper panel.
You can see some shells are more sharply defined than others which corresponds to how much water I added before and after stamping. I stamped a sentiment from the DD sentiment strip – friendship stamp. I have kept the stamp as one long strip (I think many people have done so), so I can stamp them all at once or stamp a section and cut out the one I want. In this case I stamped a section, cut out the sentiment I was after then ripped one edge and coloured the tear with wild honey distress ink.
I have a shell collection which sits untouched in a box for years at a time and then an occasion like this arises and I open the box and remember how delighted I always am when walking on a beach looking for shells.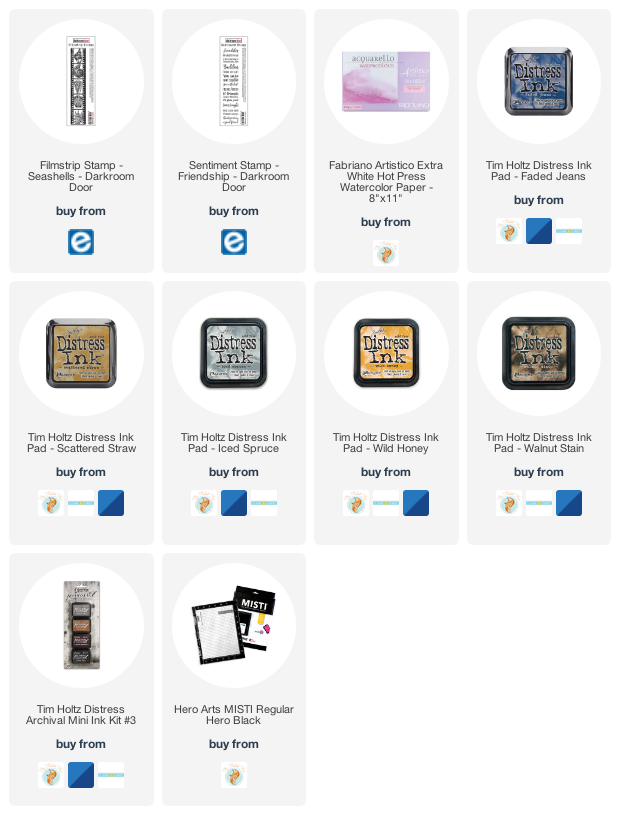 ---