Shells
Posted: November 30, 2020
Filed under: Darkroom Door, seashell filmstrip, seashells
| Tags: Darkroom Door stamps, Ranger Distress inks
9 Comments
Let's take a break from the snowy scenes I've been serving up lately and instead spend some time at the beach. If only I could! I've always been a shell collector, even last year when I was walking along Soldiers Beach on the NSW Central Coast with my dad I collected shells for the fun of it. I didn't end up bringing them home but it was fun to look along the sand and in the rockpools. This card features shells from the Darkroom Door Seashells set and a background stamped with the new DD filmstrip stamp seashells.
I stamped the large shells first making a mask for each one out of a post it note so I could before stamping a second or third shell and mask all three when I stamped the repeated filmstrip background. The large shells I stamped first in archival ink then over the top in distress ink which I blended to fill and add shading to the shells. The background I stamped in tea dye distress ink using the MISTI to keep the stamp in place and move the watercolour paper panel. After stamping the background I blended over the top with a paintbrush and water and dabbed away liquid to halt the blurring so I could still see the shell images.
Once I'd trimmed the panel to size I blended vintage photo ink around the edges with a blending brush and painted shadows under the large shells with dark browns and black. As usual the supplies are all listed below.
Have a great day even if you can't collect seashells and definitely if you can!
(Compensated affiliate links used when possible)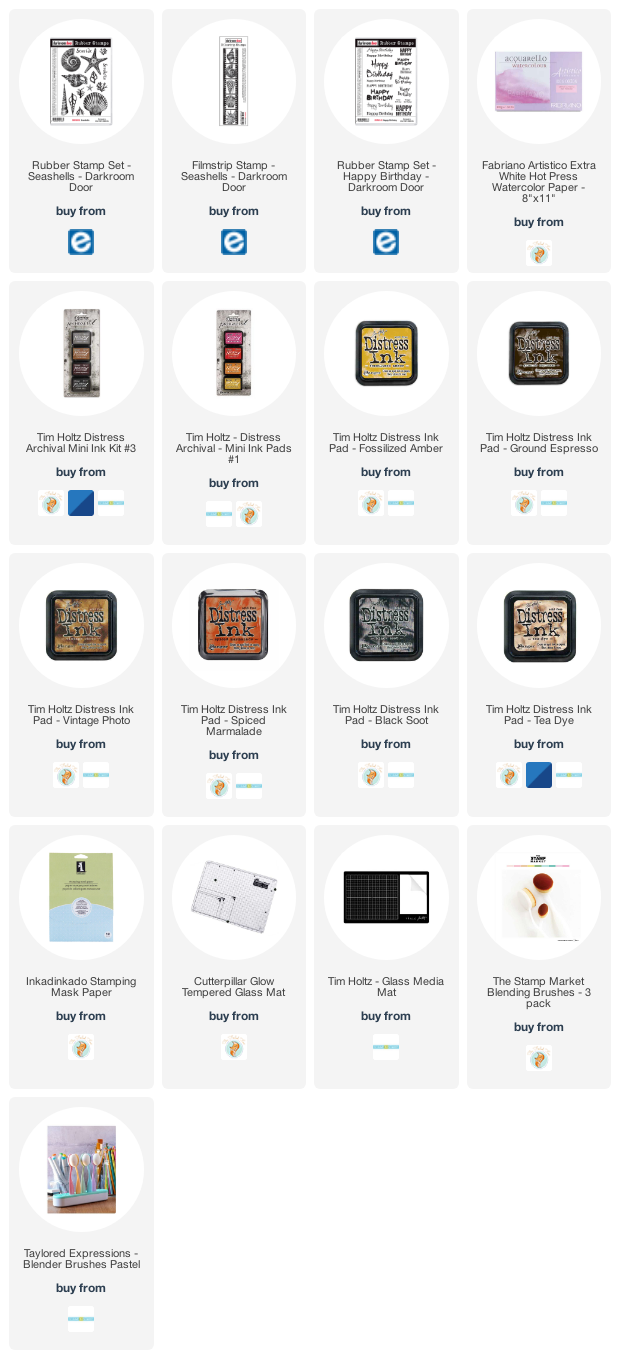 ---