Woodland Getaway (and a winner!)
Posted: November 26, 2020
Filed under: Nature's Friend, Penny Black, woodland getaway
| Tags: Penny Black stamps, Ranger Distress inks
3 Comments
Before I give you the details about this winter scene I want to announce the winner of a registration in my new online class, Winter Wonder. Congratulations Colett, who told us plenty of things she loves about winter.
Sledding with the grandkids. Skating. Skiing. The way sound is so clear and crisp on those very cold cold days. Crisp snow beneath my feet and the crunch it makes. Hoar frost on the trees. Chickadees and other birds sitting all puffed up on the feeder. Sitting by the crackling fire with a good cup of coffee. Lots to love about winter!
If you would like to learn with me as I create beautiful winter scenes, skies and foliage check out the new class!
This forest landscape is a new PB stamp called woodland getaway To turn it into a snowy scene I used hot pressed watercolour paper splattered with masking fluid. I began by creating a sky with chipped sapphire ink smooshed on a glass mat, I spritzed the ink with water and swiped the panel through it several times to pick up ink and fill the top half of the panel.
I dried the inky sky before moving the panel into the stamp positioner. I stamped the scene first in stormy sky distress ink, the lightest colour, painted over the distant hills and added a little chipped sapphire ink to the edges. I inked the trees in black arteza real brush pen, stamped and repeated to build up the forest area. I spritzed the stamp a little to move the ink.
To define the track and edges I stamped in chipped sapphire and blended with some water to get shadow. Did you notice I called it a track not a road? I'm trying to avoid the 'deer in the headlights' interpretation. That is not what I was going for; I prefer to think of it as a trail where the skiers or snowshoers (?) came over a rise and surprised a couple of deer crossing the track. The deer from PB nature's friends are stamped in versafine clair nocturne ink.
Just in case you are planning a little shopping this weekend the Foiled Fox is having a sale, Friday through Monday. I thought you should know!
(Compensated affiliate links used when possible)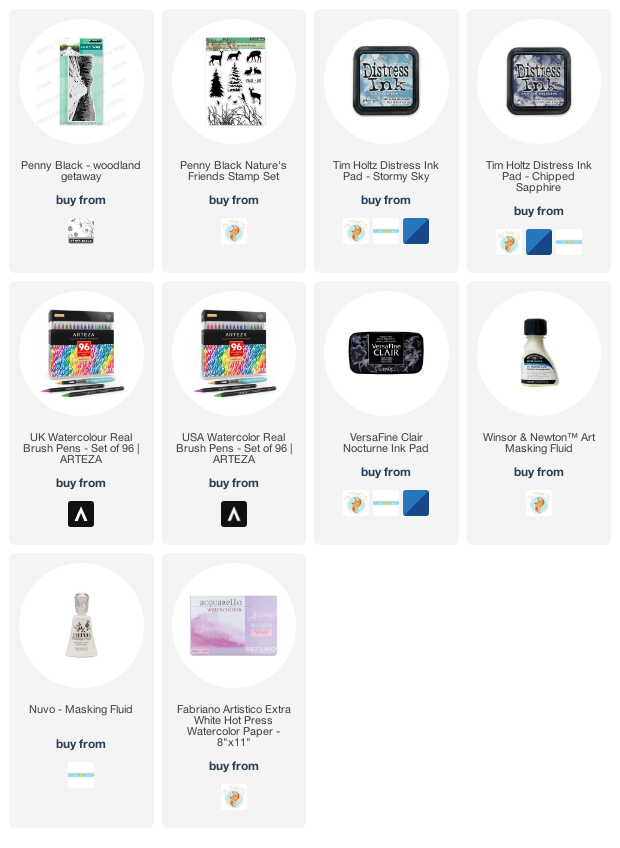 ---