Mountain moonrise
Posted: August 19, 2021
Filed under: mountain magic, Penny Black, picturesque, Stamped Landscapes
| Tags: Penny Black stamps, Ranger Distress inks
8 Comments
Here is the mountain stamp again, this time paired with the rushes and hills from the mountain magic set. Blue and brown is a favourite colour combo for me at present which works well as long as there are some pale tones or white in the mix.
Once again I began by creating the watercolour background (you can see the technique in the video here). I used diluted faded jeans, mowed lawn and gathered twigs distress inks. Once the background dried I stamped the mountain stamp in faded jeans ink taking care not to ink to the base of the stamp. At the foot of the mountains I stamped the smaller mountain stamp from 'mountain magic' set. I blended over both the tall and the short mountains in blue and brown inks.
Before stamping the rushes I blended water along the base of the low mountain image to soften the edge into the lake. Once that was dry I stamped the rushes in faded jeans, gathered twigs and mowed lawn. I created the soft moon image by placing a large drop of water on the panel to sit and dilute the ink. I carefully absorbed the droplet with paper towel and repeated the step.
Although not the brightest and prettiest colour scheme I am loving the moodiness of the scene. I feel like this is the kind of vista I might come across one day if I'm lucky!
(Compensated affiliate links used when possible)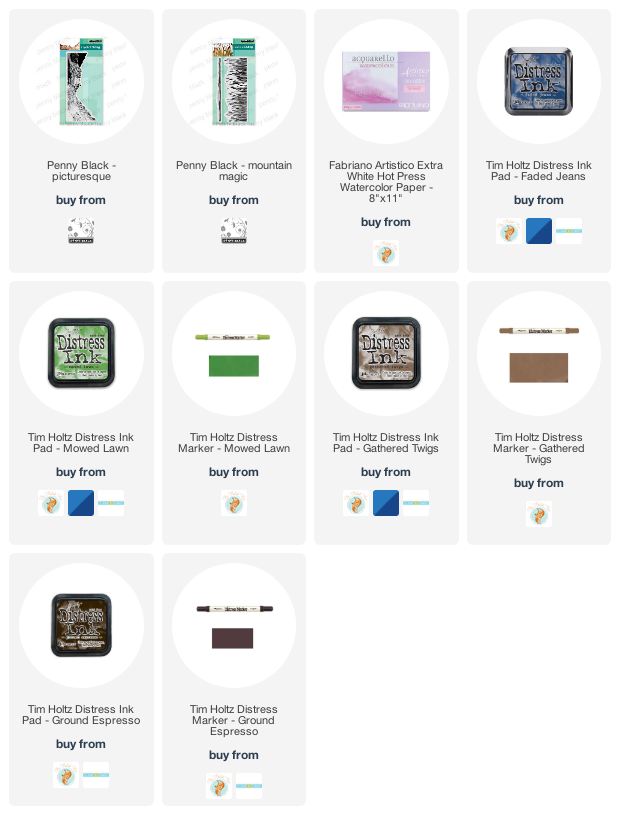 ---