Parsley, sage & mint
Posted: August 18, 2020
Filed under: Brutus Monroe, gel press, Penny Black
| Tags: brutus monroe embossing powder, gel printing, Penny Black stamps
16 Comments
As I hoped I fitted in some gel printing the other day. I picked leaves from my garden and experimented to see which would give me a good print. It also took me some trial and error to get the amount of paint right too.
I brayered titanium white, ultamarine blue and hooker's green onto my circle gel plate then lay down the back of the leaf on the paint. I lay white cardstock over the top and taped one edge of the cardstock to my table before lifting it to see the print. Without untaping the cardstock I removed the leaves and lay the cardstock back down to take another print, that which was left by the leaf.
I know some extra visuals, even a video might be more helpful than a description so I am working towards that goal. Gel printing can be rather hit and miss for me so I haven't done any filming yet.
I decided to use all three prints on the one card so cut a piece of snowbound textured cardstock 10⅞ " x 4¾" and scored it at 3⅝" and 7¼". I die cut each print using a 3¼" square die and attached them directly to the textured card base. I stamped 'Thank you' from PB 'million thanks' set on white in peeled paint archival ink then embossed 'for your help' from the same set in white on green then cut it out with an oval punch to make a tab on the side of the card.
This card is for my daughter who has put hours or work and loads of enthusiasm into our garden this year. It's looking good and we have high hopes for the tomatoes, brussel sprouts and cantaloupes still growing!
Supplies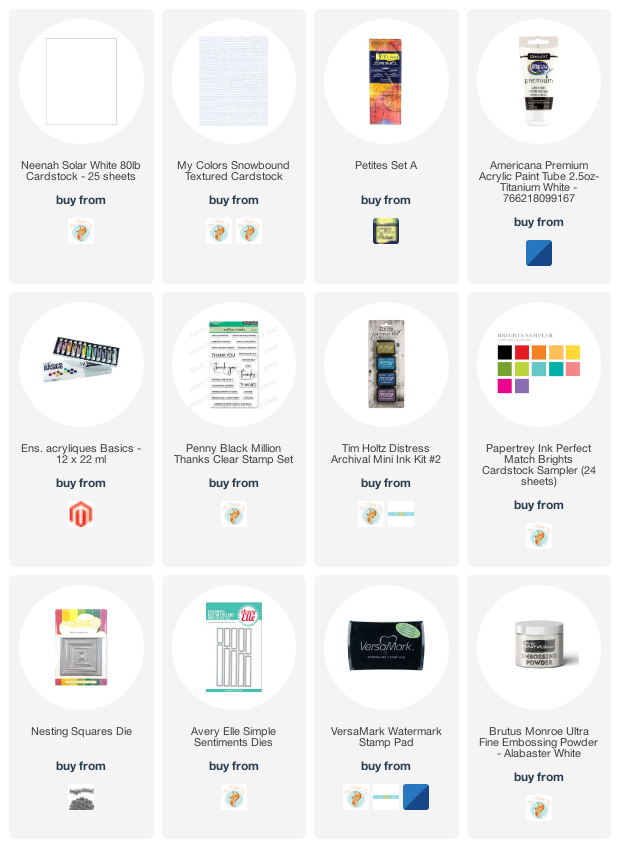 ---