Old gel print, new card
Posted: August 14, 2020
Filed under: carved flowers, Darkroom Door, gel press, majestic mountains
| Tags: Darkroom Door stamps, gel printing
4 Comments
I am getting closer to doing some satisfying gel printing but this card was made from a previous gel printing session. You can probably tell the texture on this panel was from a piece of corrugated cardboard. So simple and effective.
There is definitely some leftover paint printed on this panel. Leftovers are a feature of gel printing I really like. I usually print and print without cleaning the plate so the leftovers, often on edges or corners appear in subsequent prints.
I stamped the large and small cone flowers from the Darkroom Door 'carved flowers' set first in white ink then offset in black before embossing in clear powder. White ink is very sticky so when I stamped on top of it the stamp lifted some of the white ink off. It was necessary to wipe the stamp each time and restamp in black to build up a solid black layer. After embossing I used the large six square grid die from Waffle Flower's color combo set to cut my panel into squares. I popped them up on foam on a 6″x4.25″ card base.
The sentiment is the DD 'majestic mountains' set and reminds me that not all adventures have to be in person or in the outdoors right now, although I am missing that. I am enjoying the adventure of creating with new and old friends through my online class. (yes maybe this is another shameless plug, but it's true!) As I see what class members are creating I am inspired and encouraged to be 'in class' with friends even while I can't be in class in person.
And I am sure new gel printing is imminent; I want to print fresh leaves and maybe petals from my garden so stay tuned.
Supplies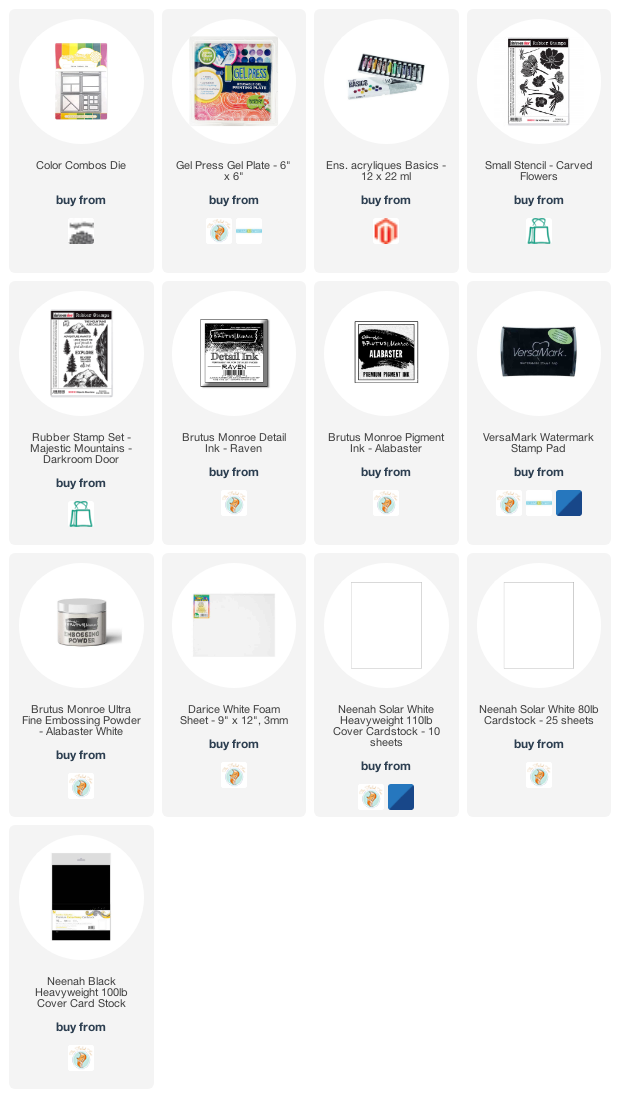 ---