Snow Blanket
Posted: October 31, 2019
Filed under: Penny Black, snow blanket, Stamped Landscapes
| Tags: Penny Black stamps, Ranger Distress inks, Ranger Distress stains
12 Comments
This peaceful scene from Penny Black is called snow blanket and such scenery will be welcome in a month and a half but right now my back yard could aptly be named leaf blanket! I mowed less than a quarter of the leaves yesterday before the rain set in. The leaves have been incredibly vibrant this year; every where I've turned has been a treat for the eyes.
As you can imagine the stamp positioner was my friend for this scene, I worked on the tree first, then the fence and finally the background trees. I inked only the large tree to start with; I used a versafine clair nocturne ink for the centre and finished off the extremities with an embossing marker. I embossed in black powder then put the panel back in the corner of the stamp positioner so it would line up again for the rest of the inking. I stamped the whole scene with stormy sky ink so I could see all the elements and add colours over the top. With the tree complete it was time to add a mask for the moon; I used frisket film which is waterproof then I painted the whole sky in stormy sky, weathered wood and chipped sapphire distress stains. Once that was dry  I used ground espresso and black soot distress markers to stamp the fence and the same colour inks on my glass mat to paint over the stamping to get solid coverage and blended colour. Painting blue shadows over the snow was a little tricky but the stamped image has lines to show piles of snow on the fence so I used them as my guide and left the snow untouched. Finally I stamped the background trees in forest moss ink.
I decided against a sentiment but can add one on the inside if needed. I'll be back tomorrow to chat about another Christmas tradition. Thanks for dropping by.
Supplies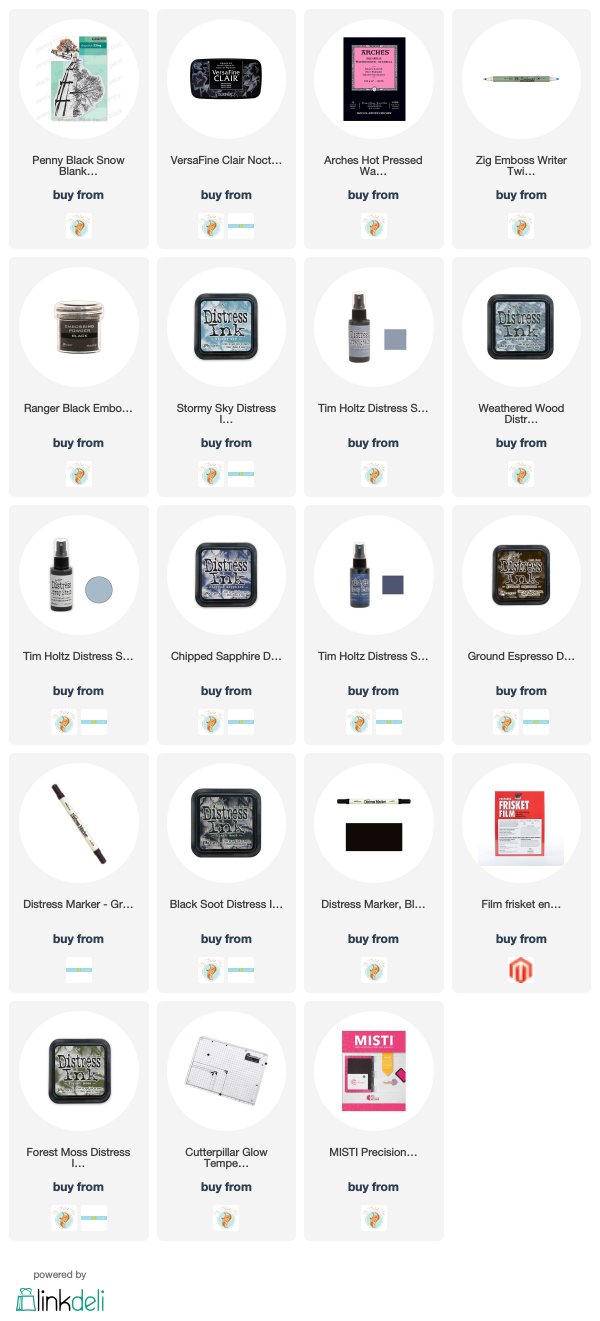 ---