Posted: June 3, 2019
Filed under: Penny Black, stitched nested frames, together
| Tags: Penny Black creative dies, Penny Black stamps, Ranger Distress inks
10 Comments
I've got something bright and breezy for you today. Even though the flowers on the PB 'together' stamp look like agapanthus to me and even though agapanthus do not come in orange or yellow, I chose this colour scheme anyway. The grey days continue here so I'm stamping sunshine instead!
I worked in the stamp positioner so I could add a colour or two at a time and started by inking the centres of the flowers with festive berries, you could use the ink pads or the marker. I used the ink pad and wiped ink off any area where I didn't want it. Around the festive berries I inked with ripe persimmon ink, spritzed the stamp and stamped on hot pressed watercolour paper. I wiped off the stamp then inked the outside petals in fossilized amber (my current fave yellow), spritzed and stamped again. Spritzing helps the colours blend and helps the ink give more solid coverage.
I inked the leaves in iced spruce because the time has come to hang out with other green inks; forest moss will always be special to me but there are other greens out there that need to be seen! I moved the panel and repeated the stamping to the left and to the right almost filling it with flowers. I added some orange and green splatter then die cut with the 'PB stitched nested frames' dies. The sentiment is inked in versafine clair misty morning ink because I thought the grey worked with the iced spruce leaves. The centre panel is popped up on a piece of foam for a bit of extra interest.
As I was choosing my sentiment with the words 'bunches and bunches' I was reminded of the word my mother used when she did my hair in two side ponytails. Up until grade 4 she did my hair every morning and it was usually 'bunchies'! That was our name for the style shown below; I think we reserved the name 'ponytail' for just one. Did your mother do your hair in 'bunchies', if so what did you call them?
It's quite the classic shot isn't it? I guess the photographer told us to do that odd thing with our hands. I was six years old and my dress matched one my mother had.
Supplies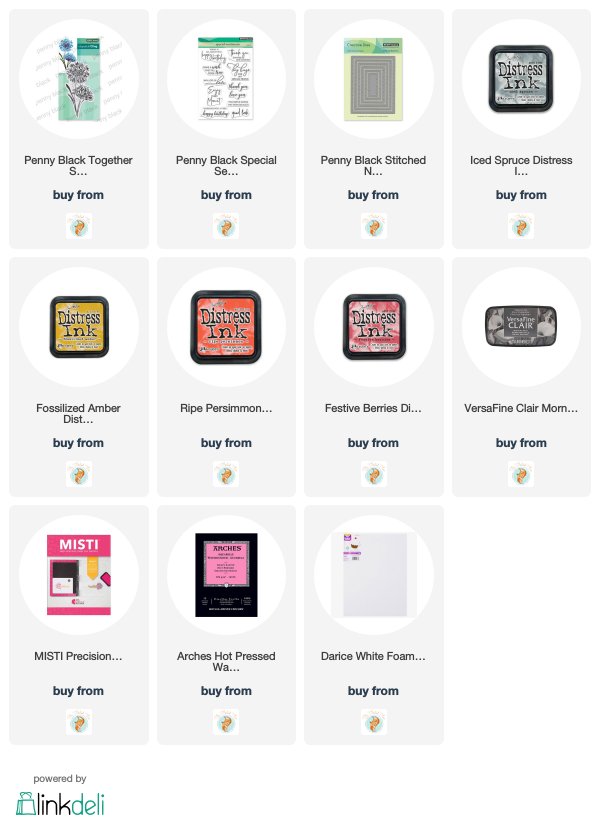 ---
Posted: February 25, 2019
Filed under: Penny Black, radiant, together
| Tags: Penny Black creative dies, Penny Black stamps, Ranger Distress stains, Tsukineko Versafine inks
7 Comments
 
Blue flowers might just be my favourite, so of course I chose blue for some of the new flower stamps from Penny Black. My first card features the 'Together' stamp which is lovely and reminds me of the agapanthus my parents often grew in their flower gardens.

Both of today's cards were made with distress stains either painted on or applied straight from the dauber.

I start by painting the lightest stain onto the stamp then stamping. I clean the stamp and add another colour and stamp again. To protect a detailed area like a flower centre I wipe the ink off the stamp in that spot so I can use ink or marker later. When the image has all been stamped I blend petals and leaves with a paint brush and water. For both blue floral cards I splattered some stain over the panel to complete the design then stamped a sentiment on a banner in a co-ordinating colored ink. Both sentiments are from the delightful new 'grateful sentiments' set
This large blue flower stamp is called 'Radiant'. For this card I started by wetting the watercolor panel so when I stamped on it with milled lavender and crushed olive distress inks I would get a diluted abstract print. I dried the panel before putting it in the stamp positioner to work on the bold print. For the bold stamping I used shaded lilac, blueprint sketch, dusty concord, crushed olive and scattered straw stains. Once the stain was dry I drew the centre of the flower with a black marker.
People often ask me if distress re-inkers can be used to create the same effects as the stains. I don't own any re-inkers so I can't tell you. I think it is probably time I got a few and did some comparisons. Stay tuned.
I am trialing a new supply linking system right now which looks and operates a little differently from what I was using. If you click on any of the supplies pictured below you will be taken to a complete list image where another click will take you to the Foiled Fox store. Buying through my affiliate links to the Foiled Fox store does not cost you any extra but earns me a commission. Please let me know if you have any thoughts or concerns with the new system. It is a trial and I am interested to know what you think.
Thanks for dropping by today.
Supplies
---