Posted: November 7, 2022
Filed under: panorama, Penny Black, Stamped Landscapes
| Tags: Fabriano Watercolour Paper, Penny Black stamps, Ranger Distress inks
7 Comments
As I post yet another winter scene I can tell you there is still no sign of winter round here. We've been having mild fall days. It is weird for it to be so warm with the trees almost bare! To create today's card I used Penny Black's 'panorama' stamp. I stamped the horizon line first in broken china distress ink. This is a step I often do if I want to paint the sky with the wet on wet technique. By stamping the edge where the snow meets the trees I was able to paint water on the whole panel from the horizon up then add in broken china and uncharted mariner to get a varied blue sky. I did get blue ink on the white tree trunks but I had already decided I would touch them up with white paint at the end of the process.
While the sky was still drying (in the stamp postioner) I inked the distant trees with forest moss and pine needles and stamped. The ink soaked into the damp paper creating the soft focus effect you see above. I dried the panel then switched to an archival ink to stamp the three foreground trees. I also stamped them in black soot distress ink and the lines in the snow with uncharted mariner. I blended a bit with a paint brush but also spritzed lightly to get the inks to feather out a little.
You can probably tell I started with splattered masking fluid on the watercolour panel. I tend to do a few panels at a time so they are ready later when I want to stamp a winter scene. If you don't want to bother with masking fluid you can always splatter with white paint when you have finished your scene.
Thank you to all who left me a kind message on my Rivulet card post. Many of your guesses were close; like me you picked a brown and a blue. The two inks were uncharted mariner and ground espresso; I love the range of hues I got when those two mixed.
(Compensated affiliate links from Foiled Fox, Scrap n Stamp & Ecstasy Crafts)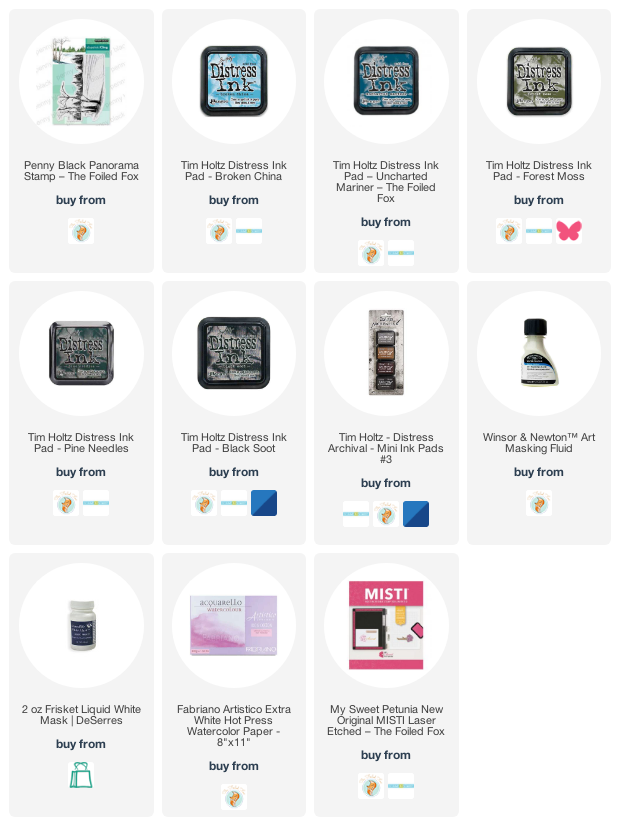 ---