Posted: November 16, 2020
Filed under: birdhouse blessings, Finetec paints, Penny Black, sennelier watercolours
| Tags: Finetec artist mica watercolour paint, Penny Black stamps, Ranger Distress inks, sennelier watercolours
5 Comments
This delightful scene is called 'birdhouse blessings' and it makes me want to have birdhouses and bird feeders scattered across my backyard. A few days ago my husband and I were doing what may well be our final outdoor workout of the year and watched chickadees and a cardinal flit back and forth from tree to hedge.
I worked on a hot pressed watercolour panel which I'd splattered with masking fluid (as per usual). I only just got my hands on some speckled egg distress ink and stain so that's what I used for the background colour. It is a lovely colour and I'm very happy with the inky background. I smooshed ink on my glass mat, diluted it then swiped the panel through it to pick up colour.
I stamped the large stamp in antique linen then did some no-line watercolour with Sennelier watercolour paints. While painting those little leaves and berries I did wonder if I should have chosen watercolour markers instead of paint brush and paints but I was already committed, so me and my very small paint brush kept on painting. When I finished painting all the elements I used speckled egg distress stain to darken the edges of the panel and frame the little scene. When I removed the masking fluid there were pretty little snowflakes over the whole panel.
I painted the little star in gold and debated whether I would add a gold frame as well. Decided in the end I liked it just the way it was. (psst a little bird wants to tell you 'Winter Wonder' is coming!)
Supplies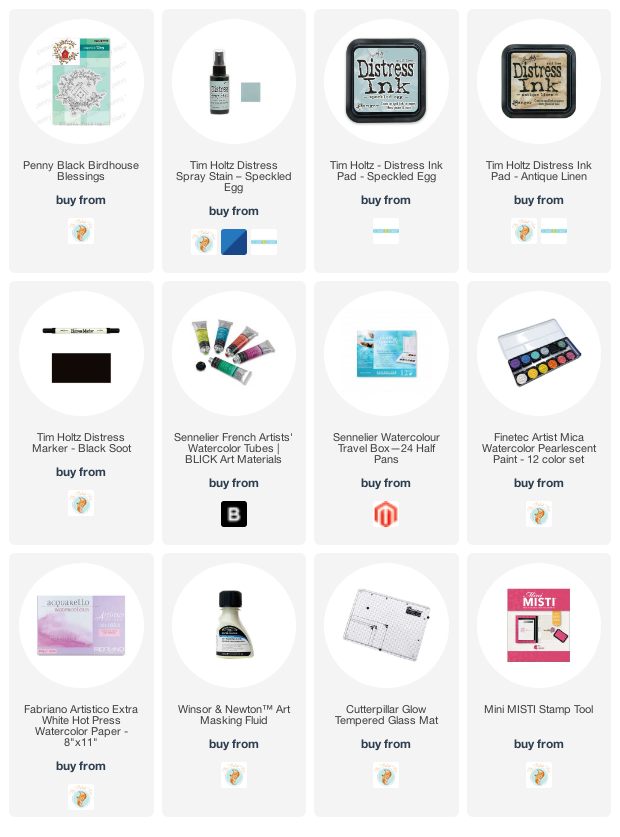 ---