Alcohol Ink & Trees
Posted: January 13, 2023
Filed under: Alcohol Ink, grafix, Penny Black, Taylored Expressions
| Tags: Foiling, Penny Black stamps, Ranger Alcohol Ink, Taylored Expressions
9 Comments
I have another alcohol ink sky to show you today paired with a very sparkly tree. I don't own the tree die or the sparkly silver paper but this tree was a leftover from a class I attended and it looks so pretty against the blue sky. It is hard to capture on camera but there are lines and dots of silver foil on the alcohol ink background.
When playing with alcohol inks on yupo or craft plastic you sometimes end up with areas of thick sticky ink. You can dilute and move it with isopropyl alcohol or you can press foil on it while it is still a bit tacky. Once again I cut a snowy hill by hand and added a Penny Black sentiment.
On this second card the tree is the coloured instead of the sky. I cut the tree from white craft plastic and added alcohol inks (both original and pearl formula) to another piece of craft plastic so I could then press the tree onto the alcohol inks to make a pattern and pick up the ink.
I attached the tree to an embossed background and added a Taylored Expressions sentiment. There are a few more alcohol ink Christmas cards still coming. I am happy to have inspired a few of you to look at your stash of panels to see what you might be able to turn into backgrounds and skies.
(Compensated affiliate links from Foiled Fox & Scrap n Stamp)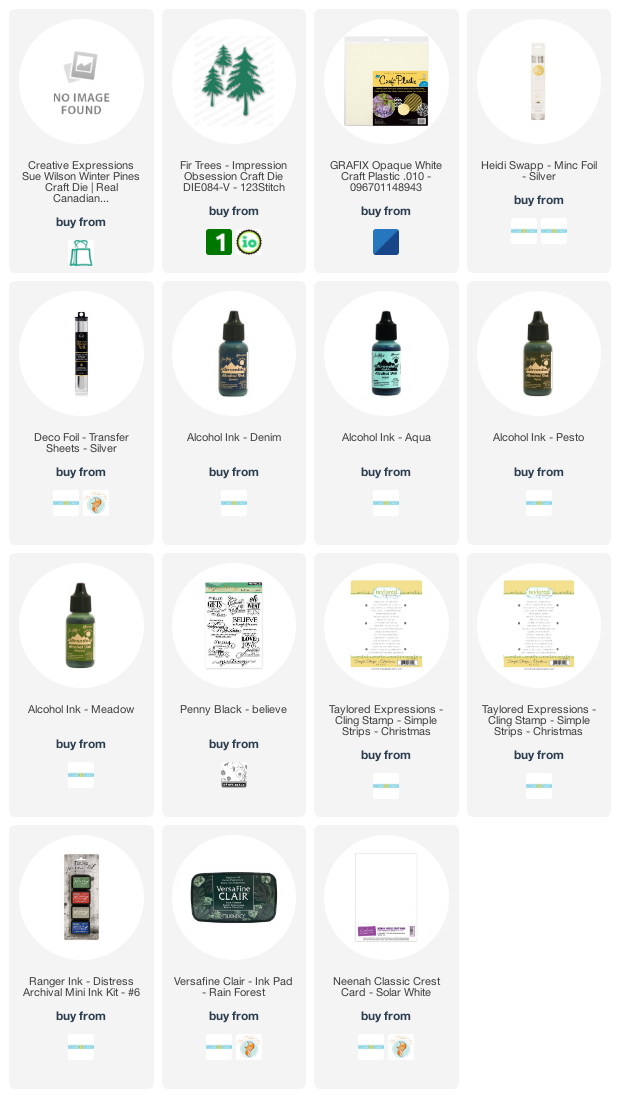 ---