Craft Roulette
Posted: June 21, 2021
Filed under: garden variety, Penny Black
| Tags: craft roulette, distress markers, Penny Black stamps, Ranger Distress inks
10 Comments
I had the opportunity to participate in Craft Roulette on Friday night. If Craft Roulette is new to you (as it was to me until a month ago) it is a live crafting improv game show hosted by Mary Gunn every Friday night on Youtube. She has a different guest each week, sometimes more than one, and they craft together. Every week the parameters for the card are different as the wheel is spun four times, once for type of card, then colour choices, a theme and finally a random element.
I was delighted to see familiar names from this blog pop up in the live chat; thank you so much for joining in. Although I could not respond to all the chat I went back and read through it yesterday and was so encouraged by your kind words. I know some of you stayed up very late to watch!
The wheel was pretty kind on Friday night and none of the parameters took me too far out of my comfort zone. The card style was MATCHBOOK ( I needed a refresher on that), colours were RED +2, theme was MORNING and the random element was SPLATTERS! You know I love splatters.
I chose to create a background sunrise, add some red and green flowers (PB garden variety) then add splatters with water at the end. My three colours were red + green and yellow. The evening was very enjoyable; Mary is a hoot, the viewers on live chat were the loveliest and being live on the interwebs was not as daunting as expected. I might just attempt my own live creating on youtube from time to time.
As the challenge unfolds, viewers are encouraged to make a card following the same parameters. Some viewers watch and create as the show progresses but most make and post their cards after watching the show. Everyone has until Sunday evening to submit their creations. The cards are all shared during the show the following week. Contributors are entered into a few prize draws at the end of the show. So you see, Craft Roulette is a happening place, full of fun and inspiration and worth checking out on a Friday night. To see how I created this card you can watch the replay here.
(Compensated affiliate links used when possible)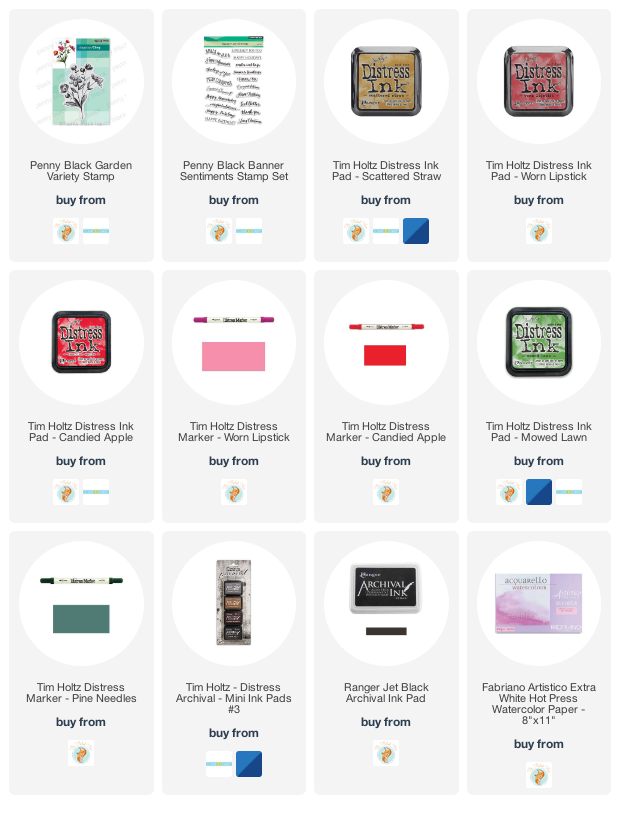 ---