Homeward
Posted: August 30, 2019
Filed under: homeward, Penny Black, Uncategorized
| Tags: Penny Black stamps, Ranger Distress inks
6 Comments
I have some more scenic stamping to share and without meaning to I have used an autumn colour scheme. Fall is going to come too soon as it is I didn't mean to hurry it along!
When creating my previous scenic cards I stamped and painted the trees and scenery first, clear embossed them and added the ground, sea and sky last. For this scene I painted the sky first then stamped over it. I used weathered wood, stormy sky, and fossilized amber inks to fill the panel and create the look of sunset or sunrise in the background. I kept the colour very pale and diluted at the bottom of the panel as I knew stamping would cover the foreground anyway.
I dried the panel before putting it in a stamp positioner to create the scene. I inked the base of the stamp with fossilized amber and along the horizon with rusty hinge distress ink. The tree trunk, branches and the fence I inked with ground espresso and black soot markers. The foliage is a mix of vintage photo and rusty hinge ink. I used rusty hinge to paint a foreground rise also.
Believe it or not there I still have more stamped scenes to show you. I will probably toss a floral into the mix here and there too as I did this week. I'm not quite ready to be showing you Christmas cards yet but it won't be long!
Supplies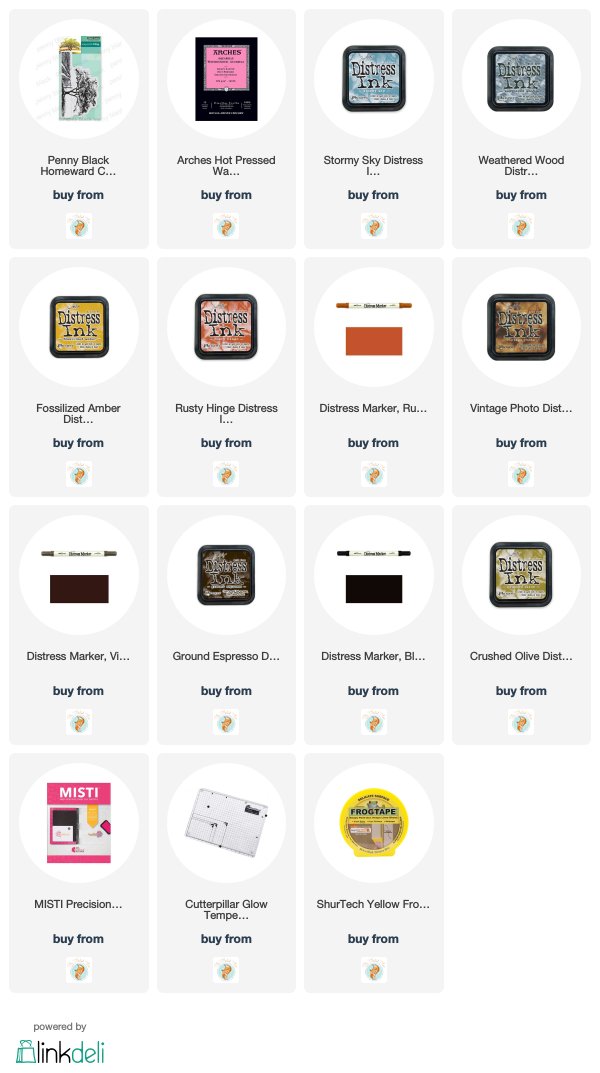 ---